Berlusconi Seeks IMF Monitoring as Rebels Threaten Revamp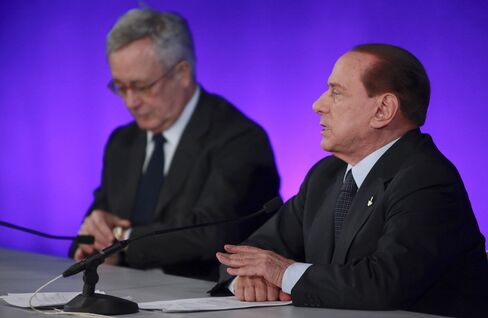 Prime Minister Silvio Berlusconi requested international surveillance of his bid to cut the euro-region's second-biggest debt, as his fraying coalition threatens Italian efforts to erect a wall against Europe's debt crisis.
Berlusconi's government asked the International Monetary Fund to periodically assess its debt-reduction progress, while rejecting an offer for financial assistance from the Washington-based lender, he told a press conference today at the Group of 20 summit in Cannes, France.
"It hasn't been imposed, it was requested," Berlusconi said. The IMF will carry out quarterly "certifications" of the euro region's third-largest economy, he said, adding that the current sell-off of Italian debt is "a temporary trend" even as the nation's borrowing costs surged to a new euro-era record.
Berlusconi is coming under mounting pressure at home and abroad as Italy struggles to avoid succumbing to the sovereign-debt crisis. His efforts suffered a setback yesterday when at least two lawmakers defected to the opposition. As many as eight other members of his coalition have called for a change of government, threatening his majority in Parliament, Corriere della Sera reported today.
Record Yield
Italy's 10-year borrowing costs are nearing the 7 percent level that forced Greece, Ireland and Portugal to seek bailouts. The yield on the nation's benchmark 10-year bond surged to a euro-era record of 6.404 percent, the highest since the creation of the single currency, before falling to 6.358 percent as of 5:15 p.m. in Rome.
"If the current Greek tragedy is not to turn into an Italian tragedy, with far more serious and far-reaching consequences for the euro zone, Berlusconi must resign immediately," Marc Ostwald, a fixed-income strategist at Monument Securities Ltd. in London, said in an e-mail. The premier may end up "remembered as the architect of Italy's descent into an economic inferno."
Managing Director Christine Lagarde said that a monitoring team from the IMF will be in Italy before the end of the month. Speaking at a news conference in Cannes, she also said that the IMF didn't offer financing to Italy. Berlusconi had said Italy refused an offer because it "doesn't need those funds."
Bolstering Credibility
Italy invited the IMF to monitor implementation of its austerity measures in order to bolster their credibility, European Commission President Jose Barroso told reporters in Cannes after the G-20 summit. "Greece had a systemic effect, so it was important for Italy to show that they are really committed to implementing the agreements they made," he said.
Italy's "initiation to IMF" is "an example of the steady confidence-building measures that need to take place in order for us to get back on track," U.S. President Barack Obama told reporters in Cannes. "The market is feeling skittish right now" about Italy, he added.
The European Central Bank bought Italian government bonds today, according to two people familiar with the transactions, who declined to be identified as the deals are confidential. The Frankfurt-based ECB has been buying Italian and Spanish bonds since Aug. 8 in a bid to stem surging borrowing costs.
ECB Backstop
ECB President Mario Draghi said at a press conference in Frankfurt yesterday that the bond-purchase program is "temporary," adding that "it's in a sense pointless to think that sovereign-bond rates could be steadily brought down by outer, external intervention."
Draghi, a former Bank of Italy governor, said "the first and foremost responsibility with maintaining financial stability and orderly financial conditions lies with national economic policies." Italy has pledged about 100 billion euros ($137 billion) in austerity measures since July in a bid to reduce debt of 1.9 trillion euros, or about 120 percent of economic output, the second-biggest in the region after Greece.
Berlusconi, who reiterated that he won't step down, said it will be "almost obligatory" to hold a confidence vote in Parliament later this month on economic-growth and austerity measures promised to the European Union last week. The premier, 75, last faced a confidence vote on Oct. 14, when his government survived with 316 votes in the 630-seat Chamber of Deputies.
Test Vote
The next test of his majority will come when the lower house votes to rubberstamp the 2010 budget report early next week. The government lost the initial routine vote on the report last month, sparking calls for the premier to step down.
"Should the government fail to reach the majority, we expect President Napolitano to ask Berlusconi to step down and to start some consultations to form a technical government that would eventually speed up the reforms process that Italy is currently required to implement," Annalisa Piazza, an economist at Newedge Group in London, said by phone.
President Giorgio Napolitano this week urged the government to immediately implement the economic measures, which were pledged in a letter sent by Berlusconi to the EU. Napolitano has been consulting with opposition leaders this week in a bid to seek the broadest possible support for the overhaul, parts of which are opposed by the Northern League, Berlusconi's key coalition partner.
In a late-night meeting on Nov. 2, the Cabinet only agreed on a limited package of the measures to include as amendments in a spending bill to be voted on by Nov. 15. The moves include a plan to accelerate 60 billion euros in asset sales, liberalize closed professions and boost infrastructure investment, Il Sole 24 Ore newspaper reported.
Foreign Minister Franco Frattini, speaking in an interview today on Sky TG24, said the ruling majority can be broadened to other political forces. Berlusconi said rebel lawmakers will return to the fold because deserting the governing coalition is a "betrayal of the country," adding that he alone is capable of governing Italy at such a critical juncture.
"As I sat at the table of talks here at the G-20, I asked myself: Who else could represent Italy if I weren't here?"
Before it's here, it's on the Bloomberg Terminal.
LEARN MORE