Italy Faces Monitoring by IMF Amid G-20 Concern on Economy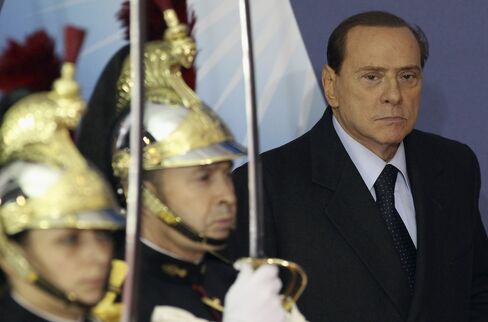 Italy swept into the spotlight as the next potential victim of the European debt crisis, with world leaders calling for closer monitoring of Prime Minister Silvio Berlusconi's deficit-cutting strategy.
Group of 20 leaders are considering International Monetary Fund inspections of Italy, saddled with Europe's second-largest debt burden, officials said as a G-20 summit in Cannes, France entered a final day. Italy last week bowed to tighter European Union monitoring.
The embattled Berlusconi has yet to convince doubters that the austerity plan announced in August will deliver the savings needed to balance Italy's budget by 2013, the officials said. Italy's 10-year bond yields touched euro-era highs yesterday.
"The question is not what's in the package but implementing it," French President Nicolas Sarkozy told reporters late yesterday.
Italy has not agreed to any IMF monitoring, an Italian government official, who asked not to be named in line with policy, told reporters in Cannes.
Before it's here, it's on the Bloomberg Terminal.
LEARN MORE