Ian Thorpe Finishes Seventh in Return to Competitive Swimming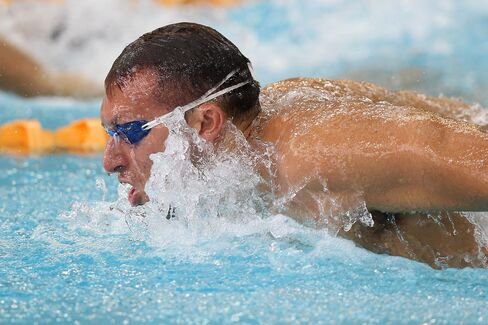 Ian Thorpe finished seventh in his first competitive swimming final since 2006 as Australia's most successful Olympic athlete targets next year's London Games.
The 29-year-old Thorpe, who announced in February that he was making a comeback to the sport he quit five years ago, finished in a time of 56.33 seconds in the 100-meter individual medley final at the short-course World Cup meet in Singapore. He had qualified sixth-fastest for the event, which was won by Chad Le Clos of South Africa in 53.06 seconds.
"I can't actually remember the race," Thorpe said in comments distributed by Swimming Australia after his qualifying heat. "I'm happy I'm back and now it's only been 20 minutes since my last competitive race, not 2,000 days."
The five-time Olympic champion will also compete in tomorrow's 100-meter butterfly in the 25-meter pool at the Singapore Sports School. He's then scheduled to race at World Cup meetings in Beijing and Tokyo over the next 10 days.
Thorpe is working toward Australia's London Olympics selection trials, which will take place in Adelaide in March. He last raced at a major meet at the 2004 Games in Athens, where he won two golds, one silver and one bronze to lift his Olympic medal tally to nine, an Australian record. He also captured 11 world championship titles and set 22 world records during his career.
Thorpe retired in November 2006 at the age of 24, saying he had lost the desire to compete. He changed his mind after recognizing his need to race and watching the success of fellow Australian swimmer Geoff Huegill, who shed a third of his bodyweight to come out of retirement and win gold at last year's Commonwealth Games.
The last of his global records fell at the 2009 World Swimming Championships in Rome when Germany's Paul Biedermann beat his seven-year-old 400-meter freestyle mark by 0.01 second.
Since announcing his comeback, Thorpe has been working with Gennadi Touretski, the Russian coach who guided Alex Popov to the 50-meter and 100-meter freestyle gold medals at the 1992 and 1996 Olympics.