RBA Cuts Growth, CPI Forecasts as Europe's Turmoil Deepens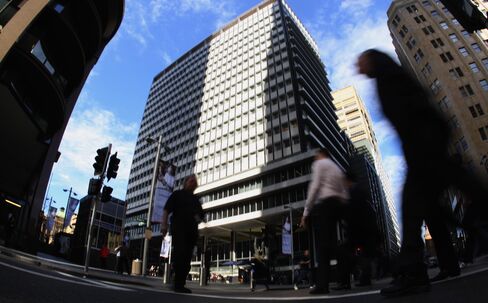 Nov. 4 (Bloomberg) -- The Reserve Bank of Australia cut its forecasts for economic growth and inflation for the next two years as financial turmoil abroad makes businesses more reluctant to hire and consumers wary about spending.
"The mining-related parts of the economy are growing strongly," the central bank said today in its quarterly monetary policy statement. "In contrast, in a number of other industries, the high exchange rate, the fading injections from the earlier fiscal stimulus and changes in household spending and borrowing behavior are contributing to subdued conditions."
The RBA sees growth of 4 percent in the 12 months to June 30, 2012, down from its Aug. 5 estimate of 4.5 percent. Consumer prices will rise 2 percent over the period, from a previous prediction of 2.5 percent; underlying inflation is predicted at 2.5 percent from a previous 3 percent, the central bank said. The estimates are based on the overnight cash rate target remaining unchanged, it said.
The revisions reflect heightened volatility in financial markets and risks to global growth from Europe's sovereign-debt crisis that allowed RBA Governor Glenn Stevens to lower Australia's benchmark interest rate this week for the first time in 31 months. Stevens joins Group of 20 counterparts from Frankfurt to Jakarta to Brasilia in easing monetary policy to bolster domestic demand and employment.
Softer Tone
"The tone of the commentary has softened quite substantially," said Brian Redican, senior economist in Sydney at Macquarie Group Ltd., Australia's biggest investment bank. "They're recognizing the downside risks and that suggests that if they materialize, they'll respond to them in a prompt manner. Further rate cuts through 2012 are quite possible."
Europe's crisis has weakened the Australian dollar, which traded at $1.0390 as of 1:37 p.m. in Sydney, down from $1.0416 late yesterday in New York. The local currency reached $1.1081 on July 27, the highest level since it was freely floated in 1983.
"The bank's liaison suggests that the general increase in economic uncertainty has led some firms to wait for evidence of stronger demand before hiring additional workers," the RBA said.
Australian employment weakened this year from record growth in 2010 and the jobless rate reached a 10-month high in August before falling to 5.2 percent in September. The statistics bureau will release a report on October employment on Nov. 10.
Wage Pressure
In today's statement, the RBA said the chance of a significant acceleration in wage growth has lessened. Hiring has been fueled by a mining investment boom driven by China and India's demand for iron ore, liquefied natural gas and coal, boosting prices for Australia's resources.
"The recent falls in commodity prices and the slowing in global demand suggest that the peak in the terms of trade has now been reached and indeed the recent significant falls in the price of iron ore suggest that the decline could be happening a little faster than earlier expected," the central bank said.
At the same time, it noted the approval of the Wheatstone liquefied natural gas project meant a pipeline of close to A$150 billion ($156 billion) in LNG investments is now approved or under construction.
Core Inflation
An Oct. 26 government report showed the central bank's two preferred measures of annual inflation averaged about 2.5 percent in the third quarter, the mid-point of the RBA's 2 percent to 3 percent consumer-price target range. "A worse outcome in Europe would adversely affect the Australian economy, and underlying inflation would be likely to decline," the RBA said today.
A European meltdown is reflected in interbank cash-rate futures that show traders are betting Stevens will cut rates at the next three meetings in December, February and March. Stevens lowered borrowing costs from a developed-world high of 4.75 percent to 4.5 percent on Nov. 1.
Treasurer Wayne Swan said after the release of the central bank's estimates that slower domestic growth and the global turmoil will hurt government budget revenue.
"We've got two of the very big economic engines misfiring in the global economy in terms of Europe and also in terms of the U.S.," Swan told reporters in Sydney today, reiterating the government's pledge to return the budget to surplus by 2012-13. "What it means is we will have less revenue than we expected when we did our budget forecasts back in May."
ECB Cut
The European Central Bank unexpectedly cut interest rates yesterday even as new president Mario Draghi signaled no plans to backstop the region's most vulnerable nations. ECB officials unanimously lowered the benchmark interest rate by 25 basis points to 1.25 percent, confounding 51 of 55 economists in a Bloomberg News survey.
Europe's debt crisis also dominated a summit of world leaders as Greece's government veered towards collapse and Italy came under renewed pressure to prove its credit-worthiness.
European governments face "a major challenge in putting their public finances on a sounder footing," the RBA said today. "The governments in the United States and Japan also face major medium-term fiscal challenges."
The U.S. Federal Open Market Committee said this week that "economic growth strengthened somewhat in the third quarter," while also saying "significant downside risks" remain to the outlook. Officials left unchanged their plans to lengthen the maturity of the Federal Reserve's bond portfolio and to keep the target federal funds rate near zero through at least mid-2013 as long as unemployment remains high and the inflation outlook remains "subdued."
China 'Solid'
The RBA noted that in Asia, including China, growth "remains solid," though slower than in 2010, reflecting tighter macroeconomic policy over the past year.
"There are also some indications that the troubles in the North Atlantic economies are having an effect, with growth in exports and industrial production in the region slowing over recent months," the RBA said today.
Private reports this week showed Australian manufacturing and services fell in October. Government reports this week showed residential-building permits in September slumped the most since 2002 and house prices fell from June through September for a third consecutive quarter.
The RBA said the risks to its economic forecasts "continue to be tilted to the downside, with a very disruptive outcome in Europe still possible."
Even so, it said, "there are few signs of the widespread deferral of capital spending and disruptions to trade finance that caused so much damage to the world economy in 2008-09."
To contact the reporter on this story: Michael Heath in Sydney at mheath1@bloomberg.net
To contact the editor responsible for this story: Stephanie Phang at sphang@bloomberg.net