Arab Riches, Weird Fruit Bat Dazzle at Met: Manuela Hoelterhoff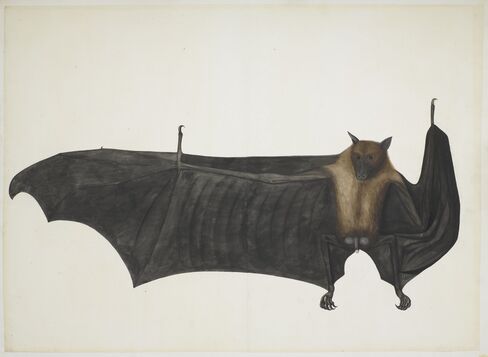 Just the painting of a giant fruit bat with devil ears would be worth a visit to the Metropolitan Museum of Art.
Staring intensely, balancing upright on curled claws, he could be issuing a strange invitation to come closer as he extends a right wing like a cloak to reveal a little penis.
Pteropus giganteus was painted in the late 18th century for a flabbergasted British couple in Calcutta.
Tucked into a corner, the creature could easily be overlooked in the stunning display of Islamic Art that has just reopened at the Metropolitan Museum of Art after eight years of painstaking preparation.
Much expanded and now called the "Galleries for the Art of the Arab Lands, Turkey, Iran, Central Asia and Later South Asia," they fill copious rooms on the second floor that overlook (through specially carved screens) the art of the classical world on the floor below.
It's a good thing the Viennese finally beat the Ottoman Turks in 1683! That title would be even longer.
We follow the armies of Allah as they fanned out after the death of Muhammad in 632 A.D. from the Arabian peninsula to Spain, the Middle East, Persia, southern India and other parts of Asia.
What an extraordinary journey in space and time this is -- gorgeously arranged by the Met's curators and designers. Vitrines glow with vases, astrolabes, daggers, jewelry, manuscripts and paintings. Walls are transformed by immense carpets woofed and warped to display distant, decorative cousins of the bat.
Big Cat
Animals abound, stitched into textiles, brushed into gold-tipped manuscripts, cast into bronze -- like the giant incense burner shaped into an imperious pussycat that once welcomed visitors to a Persian house in the 12th century. The head is detachable. The inscribed message is for all ages: "Happiness, prosperity, well-being."
There are about 1,200 pieces on view, one tenth of the Met's collections.
A small room with photographs of a dusty dig in Iran in the 1930s and '40s reminds us of a time when museums like the Met ran joint archeological expeditions that discovered and saved the world's buried treasures.
Such collaborations have of course been sabotaged by politics (and political correctness). Yet were it not for the art on view here, one might think that Iran, for example, was always an artistic backwater darkened by religious thugs.
Declines and Souvenirs
This is complicated history. As one region declines, another comes to glitter more. Shahs and emperors affirm their greatness through art and then die like mere mortals. Cities are built and sacked. Entire cultures are absorbed and fade from view leaving only artistic souvenirs.
The Sasanians, for example, had a nice style going before the area got a new religion and new overlords.
Secular and religious objects provide riveting clues to past lives and the mixing of cultures.
Look for the quirky little soapstone chess set from the 12th century, with the king or shah represented as a throne.
We go from tiny to imposing by turning a corner.
The refreshing sound of a fountain draws us toward a paneled reception room from an early 18th-century house in Damascus that has been reassembled for our viewing pleasure.
A rare tiled mihrab, or prayer niche, featuring the popular blue and green color schemes brings to mind cool waters and the sky. It conjures up the glories of the Persian city of Isfahan, whose splendid buildings and spacious layout awed Europeans in the 16th century.
"Isfahan is half the world," gasped a Frenchman.
Book of Kings
The Safavid shahs of Persia, ancient Iran, found great delight in miniature paintings as well as grand architecture. That appreciation for shimmering storytelling is reflected in the stunning Book of Kings, commissioned by Shah Tahmasp.
Several little pictures are in the museum's collections, thanks to the depraved actions of Arthur Houghton, a collector (and also Met chairman) who more than 50 years ago blithely tore the book apart to sell off many individual plates.
One diverting picture shows an assassination; another an army of drunks painted with fairytale charm. At that time, I was happy to read in the catalog, drinking wine was fully appreciated as a creative stimulant.
Painters working for Indian emperors and the Ottoman Turks provide similar enchantment. Look, for example, at the portrait of 'Alam Kaman, an elephant so famous, Emperor Jahangir mentioned him in his memoirs.
Wonders of Glue
Gratitude is owed to the museum's curators for giving us access to the infinite complexities of Islamic art. That so much of such fragile beauty -- think of the glass -- has survived from regions so drenched in blood is often thanks to the delicate ministrations of the Met's conservators. Their restorative feats are also wondrous to behold.
The well-illustrated catalog costs $45. Major sponsors of the expansion include Sharmin and Bijan Mossavar-Rahmani, the Vehbi Koc Foundation and Patti Cadby Birch. The chief curator is Sheila Canby.
Manuela Hoelterhoff is executive editor of Muse, the arts and leisure section of Bloomberg News. The opinions expressed are her own.
Before it's here, it's on the Bloomberg Terminal.
LEARN MORE