World Food Prices Slide Most in 19 Months as Grains Slump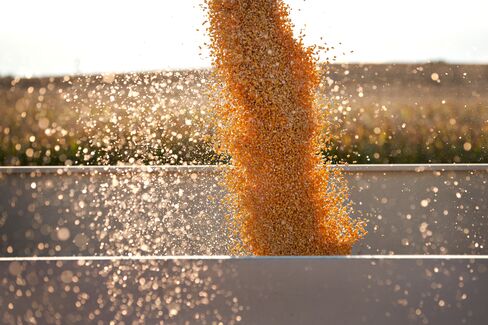 Nov. 3 (Bloomberg) -- World food prices fell the most in 19 months in October as grains, dairy and cooking oils slumped on speculation an economic slowdown will crimp food demand.
An index of 55 food commodities fell for a fourth month to 216.1 points from 225.2 points in September, the United Nation's Rome-based Food and Agriculture Organization said in an e-mailed report. The 4 percent drop was the biggest since March 2010. The gauge hit a record 237.7 points in February.
The FAO price index's four-month drop is the longest since a slide from July 2008 to February 2009, when the gauge fell 37 percent from its previous peak of 224 points in June 2008. The gauge is still above the year-earlier level of 204.8 points.
"The general economic situation is certainly damping demand, is certainly sending bearish sentiment into the agriculture sector," Abdolreza Abbassian, a senior economist at the FAO, said by phone from Rome today.
The cereal-price index fell to 231.7 points from 244.7 the previous month, the lowest level since November last year. Corn prices in Chicago averaged $6.32125 a bushel in October, down from about $6.93875 the previous month as a slowdown may curb use of the grain as feed or biofuels.
The FAO's price gauges for meat, dairy, cooking oil and sugar also slipped. The cooking-oil index declined 15 points to 223 points, the dairy-price index shed 11.2 points to 203.5 and the FAO sugar-price gauge dropped 17.6 points to 361.4. The meat-price index slipped 0.8 point to 177 points.
Price Decline
"The decline reflects sharp decreases in international prices of all the commodities included," the FAO said in the report. "The continuing decline in the monthly value of the FAO cereal price index reflects this year's prospects for a strong production recovery and slow economic growth in many developing countries weighing on overall demand."
Production of most food commodities will have to rise next year to meet expected demand, the FAO said in an outlook report today. There is room for "some optimism" that prices will remain below peak levels next year, it said.
"The general picture still points towards firm markets well into 2012," the UN agency said. "If this demand were to rise faster than currently envisaged, which is a possibility even assuming a slow economic recovery, then a more significant production expansion will be required."
October is usually not a period of high prices because of harvest pressure for coarse grains and soybeans, Abbassian said. Prices for most commodities remain above last year's level, he said.
"It's next to impossible to predict what the prices will look like," Abbassian said speaking generally about the outlook.
Cereal Production
World cereal production will climb 3.7 percent to a record 2.325 billion metric tons in 2011-12, the FAO said, raising its September outlook by 14.8 million tons on increased forecasts for wheat, coarse grains and rice.
The outlook for wheat production was lifted to 691 million tons, a 6 percent increase from the year-ago period, on bigger-than-expected harvests in Russia and Ukraine. That will boost stocks of the grain by 4.3 percent to 189.7 million tons, the second-highest level in nine years and lifting the stocks-to-use ratio to 28.2 from 26.7, according to the report.
Rice production is forecast to increase 3.4 percent to 482.4 million tons in 2011-12, exceeding demand and boosting stocks for a seventh consecutive year, according to the UN agency report.
The world rice-harvest outlook was raised by 1.9 million tons from a month ago as bigger crops in India and China as well as Bangladesh and Vietnam compensate for the effect of flooding on production in Southeast Asian countries including Thailand, according to the report.
'Rice On the Rise'
Rice "may be leading commodities up if the situation in Southeast Asia proves to be worse than expected so far," Abbassian said. "Rice has been on the rise of late, mainly because of Thailand policy development and then Thai crop development with the floods."
China's corn imports may climb to 4.5 million tons in 2011-12, up 3.2 million tons from a year earlier, on demand for feed and high domestic prices for the grain.
The FAO forecast the world food import bill will rise 24 percent to a record $1.29 trillion this year from $1.04 trillion in 2010, driven by rising spending on grain-based products and vegetable oils.
"For the least developed countries, you have an increase over 30 percent," Abbassian said. "It could create more hardship, because you're paying more for imports. Their food bill will increase."
Higher food-import bills may also indicate developing countries are buying more processed products, which could have added nutritional value, the FAO economist said.
Malnourished People
Higher food costs have sent "tens of millions of people" into poverty since late 2010, and the world's hungry people may soon exceed 1 billion again, humanitarian group Oxfam International said Aug. 3. The number of malnourished people in the world fell last year to 925 million from 1.02 billion in 2009, according to the FAO.
World food output will have to rise 70 percent by 2050 as the global population climbs to 9.2 billion from an estimated 6.9 billion in 2010, the FAO estimates. The price of staple foods including corn will more than double in two decades without action, Oxfam said in May.
Growth in agricultural output will slow to 1.7 percent a year through 2020, compared with 2.6 percent in the previous decade, the FAO and the Paris-based Organization for Economic Cooperation and Development said in a report in June.
The FAO, set up in 1945 as a specialized UN agency, says it leads international efforts to defeat hunger and helps developing countries improve farming. Its mandate includes lifting nutrition levels and agricultural productivity.
To contact the reporter on this story: Rudy Ruitenberg in Paris at rruitenberg@bloomberg.net
To contact the editor responsible for this story: Claudia Carpenter at ccarpenter2@bloomberg.net