Unilever Profitability May Drop as Raw-Materials Costs Rise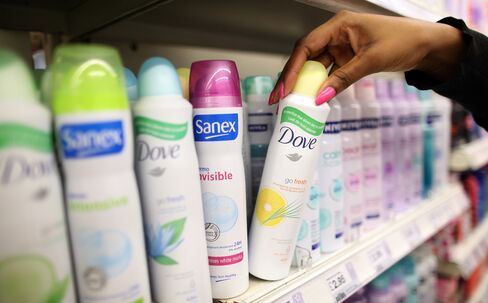 Unilever, the world's second-biggest consumer-goods company, said profitability might fall this year even after it increased prices to mitigate soaring costs for the commodities used to make its products.
The underlying operating margin may be unchanged or drop "slightly" in 2011, London- and Rotterdam-based Unilever said today. The maker of Dove soap and Magnum ice cream reported third-quarter sales growth of 7.8 percent, topping analysts' estimates for a 6.2 percent gain, boosted by the price hikes.
"This is a very difficult operating environment," said Eric Scher, an analyst at Sanford C. Bernstein, referring to increasing commodities prices and dwindling consumer incomes. Unilever's revenue growth was ahead of all its main rivals and the weaker guidance on margins should be "put in context," said Scher, who has an "outperform" rating on the shares.
Consumer-goods companies including larger rival Procter & Gamble Co. are struggling to maintain profitability amid higher expenses and waning demand in developed markets. Procter & Gamble last month reported lower profit for the quarter through September even as price increases boosted sales by 4 percentage points. Nestle SA said it's "striving" to expand margins after saying in August that it was confident of doing so.
Unilever, which makes Domestos cleaning products, had said in April that it expected underlying operating margin, which excludes some items, to fall in the first half before improving in the second. It said today that it was operating "against the backdrop of very uncertain consumer demand."
Higher Costs
Unilever shares fell 0.4 percent to 24.60 euros at the close of Amsterdam trading.
Raw-materials have cost the company 2.5 billion euros more this year than last, Chief Financial Officer Jean-Marc Huet said on a conference call. Unilever has forecast that higher expenses will amount to between 5 percent and 5.5 percent of total sales this year. It's one of the world's largest buyers of palm oil, which it uses in margarine and skincare products. The price of palm oil has risen as much as 40 percent in the last year.
Unilever doesn't expect "anything close to the changes we saw this year" in commodity prices in 2012, Huet said. Fluctuations have "been significant, and the volatility continues," he said, while crude oil remains "stubbornly" high. The company uses petrochemicals in its packaging.
Higher Prices
Underlying price growth in the quarter was 5.8 percent while the volume of goods sold rose 1.9 percent. Underlying sales exclude acquisitions, disposals and currency fluctuations. It's the third consecutive quarter that the company has increased both pricing and volume. Unilever implemented the majority of its price increases in the first half, Huet said.
"We have sought to mitigate the impact of commodity inflation on consumers by pricing to recover cost rather than to maintain margin," Chief Executive Officer Paul Polman said in the statement. "It is more important than ever that we prioritize investment in our brands."
Sales slid in western Europe in the quarter, and rose in the Americas as well as the Asia, Africa and central and eastern European unit. Unilever delivered more goods to customers ahead of a software upgrade in the U.S., representing 2 percent to 2.5 percent of a 9.1 percent sales increase in the Americas, Huet said. That will "reverse in the fourth quarter," he said.
Unilever said it now gets 53 percent of sales from higher-growth emerging markets.
New Products
The company has introduced products such as Colman's instant gravy paste to attract customers while paring back price cuts it offered during the global financial crisis. Sales of Dove Men+Care will be 200 million euros in 2011, while Knorr jelly bouillon was introduced to the U.S. and Indonesia.
Unilever agreed last month to buy Russia's OAO Concern Kalina in a deal valuing the skincare maker at 21.5 billion rubles ($700 million). The maker of Axe deodorants, which aims to double revenue over a decade, is trying to sell more health and personal-care products in markets outside western Europe as economic turbulence caused by the debt crisis dents sales. Personal-care products, which grew at the fastest pace, now represent a third of the business, according to Huet.