Swiss Re Profit Doubles on Premiums, Interest Rate Gains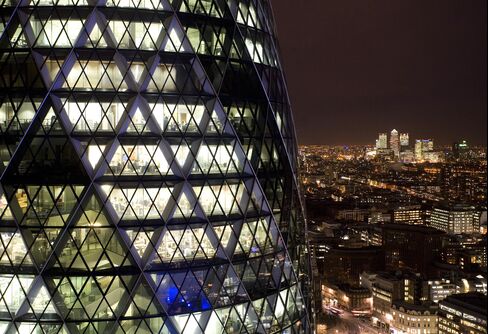 Swiss Re Ltd., the world's second-biggest reinsurer, said third-quarter profit more than doubled after fewer claims from natural catastrophes and as property and casualty premiums rose.
Swiss Re gained as much as 7.1 percent in Zurich trading as net income climbed to $1.35 billion, beating the $539 million average estimate of nine analysts surveyed by Bloomberg. One-time gains totaled about $700 million, the Zurich-based reinsurer said today, as lower euro-region interest rates boosted the value of its bond holdings.
Swiss Re last week regained its AA- credit rating from Standard & Poor's after the company shed risky assets, repaid a loan from Warren Buffett and stabilized earnings. Property and casualty premiums rose 18 percent in the quarter, led by new business in Asia, according to Chief Financial Officer George Quinn. Claims from natural catastrophes, including hurricane Irene, were less than expected, he said.
"The core business is performing just fine," said Tim Dawson, an analyst at Helvea SA in Geneva. "There have been distortions upwards today, but what you're looking at is a very solid performance."
Swiss Re climbed 6 percent to 48.97 Swiss francs as of 11:18 a.m. in Zurich, making it the best performer on the 28-company Bloomberg Europe 500 Insurance Index, which rose 1.7 percent. The stock has gained 2.9 percent this year compared with an 18 percent decline in larger rival Munich Re.
Combined Ratio
The reinsurer said spending on claims and costs as a percentage of property-and-casualty reinsurance premiums, the so-called combined ratio, worsened to 80.8 percent from 76.4 percent in the year-earlier period. Swiss Re is targeting an average annual increase in earnings per share of 10 percent over the next five years.
"Our underlying earnings power is very strong and our conservative asset management approach is proving to be appropriate in these times of heightened financial market volatility," said Chief Executive Officer Stefan Lippe in the statement.
Low interest rates led to investment gains of about $354 million, mainly from government bonds, Swiss Re said. About 38 percent of the reinsurer's total investments of $152.8 billion were in government bonds, with $12.8 billion invested in those of the euro region. Exposure to peripheral Europe was just $74 million, CFO Quinn said on a conference call.
Swiss Re also released $190 million from reserves during the quarter, further boosting earnings, Quinn said.
Thai Floods
The company said its Chief Underwriting Officer Brian Gray will retire early on April 30 next year "to return to Canada." Swiss Re aims to announce his successor in the first quarter of next year.
Swiss Re expects a severe impact from Thailand's three-monthlong flooding disaster on industrial businesses with local manufacturing facilities, adding it's too early to determine claims estimates. Total damage claims from the worst floods in over 50 years may total 217 billion baht ($7 billion), according to the government's insurance regulator.
Swiss Re stock trades at about 70 percent of its book value, the lowest of the world's five biggest reinsurers.
Before it's here, it's on the Bloomberg Terminal.
LEARN MORE