Starbucks Fourth-Quarter Profit Rises 29% as U.S. Sales Gain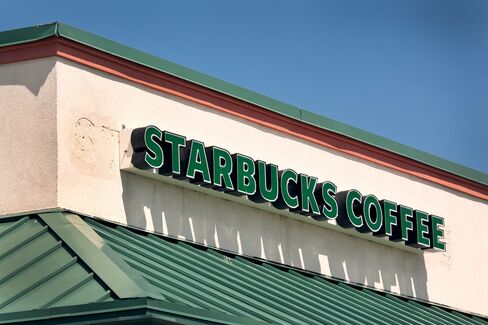 Starbucks Corp., the world's largest coffee-shop operator, said fourth-quarter profit rose 29 percent as U.S. sales increased.
Net income in the period ended Oct. 2 increased to $358.5 million, or 47 cents a share, from $278.9 million, or 37 cents, a year earlier, the Seattle-based company said today in a statement. Excluding some items, profit was 37 cents a share. Analysts expected 36 cents, the average of 19 estimates compiled by Bloomberg.
Chief Executive Officer Howard Schultz has sought to boost sales by selling Via instant coffee that customers can brew at home. U.S. grocery stores and retailers also began selling Starbucks brand K-Cup portion packs for Green Mountain Coffee Roasters Inc.'s Keurig machine this week.
"What we're offering at the premium level is really resonating well with customers, despite what's still a tough environment," Chief Financial Officer Troy Alstead said in an interview. K-Cups are going to make a "big splash for the holiday period," he said.
Starbucks rose 2.9 percent to $42.61 at 4:42 p.m. in New York. The shares advanced 28 percent this year before today.
Sales at U.S. stores open at least 13 months climbed 10 percent in the quarter, while international same-store sales rose 6 percent. Analysts surveyed by Bloomberg were expecting increases of 7.5 percent in the U.S. and 5.2 percent overseas. Global comparable-store sales rose 9 percent, compared with analysts' average estimate of 6.9 percent.
Ingredient Costs
Starbucks, along with other restaurants, has faced higher raw-ingredient costs during the past year and has increased prices on bagged coffees in certain markets. Commodity costs reduced 2011 profit by 20 cents a share, the company said.
Coffee costs may moderate in 2013, Alstead said. The chain has locked prices for all of its coffee needs through fiscal 2012 and for some of 2013, he said.
"We've really removed any volatility," he said.
Revenue advanced 6.8 percent to $3.03 billion during the quarter, topping analysts' $2.96 billion average estimate.
Starbucks has more than 10,900 cafes in the U.S. and about 6,000 international locations.