Snowbound Jets on U.S. Tarmacs Spur Call for Tougher Rules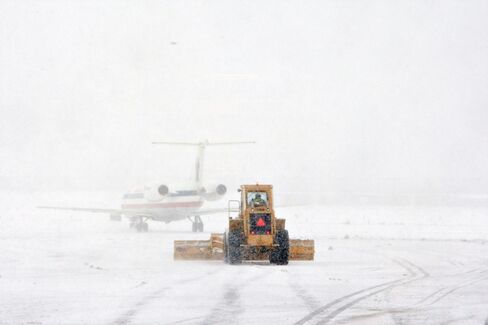 A weekend snowstorm that stranded passengers on at least seven airliners is prompting a call for tougher sanctions against airports even as others argue that the extreme weather that caused the chaos can't be regulated.
Hundreds of passengers sat for hours on planes at Bradley International Airport in Hartford, Connecticut, on Oct. 29 while pilots begged for help unloading them. Airports should face fines if they can't respond, Kate Hanni, a passenger-rights advocate, said in an interview.
"I am really shocked that Bradley was so tone-deaf to this situation," Hanni said. She founded the Napa, California-based group FlyersRights.org after she was stuck on a plane in 2006.
Airlines are subject to fines of as much as $27,500 a customer if passengers aren't allowed to exit an aircraft stuck on the ground for more than three hours, under rules put in place last year by the Department of Transportation. Airports have no such penalties.
Five JetBlue Airways Corp. flights were stranded at Bradley for more than three hours, said Alison Croyle, a spokeswoman for the airline. One sat on the ground for almost eight hours before passengers were allowed to leave, according to transcripts of radio broadcasts from the jet.
Flights operated by AMR Corp.'s American Airlines and Swiss International Air Lines Ltd. also were grounded at Bradley as the early-season storm pummeled the Northeast U.S. Customs officials wouldn't let passengers disembark from flights that originated in Europe, said Ed Martelle, an American spokesman.
Daniel Steinkamp of Geneva, who was flying to New York to attend a wedding, said in e-mails he sat on the Swiss jet for six hours at Bradley with a painful, recently broken leg.
"I had to walk down the metal stairs on the runway during a blizzard" instead of to a gate, said Steinkamp, 28. "I was terrified."
Tricky to Regulate
The tarmac delays demonstrate how difficult it is to regulate the most extreme breakdowns in the aviation system, Rich Golaszewski, a consultant on airline scheduling at GRA Incorporated of Jenkintown, Pennsylvania, said in an interview.
"You are always going to have a bit of this," Golaszewski said. "You just can't protect against every possible extreme event."
Reducing the chances of these already-rare breakdowns would require airlines and airports to hire extra employees and buy equipment that might sit idle most of the time, he said.
Not Free
"It all increases the costs of flying," Golaszewski said. "It's not free."
Most commercial airports don't have equipment or personnel to move aircraft on the ground, said Richard Marchi, a former airport operations manager at Boston's Logan International.
The responsibility for towing jets into and out of gates lies with the airlines, Marchi said in an interview. If pilots ask for help moving a jet or getting passengers off, as was the case in Hartford, all airport officials can do is try to engage other carriers or airport contractors, he said.
The Oct. 29 delays came as a snow storm hit the New York area's three main airports, all of which rank among the six worst for on-time performance this year. A combination of equipment failures and weather-related slowdowns forced some jets to divert.
JetBlue diverted 17 jets to airports on the East Coast, from Syracuse, New York, to Raleigh-Durham International in North Carolina, Croyle said. Six of the jets went to Bradley.
Local Contractor
The airline has four departures a day at Bradley. It relies on a local contractor to move jets in and out of gates there, instead of using its own employees, Croyle said.
Bradley, which ranked 57th among the nation's commercial airports with 32,795 landings last year, received 28 diversions that day, Judd Everhart, a spokesman for the Connecticut Department of Transportation, said in an e-mail.
Five of those flights refueled and departed, leaving 23 planes at the airport as snow began to pile up. The number of aircraft -- one more than the airport's 22 gates -- stretched resources "to the limit," the airport said in a statement. The airport also suffered power outages.
Croyle, Everhart and John Wallace, a spokesman for the Bradley airport, declined to provide additional details on when JetBlue began trying to get passengers off planes and how airport officials responded.
JetBlue can't discuss details while the Department of Transportation investigates, Croyle said. She also declined to release the carrier's plans for handling similar situations.
Bradley doesn't have a formal plan for dealing with lengthy passenger strandings and is working to develop one, Everhart said.
'Skeleton Crew'
Hanni, who received complaints from passengers, said she telephoned the airport's operations center Oct. 29 at about 9 p.m. local time.
"He said, 'we're running our skeleton crew because everyone went home earlier,'" she said.
The only way to ensure that airports respond adequately is for federal regulators to require that they plan for such backups and to impose fines when they don't, she said.
Blaming a small airport like Bradley after so many flights arrive unexpectedly isn't fair, John Hansman, an aeronautics professor at the Massachusetts Institute of Technology, said.
Unfair Blame
"It's like fining the turnpike for excessive delays at the toll booth because another road is closed and everybody wants to go down your toll road," said Hansman, who has studied airport delays and operations.
The Washington-based Airports Council International-North America, which represents government-operated airports, doesn't support additional regulation, said Debbie McElroy, a spokeswoman. The group's 340 members include Los Angeles International and Dallas/Fort Worth International.
Instead, better coordination would help prevent the worst cases, McElroy said. Currently, federal rules require that airlines send their contingency plans to airports. There is no requirement that they coordinate with each other, she said.
Since the rule went into effect last year barring tarmac delays longer than three hours, the U.S. Transportation Department hasn't issued any fines. It is investigating a case on May 29 in which 14 flights on AMR Corp.'s American Eagle unit were left on the ground for at least three hours after bad weather snarled Chicago's O'Hare International Airport.
Before it's here, it's on the Bloomberg Terminal.
LEARN MORE