Single Rating Upgrade Shows Risks as Growth Eases: China Credit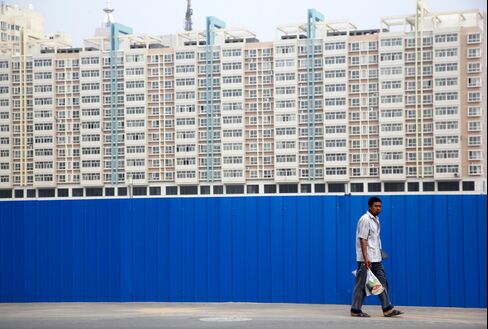 Fewer Chinese companies were upgraded by domestic credit-rating agencies in October than in any month this year as higher interest rates and slower economic growth hurt earnings, raising the risk of defaults.
The nation's four largest credit rating companies raised rankings on one borrower in October compared with four in September and 10 in August, according to data compiled by Bloomberg and a report from state-backed China Credit Rating Co. One company was downgraded in September, Bloomberg data show. Standard & Poor's, which ranks debt sold outside of China, cut ratings on seven Chinese issuers this year and raised two.
Earnings growth slowed at companies from Anhui Conch Cement Co. and Aluminum Corp. of China. after the central bank raised interest rates three times in 2011 to curb inflation and economic growth eased to the weakest pace since 2009. Concern over default risk caused the difference in yields on AAA rated Chinese companies' five-year notes and similar-maturity A rated debt to widen 89 basis points since Sept. 30 to a record 417 yesterday, according to Chinabond data. The comparable gap for U.S. debt narrowed 19 basis points to 135 in the same period, Bank of America Merrill Lynch indexes show.
"China's economy is slowing quite quickly and we've seen companies' earnings growth slowing," Huang Jiliang, a bond analyst in Shanghai at Guotai Junan Securities Co., the nation's biggest brokerage by revenue, said in a telephone interview on Nov. 1. "In China because there are so few downgrades you have to look at the upgrades."
Profits Damp
Industrial companies' net income rose 27 percent from a year earlier to 3.68 trillion yuan ($579 billion) in the first nine months of 2011, after increasing 28.2 percent in the January-August period, according to the National Bureau of Statistics.
A government campaign to curb rising prices together with slumping global demand for exports as Europe struggles to solve its debt crisis is tempering economic growth. China's economy grew 9.1 percent in the third quarter from a year earlier, down from 9.5 percent in the previous three months.
Manufacturing expanded last month at the slowest pace since February 2009, according to data released this week by the China Federation of Logistics and Purchasing.
Premier Wen Jiabao said last week that economic policies will be "fine-tuned" as needed and the industry ministry said it is studying "stimulative policies" for smaller companies. In Europe, leaders raced to prevent their debt crisis from escalating by withholding 8 billion euros ($11 billion) and warning Greece will surrender all European aid if it votes against a bailout package agreed only last week.
Issuer Quality Drops
In the U.S. last month, New York-based S&P upgraded more companies than it downgraded. The ratings company awarded 50 more upgrades than downgrades, according to data compiled by Bloomberg. That compares with 15 more upgrades than downgrades in the third quarter. Chinese credit-ratings companies raised ratings on 31 borrowers in the three months ending Sept. 30, compared with 60 in the second quarter.
Chinese companies rated AA+ or above sold 13 percent of all domestic corporate bonds this year, down from a 30 percent share of new notes last year, according to Fan Wei, a Beijing-based fixed-income analyst at Hongyuan Securities Co. At the same time, issuers rated AA- or below have increased their portion of new issuance to 38 percent from 23 percent, he said.
"The quality of the issuers has gotten worse with a greater proportion of county-level companies where there is no chance of an upgrade," Fan said in a telephone interview from Beijing on Oct. 31. "From the ratings point of view we can see that there is a greater and greater risk of default."
One Upgrade
China Chengxin International Credit Rating Co. awarded the only upgrade last month from the nation's four biggest rating companies, raising the ranking on Xiamen C&D Corp., an investment holding company, to AA+ from AA on Oct. 24, according to data compiled by Bloomberg.
Twenty percent of the upgrades in the third quarter were given to local government financing companies, down from 30 percent in the second quarter, according to the China Credit Rating report. A total of 28 percent of local government financing vehicles have negative cash flow from operations, a study published in the magazine of the country's official bond clearinghouse said in September.
"The events on local government financing bonds have made all the credit-ratings agencies more aware of the risks that might become a default," Robin Luo, director of the research and development department at Chengxin, said in a telephone interview on Nov. 1. "Before 2009, there were much fewer bonds issued by local governments."
Yunnan Province
China Chengxin put two bonds sold by issuers backed by Yunnan province's local government on its negative watch list following the announcement of an asset transfer, according to a statement on July 27. They included Yunnan Investment Group Co.'s 2 billion yuan of 5.25 percent due August 2017 bonds and Yunnan Provincial Railway Investment Co.'s 1 billion yuan of 5.98 percent bonds due January 2018.
The difference between yields on 10-year local-currency notes issued by top-rated companies and sovereign debt narrowed 33 basis points, or 0.33 percentage point, since September 30 to 193. The gap reached a record 236 on Oct. 11.
The yield on China's top-rated 10-year corporate debt tumbled 44 basis points last month to 5.69 percent, Chinabond figures show. It fell 2 basis points yesterday to 5.66 percent. Yields on similar-maturity government bonds declined 10 basis points to 3.76 percent last month and fell 2 basis points to 3.72 percent yesterday.
Default Swaps Fall
The cost of insuring Chinese sovereign bonds against non-payment tumbled in October by the most since March 2009. Five-year credit-default swaps on the notes fell 70 basis points to 128 last month, according to data provider CMA, which is owned by CME Group Inc. and compiles prices quoted by dealers in the privately negotiated market.
The contracts pay the buyer face value in exchange for the underlying securities or the cash equivalent should a borrower fail to adhere to its debt agreements. The yuan rose 0.12 percent to 6.3498 as of 2:18 p.m. in Shanghai, according to the China Foreign Exchange System.
The nation's property developers face the toughest conditions among companies in Asia as Wen imposed measures to control property prices, S&P said in an Oct. 26 report.
"The majority of our downgrades are property companies and that reflects their weakening credit profile," Christopher Lee, an S&P analyst in Hong Kong, said in a phone interview on Nov. 2. "The credit tightening has affected property sales, and property companies have increased their leverage rather aggressively in the last 12 months to expand. Prices will go down by about 10 percent in the next 12 months."
China doesn't allow foreign credit-ratings companies to rate domestic bonds and has a growing number of local firms providing rankings. In July, Golden Credit Rating International Co. received a license to rate interbank bonds. Dagong Global Credit Rating Co., which rates the U.S. government four levels below the Chinese government's AA+ rating, has made the most upgrades this year.
"Downgrades in China are rare," Hongyuan Securities' Fan said. "Although from a macroeconomic point of view upgrades should be more than downgrades, still there are too few downgrades. In China you can avoid downgrade by discussion."
Before it's here, it's on the Bloomberg Terminal.
LEARN MORE