Senate Fails to Advance Competing Infrastructure Plans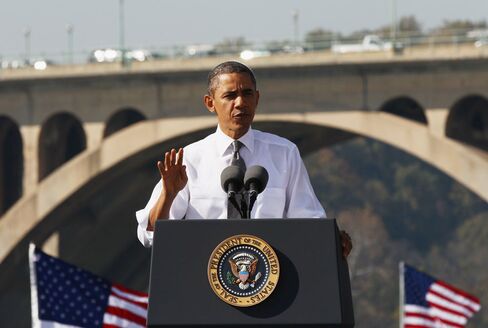 The U.S. Senate blocked two competing proposals to boost construction on roads, bridges and other infrastructure as Democrats and Republicans escalated their fight over President Barack Obama's $447 billion jobs plan.
The Senate voted 51-49, short of the 60 needed to begin debate, on a Democratic measure to provide $60 billion for construction work and an "infrastructure bank" to leverage capital for more projects. It would be financed by a 0.7 percent tax surcharge on millionaires.
The Senate then refused, on a 47-53 vote, to advance a Republican plan to extend federal highway, public transportation and surface transportation programs for two years, ease some environmental rules and give Congress more oversight of agency rulemaking. It would be paid for by rescinding $40 billion in unspent federal funds.
"One hundred percent of Senate Republicans said no" to the proposal, Obama said in a statement. Americans deserve to know why Republicans "refuse to put some of the workers hit hardest by the economic downturn back on the job rebuilding America," he said.
The bills needed 60 votes to proceed to debate in a chamber where Democrats have 53 votes to 47 for the Republicans. The fight over job creation is becoming a central issue in the 2012 presidential and legislative races.
'Campaign Speech'
"The Republican proposal extends the current highway bill for another two years, giving states and contractors the certainty they need to start new infrastructure projects and create jobs," said Senate Minority Leader Mitch McConnell, a Kentucky Republican. He said Democrats are advancing ideas that amount to a "campaign speech" because they can't get enough support.
Senate Majority Leader Harry Reid, a Nevada Democrat, repeated accusations that McConnell is working to stymie Obama's agenda for political advantage while protecting wealthier taxpayers who might be subjected to the surtax under the Democratic plan.
"This legislation levies a small tax on the top 0.2 percent of American taxpayers," Reid said. "These are the same Americans whose income has increased 275 percent over the last three decades."
Yesterday, Obama stood on the aging Francis Scott Key Bridge connecting Washington's Georgetown neighborhood and Rosslyn, Virginia, and called on Congress to approve the money in the Democratic legislation.
'Hardest Hit'
"Of all the industries hammered by the economic downturn, construction has been hardest hit," Obama said. "It makes absolutely no sense when there's so much work to be done that they're not doing the work."
The Senate last month blocked Obama's $447 billion jobs package, with all Republicans and two Democrats opposing consideration. The chamber later failed to advance a section of the measure advanced by Democrats, a $35 billion plan to avoid layoffs of state and local workers.
The Democrats' infrastructure bill included $10 billion to create a national "infrastructure bank" to leverage private and public capital for various projects. The other $50 billion would directly fund projects that would include rail and mass transit.
In the Capitol yesterday, Transportation Secretary Ray LaHood joined Democratic senators advocating passage of the bill. LaHood dismissed findings in a cost estimate this week by the nonpartisan Congressional Budget Office that said the legislation is likely to result in just $4.3 billion in spending this fiscal year.
'Give Us the Money'
"The idea that we can spend only $4 billion is nonsense," LaHood said. "At DOT, we know how to put people to work. All we need is for Congress to give us the money."
House Speaker John Boehner of Ohio said today his chamber will consider legislation to finance infrastructure construction financed, in part, by expanding energy production. The measure would obtain revenue from drilling permits and would also streamline approval of construction projects.
Democrats have continued to push the jobs measures as public opinion surveys have shown support for a surtax on millionaires to help pay for government efforts to boost job creation. An Oct. 13-17 AP-GfK poll found that 62 percent of 1,000 U.S. adults surveyed supported such a tax, while 26 percent opposed it.
Still, the same poll found that just 36 percent thought that higher spending for roads, schools and other infrastructure could increase jobs "a great deal" or "quite a bit." The poll has a margin of error of plus or minus four percentage points.
Before it's here, it's on the Bloomberg Terminal.
LEARN MORE