Sanofi Profit Declines 3%, Hurt by Generic Competition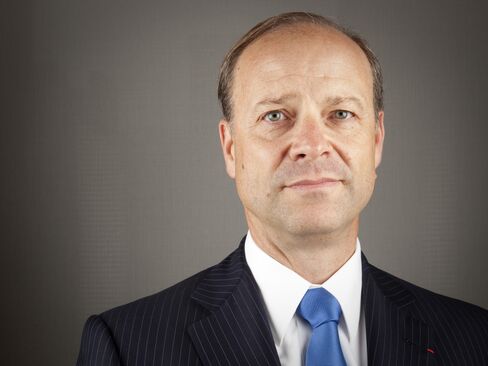 Sanofi, the French drugmaker that bought Genzyme Corp. this year, reported a 3 percent drop in third-quarter profit as generic competition dented sales of three key medicines.
Profit was 2.4 billion euros ($3.29 billion), or 1.79 euros a share, excluding costs such as writedowns and merger expenses, compared with 2.47 billion euros, or 1.89 euros, a year earlier, the Paris-based company said in a statement today. That's above the 2.33 billion-euro average estimate of 16 analysts compiled by Bloomberg.
Cheaper copies of the cancer drug Taxotere and the Lovenox blood thinner erased 471 million euros from sales last quarter, Sanofi said. Chief Executive Officer Chris Viehbacher has been hunting for acquisitions to fuel growth, including the $20.1 billion purchase of Cambridge, Massachusetts-based Genzyme.
"Sanofi is in the midst of its patent cliff," Jack Scannell and other analysts at Sanford C. Bernstein wrote in a note to clients today. It was a "solid, quiet quarter."
Sanofi stock rose 1.7 percent to 50.70 euros in Paris, giving the French drugmaker a market value of 68.3 billion euros. The shares have returned 6.1 percent over the past year including reinvested dividends, compared with 10 percent for the Bloomberg Europe Pharmaceutical Index.
Flea, Tick Control
Net sales rose 5 percent to 8.75 billion euros in the quarter, in line with the 8.73 billion euros analysts estimated. Unfavorable currency fluctuations wiped 5.1 percentage points from sales, Sanofi said.
Taxotere sales plunged 65 percent to 186 million euros. Lovenox revenue retreated 16 percent to 494 million euros while sales of the Ambien sleeping pill dropped 45 percent to 121 million euros. Revenue from animal health products slipped 9.3 percent to 470 million euros because of "temporary" generic competition in the U.S. to the Frontline Plus flea and tick control medicine, Sanofi said.
Viehbacher has been building up Sanofi's diabetes, cancer, consumer health-care, emerging markets and animal-health businesses to help reduce the company's dependence on patented pharmaceuticals.
Sales of the Lantus insulin analogue advanced 7.6 percent to 968 million euros in the third quarter. Revenue from vaccines climbed 9.5 percent to 1.34 billion euros, "reflecting solid demand for seasonal flu vaccines in the U.S. coupled with an early shipment," according to Sanofi. Genzyme revenue climbed 6.9 percent to 768 million euros.
Supply Outlook
This year "was always expected to be the bottom of the patent cliff," Viehbacher told reporters on a conference call today. "We were concerned about a cliff, and we actually got a rising sales picture."
The takeover of Genzyme, the largest maker of medicines for rare genetic disorders, was engineered to give Sanofi access to innovative treatments that are less vulnerable to generic competition. Manufacturing glitches at Genzyme's Allston Landing plant in 2009 led to shortages of two medicines called Cerezyme and Fabrazyme, driving shares down and leaving Genzyme vulnerable to a takeover.
"We see the integration as being pretty well on the road," Viehbacher said. "Every day there is a little less of 'we versus you' in the discussion."
Genzyme Turnover
Genzyme now has "roughly a 12 percent" employee turnover rate, Viehbacher said. "That's a little higher than it was before the acquisition but not substantially, and not really anything to be concerned about," he said. "We've been able to recruit people. We've been able to retain key talent."
Sanofi last week appointed David Meeker as chief executive officer of Genzyme. Viehbacher is now chairman of the U.S. company, and said he plans to remain "personally involved."
Sanofi said it expects the supply outlook for Cerezyme, used by patients with Gaucher disease, to improve from February. The company also reiterated it will need to use the capacity from a new manufacturing facility in Framingham to return to normal supplies of Fabrazyme, a treatment for patients with Fabry disease. Sanofi continues to expect to be able to begin providing product made there during the first quarter next year.
"We are in good shape on Framingham," Viehbacher told reporters. The new facility "is meeting all internal and regulatory milestones."
Genzyme's own research and development projects also "are on track," Viehbacher said.
Sales in emerging markets climbed 6.8 percent in the quarter, with "very strong growth in Asia and Latin America, a setback" in Turkey due to "significant price decreases," and "some slowdown" in eastern European markets because of the economic crisis, Viehbacher said.
The company still expects "double-digit growth" in emerging markets for the full year, he said.
Sanofi reiterated a July 28 forecast, saying it expects earnings per share to decline between 2 percent and 5 percent at constant exchange rates this year.