Rajaratnam Said to Be Headed to Massachusetts Medical Prison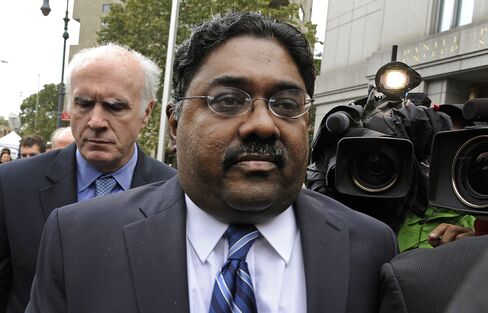 Raj Rajaratnam, the hedge fund manager sentenced to 11 years in prison for insider trading, was assigned to a federal prison medical center in Massachusetts, according to a person familiar with the matter.
Rajaratnam, 54, was ordered by U.S. District Judge Richard Holwell to report to prison on Dec. 5. At Rajaratanam's request, Holwell, who handed down the sentence on Oct. 13 in Manhattan federal court, recommended the Galleon Group LLC co-founder do his time at the Federal Correctional Complex in Butner, North Carolina, where convicted Ponzi schemer Bernard Madoff is serving a 150-year sentence.
Rajaratnam, who says he has health problems including diabetes and will probably need dialysis and eventually a kidney transplant, was instead assigned by the Federal Bureau of Prisons to the Federal Medical Center Devens, according to the person, who declined to be identified because the matter isn't public. Devens is located on the decommissioned Fort Devens military base in Ayer, Massachusetts, 39 miles (63 kilometers) west of Boston.
John Dowd, Rajaratnam's lawyer, declined to comment on the prison assignment.
Ed Ross, a Bureau of Prisons spokesman, also declined to comment, citing a policy not to disclose prison assignments before the prisoner is in custody.
Mobsters, Sex Offenders
Devens houses male inmates who need specialized or long-term medical or mental health care, according to the Bureau of Prisons website. It is designated as an administrative facility, which means it has inmates from different security classifications -- from white-collar criminals like Rajaratnam to mobsters and sex offenders.
Devens inmates include former U.S. Technologies Inc. Chief Executive Officer C. Gregory Earls, 67, who was convicted of 22 counts including securities fraud. He's due to be released in 2014. Also at Devens is Frank Locascio, 79, who is serving a life sentence following his 1992 racketeering conviction with former Gambino crime boss John Gotti.
In addition to the medical center, Devens includes a minimum-security prison camp.
Devens inmates often leave the facility to see outside specialists and for tests and medical procedures not available in the medical center, Sandra Howard, the clinical director at Devens, said in an affidavit submitted in Rajaratnam's case in September at the request of the government. The prison has regular onsite specialists in cardiology, nephrology, endocrinology, surgery, neurology and pulmonology.
Inmates on Dialysis
Devens provides dialysis to about 85 inmates, with the capacity for as many as 125, Howard said.
Since 2004, 15 Devens inmates have received kidney transplants, performed at the University of Massachusetts, she said.
Prisoners who receive permission from the Bureau of Prisons enter the national organ donor list on the same basis as patients outside prison, according to Howard. The prison has about 31 inmates who received transplants before they were in custody, she said.
"Mr. Rajaratnam has medical conditions that are managed routinely by the Federal Bureau of Prisons," Howard said in her affidavit.
Rajaratnam is the central figure in what U.S. investigators called the largest hedge fund insider-trading case in U.S. history. The probe, which included the widespread use of government wiretaps for the first time in such an inquiry, led to convictions of more than two dozen people.
Prosecutors said Rajaratnam made more than $72 million by using illegal tips to trade in stocks of companies including Goldman Sachs Group Inc., Intel Corp., Google Inc., ATI Technologies Inc. and Clearwire Corp.
On Oct. 31, Rajaratnam paid the $10 million fine imposed on his as part of his sentence, according to court records.
The case is U.S. v. Rajaratnam, 09-01184, U.S. District Court, Southern District of New York (Manhattan).