MF Global Demise May Show U.S. Willing to Let Bigger Firms Fail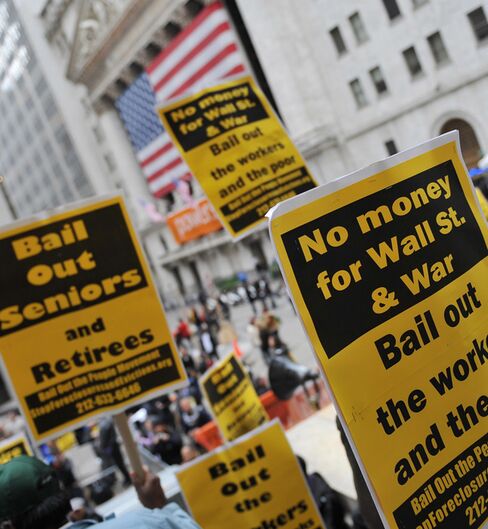 Nov. 3 (Bloomberg) -- As MF Global Holdings Ltd. careened toward bankruptcy last week, U.S. lawmakers and watchdogs showed little appetite for rescuing the firm. That may be a preview of Washington's stance if a bigger investment bank fails.
Three years after Lehman Brothers Holdings Inc.'s collapse triggered unprecedented bailouts, U.S. officials say they've hardened against saving distressed financial companies. Some politicians campaigned on that platform, regulators won new authority to dismantle complex firms, and the perception that banks get assistance unavailable to the public helped inspire the Occupy Wall Street protests.
"There would be another bailout of the banks after hell freezes over," said U.S. Representative Peter DeFazio, a 13-term Oregon Democrat.
Bailouts are back in the spotlight as Europe struggles to contain its sovereign debt crisis, which already has helped to claim Brussels-based Dexia SA. MF Global's collapse, less than a week after it disclosed a $6.3 billion bet on debt issued by European nations, renewed concern that bigger U.S. financial firms also may suffer losses that threaten their survival.
Ending taxpayer bailouts was a central goal of the Dodd-Frank Act. The legislation restricted the government's ability to rescue a single institution and expanded regulators' powers to seize and unwind failing firms. In April, the Federal Deposit Insurance Corp. changed its formula for assessing deposit fees, shifting the burden to larger lenders whose reliance on riskier funding may pose greater threats to the financial system.
Bailout Disapproval
The overhaul came amid a public backlash against Wall Street's 2008 rescue. In a USA Today/Gallup poll last year, 61 percent of respondents said they disapproved of the government's efforts to save financial firms, ranking the bailouts below President Barack Obama's new health-care system. Since September, Occupy Wall Street protests -- deriding bailouts, income inequality and the influence of money in politics -- have spread from New York to cities worldwide.
"Anyone would be hard-pressed to see a scenario where Congress votes to create a new bailout fund," said Brian Gardner, senior vice president for Washington research at KBW Inc. While the $700 billion Troubled Asset Relief Program may have saved the financial system in 2008 by injecting funds into banks, such a concept "does not have a lot of fans up on Capitol Hill these days."
'No More Bailouts'
The Tea Party, which played a role in sweeping dozens of House and Senate lawmakers out of office in 2010, seized on Wall Street's rescue as one of the driving forces behind its movement. The No. 1 principle of six listed by the Tea Party Express -- one of the most active Tea Party groups -- is "No More Bailouts."
The Club for Growth, a pro-free-markets organization empowered by its opposition to the Wall Street rescue and support for candidates who won in the 2010 midterm elections, is again aiming to defeat Republicans who voted for the bailout.
U.S. Senators Orrin Hatch of Utah and Richard Lugar of Indiana, both Republicans up for re-election in 2012, have been attacked by conservative groups over their votes for the bailout. Lawmakers recognize the pressure from outside groups and, more than anything, their constituents, said Representative Marcy Kaptur, an Ohio Democrat.
"The American people just don't have any sympathy for the banks right now," Kaptur said.
Still, Washington's renunciation of bailouts is discounted in the financial world.
Lehman's Downfall
Credit-rating firms presume some government support when grading lenders such as Bank of America Corp., and the largest banks still enjoy lower borrowing costs as investors count on guarantees. Big banks paid 1.09 percentage points less on debt and liabilities other than deposits in the second quarter, compared with costs borne by smaller lenders, FDIC data show.
Lehman's downfall on Sept. 15, 2008, triggered a run on the $3.6 trillion money-market industry, which provides short-term loans used by businesses worldwide to cover everyday expenses, such as payroll and utilities. The government's intervention -- guaranteeing money funds, pumping capital into banks and letting firms access U.S.-backed debt -- helped stabilize markets.
Some politicians and regulators have been careful to differentiate between rejecting individual bailouts and actions that might be needed to prevent or halt an industrywide crisis.
"I'm not interested in bailing out individual institutions that have wealthy people that want to make sure that their shares are worth something," former Massachusetts Governor Mitt Romney said during an Oct. 11 Bloomberg News/Washington Post Republican presidential debate in Hanover, New Hampshire. "Clearly, if you think the entire financial system is going to collapse, you take action to keep that from happening."
'Too-Big-to-Fail'
Even after the regulatory overhaul, some firms still may be too systemically important to let collapse if it imperils the U.S. economy, said William Isaac, chairman of Cincinnati-based Fifth Third Bancorp and a former FDIC chairman.
"It's inconceivable to me that too-big-to-fail will be gone anytime soon," he said. "If one or more of the large banks got into trouble, whether here in the U.S. or in Europe, it's unimaginable the government would say, 'Let's just let it fail and let the chips fall where they may.'"
If a large firm collapses, bank regulators now have greater tools to prevent fallout than in 2008. Companies with more than $250 billion in non-bank assets must submit by July so-called living wills, or blueprints for dismantling them in the event of a failure. The FDIC has expanded powers to seize a big bank and keep subsidiaries going or sell off assets.
Jon Corzine
MF Global, run by former New Jersey governor and Goldman Sachs Group Inc. co-Chairman Jon Corzine, had just $41 billion in assets at the end of September and didn't hold customer deposits insured by the FDIC. The company sought bankruptcy protection Oct. 31, after a week in which it reported a record quarterly loss, disclosed the bet on European debt and had its credit rating cut by Moody's Investors Service.
"If a firm like MF Global makes too many bad trading bets, it will fail, and so be it," U.S. Senator Carl Levin, a Michigan Democrat who pushed for the Volcker rule limiting proprietary trading, said in an e-mailed statement. "Taxpayers should not bear the loss."
To contact the reporters on this story: Dakin Campbell in San Francisco at dcampbell27@bloomberg.net; Phil Mattingly in Washington at pmattingly@bloomberg.net.
To contact the editors responsible for this story: David Scheer at dscheer@bloomberg.net. Lawrence Roberts at lroberts13@bloomberg.net