LinkedIn Shares Fall After Third-Quarter Loss, Stock Sale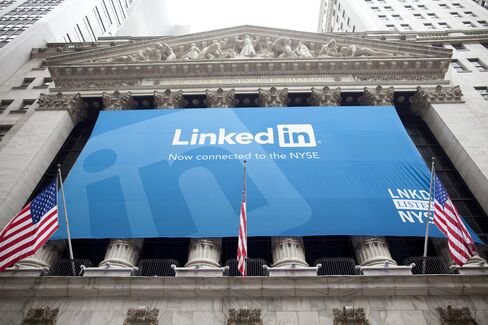 LinkedIn Corp., the biggest professional-networking website, dropped 5.9 percent after reporting a third-quarter loss and announcing a $500 million stock sale.
The shares declined $5.13 to $82.37 at the close in New York, after dropping as much as 12 percent for the biggest intraday slide since Aug. 8. LinkedIn had surged 94 percent through yesterday from its initial public offering on May 18, while the Standard & Poor's 500 Index fell 5.9 percent.
LinkedIn is increasing spending on research, sales and marketing, and office expansions to boost its global presence and attract more recent college graduates to the site. The stock sale will include $100 million from the company, with the rest coming from existing stockholders.
"The real concern is that the offering will be a big addition to the float and put additional pressure on the share price," said Ken Sena, an analyst at Evercore Partners Inc. in New York who rates the shares "underweight" with a target price of $70.
The net loss of $1.6 million, or 2 cents a share, compares with a profit of $3.96 million, or 2 cents, a year earlier, the Mountain View, California-based company said yesterday in a statement after the markets closed. Revenue more than doubled to $139.5 million, topping the $127.4 million average of estimates compiled by Bloomberg.
Operating costs more than doubled in the period to $134.9 million. The company also opened an office in Tokyo and acquired IndexTank to improve its search technology.
High Multiple
Before today, LinkedIn was trading at 12.1 times projected sales over the next year, compared with a ratio of 5.4 for Google Inc. Even though LinkedIn beat most projections, it's hard to justify that valuation, said Herman Leung, an analyst at Susquehanna International Group LLP in San Francisco.
"With the stock trading at the multiple it's trading at, everything has to be perfect," said Leung, who has a "neutral" rating on the stock.
LinkedIn increased its membership 63 percent from the year earlier to 131.2 million. Revenue in the hiring solutions business more than doubled to $71 million. Marketing solutions sales more than doubled to $40.1 million, and premium subscriptions revenue climbed 81 percent to $28.4 million.
Profit excluding some costs in the period was $6.6 million. LinkedIn forecast sales for the full year of $508 million to $512 million and earnings before interest, taxes, depreciation and amortization of $83 million to $85 million. Analysts on average predict revenue of $488.9 million and Ebitda of $71.1 million.