King Says BOE Staff Won't Need 'Vast' Pay for Regulatory Roles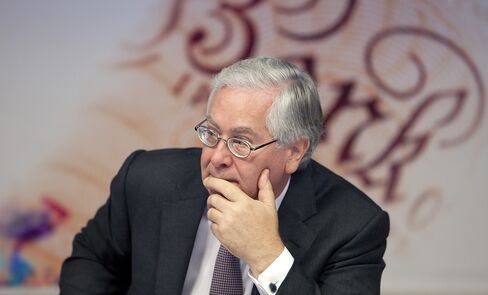 Nov. 3 (Bloomberg) -- Bank of England Governor Mervyn King said the bank won't need to offer "vast sums" in compensation to build up its regulatory staff as it's given new powers to oversee the financial system.
"People often say, you have to pay vast sums of money to get people to come and be regulators," he told a panel of lawmakers today in London. "I don't believe that's true and if you do pay vast sums, you get the wrong people."
King made the remarks as he answered questions on the government's proposals to enact the most sweeping reforms to banking regulation since 1997. They include abolishing the Financial Services Authority and returning to the central bank duties to supervise lenders.
The comments come as the bank is taking action to keep the staff it already has while the government sticks to its plan for a two-year pay freeze. King has resorted to measures such as curbing canteen prices and improving restroom facilities as the bank suffered a net loss of 64 staff in the year through February, according to its annual report.
The report noted that the challenge of keeping talented and experienced employees poses a risk to its ability to conduct monetary policy effectively. King said the bank shouldn't have to match some of the salaries available at the FSA in order to recruit the kind of people it needs.
"I don't think that we will want to mimic some of the salary scales at the FSA," he said. "And nor do I think that we want to attract people who take short-term periods out of the financial-services sector to come and get two to three years experience and then go back. We want people to make careers as a regulator."
King Salary
King's salary held at 305,368 pounds ($489,000) as he refused a pay increase, and he received neither an annual pension contribution nor a bonus, according to the annual report. The FSA's 2011 annual report shows that including salary, bonuses and pension, FSA Chairman Adair Turner was paid 500,000 pounds and Chief Executive Hector Sants got 806,000 pounds.
Sants is deputy governor designate at the bank and, along with Turner, a member of the interim Financial Policy Committee.
"What we want to do is demonstrate at the BOE that it is possible to have a public-service career where you specialize in being an effective regulator," King said today. "What we want to do, just as we've managed to do in the area of monetary policy, and I think in financial stability, is to attract people, certainly recruiting them when they're young but others in mid-career, who want to come in and work on public policy."
King said that Paul Volcker, former Federal Reserve chairman, and E. Gerald Corrigan, former president of the New York Fed, were two of the "most effective" financial regulators he'd ever known.
"They were never paid very much money during their career," he said. "They were very powerful and effective regulators because they were committed to a life of public service."
To contact the reporter on this story: Jennifer Ryan in London at jryan13@bloomberg.net
To contact the editor responsible for this story: Craig Stirling at cstirling1@bloomberg.net