JPMorgan's Dimon Draws Seattle Protests as Demonstrations Spread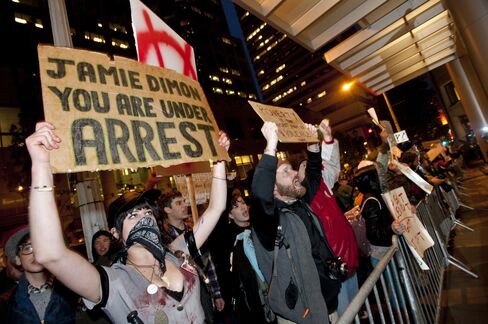 JPMorgan Chase & Co. Chief Executive Officer Jamie Dimon was targeted by protesters during a keynote speech in Seattle last night, with activists picketing and chanting "banks got bailed out, we got sold out."
More than 100 participants weathered pouring rain and temperatures in the 40s to air frustrations as Dimon, 55, addressed the University of Washington Foster School of Business' annual business leadership dinner.
At least three protesters said they were hit with pepper spray as they tried to block entrances to a Sheraton hotel, where the dinner was closed to the public. Activists held signs that called for Dimon's arrest and compared his hourly wage, which they calculated at around $10,000, with about $23 for an average worker.
"They're bringing to the surface the pent up disappointment, anger, frustration and fear that the American people has with the direction that the economy and country has taken over the last decade," said John Taylor, president and CEO of the National Community Reinvestment Coalition, a Washington-based non-profit group that represents affordable housing charities.
Joe Evangelisti, a spokesman for the New York-based bank, declined to comment on the Seattle demonstrations.
Occupy Wall Street activists have repeatedly targeted Dimon as they protest income disparity, the influence of money on politics and the use of taxpayer funds to rescue banks in 2008. They marched from Wall Street in downtown New York to his home on the upper East Side on Oct. 11. The route also included demonstrations outside homes of News Corp. CEO Rupert Murdoch, billionaire hedge fund manager John Paulson and Republican donor David Koch.
Avoided Losses
Dimon, who runs the largest and most profitable U.S. bank, saw his institution through the recession without posting a quarterly loss. He has said that JPMorgan, which took $25 billion in money from the Troubled Asset Relief Program, did so only to encourage other banks to participate and shore up the financial system, not because it needed the money.
Boston, San Francisco, Washington and London are among cities where rallies have been held to protest banks and their executives. People are focusing lenders' role in creating the housing crisis and the impact it had on the economy and unemployment, said Taylor.
"It's not Jamie personally, it's the institutions themselves and what they are doing or not doing," he said.
'Do the Right Thing'
More than 1,200 people signed an online petition last year urging Syracuse University in New York to rescind Dimon's invitation as the commencement speaker. Dimon presented the address, telling students to have the courage to speak the truth, even when it's unpopular. He told graduates to "do the right thing, not the easy thing" and not to become someone else's "lapdog or sycophant."
Less than a dozen graduates protested in silence by removing their caps and gowns during his speech. While Dimon urged graduates to hold him and other CEOs accountable for their actions, he warned against indiscriminately judging all executives based on the failings of a few as "another form of prejudice and ignorance."
"It's okay for us at times to blame and be dissatisfied with others and hold them responsible, but it's not okay to oversimplify and paint everyone with the same brush," he said. "It should not be acceptable to denigrate entire groups, not all companies, not all CEOs, not all politicians, not all media, not all students."