Jefferies's Top Shareholder Leucadia Boosts Stake Amid Plunge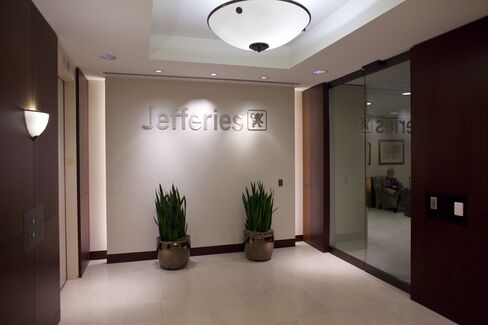 Nov. 3 (Bloomberg) -- Jefferies Group Inc.'s biggest shareholder, Leucadia National Corp., increased its stake as the investment bank said it's hedged against losses linked to European sovereign debt.
Leucadia boosted its stake by 1 million shares to 57.5 million shares, the New York-based firm said today in a regulatory filing. Jefferies had fallen as much as 20 percent earlier today then rebounded, triggering stock-market circuit breakers, as the company reiterated that it has no "meaningful" net exposure to Europe's debt.
Executives at Jefferies have been working to ease investor concern that MF Global Holdings Ltd.'s Oct. 31 collapse following bets on Europe's debt may presage losses at their firm. Jefferies is being targeted by short sellers spreading "spurious" information about its holdings as they seek to cut off its short-term funding, said Richard Bove, an analyst at Rochdale Securities LLC.
"If the shorts can convince investors that the firm's capital is at risk in Europe, they can create a run on the balance sheet which, from their perspective, will bring the company down," said Bove, who is based in Lutz, Florida.
Jefferies stock fell 3.2 percent to $11.88 at 3:21 p.m. in New York. The earlier plunge followed Egan-Jones Ratings Co.'s decision to cut the firm's credit grade, citing a "changed environment" after MF Global's collapse and concern that Jefferies's $2.7 billion in "sovereign obligations" as of Aug. 31 is large relative to equity.
'Fragile' Markets
"It is a testament to the fragile nature of the markets that the collapse of MF Global, following a monumental display of bad judgment by that company's management, should generate contagion," said Chris Kotowski, an Oppenheimer & Co. analyst in New York. Jefferies is "a very conservatively run firm where management has enormous 'skin in the game.'"
Jefferies said in a statement this week that its risk to MF Global debt securities is less than $9 million after it arranged a $325 million bond sale in August. Its short sovereign-debt positions are all in securities, according to a separate statement from the firm today. It doesn't hold credit-default swaps to hedge the sovereign holdings, which are short term and turned over about three or four times a week, the company said.
"We have always been cognizant of the fact that we're not too big to fail and operate accordingly as we manage risk, diversification, liquidity and capital," Chief Executive Officer Richard Handler, 50, said in a Nov. 1 interview. "We have always used our capital to facilitate clients rather than taking large proprietary bets."
'Worry' About Shorts
MF Global, the futures broker run by Jon Corzine, bet $6.3 billion on Italian, Spanish, Belgian, Portuguese and Irish debt, it said in an Oct. 25 presentation. Disclosure of the wagers fueled credit-rating downgrades from Moody's Investors Service and Fitch Ratings to junk status, leading to its bankruptcy.
Jefferies's funds at risk linked to sovereign debt, not including hedges, "doesn't give people a lot of comfort, since that's what caused the demise of MF Global," said Sean Egan, the president and a founding principal of Egan-Jones, in an interview today. "However, they're setting up their positions definitely in the sense that they have shorts. You always worry about the structure of those shorts."
Egan-Jones cut Jefferies to BBB- from BBB, telling clients in a note yesterday that while Jefferies's "financials are respectable given the tough operating environment," it still would prefer for the investment bank to lower leverage further.
'Environment Has Changed'
"The issue is that the environment has changed," Sean Egan said. "There's increased scrutiny of the broker-dealers, particularly of the medium-sized broker dealers. They're not given the leeway that they had a couple of months ago."
Jefferies's stock has swung at least 10 percent during four of the last six trading sessions, as investors responded to MF Global's decline, bankruptcy and spreading concerns that other securities firms may make bets that could undermine their stability.
"There's an overarching thing right now and that is 'shoot first and ask questions later,'" Michael Holland, chairman and founder of New York-based Holland & Co., said in a telephone interview. "In this market you have a very pessimistic mindset, very cynical, skeptical, what-is-the-worst-outcome mindset."
Leucadia slipped 1.1 percent to $25.60. Leucadia had held a 28 percent stake in Jefferies as of Sept. 23, data compiled by Bloomberg show. Laura Ulbrandt, a Leucadia spokeswoman, didn't immediately respond to request for comment after the disclosure.
Jefferies said it issued the statements today in response investors' questions. In addition to the descriptions of its European debt dealings, the firm said it's involved in a "limited number of routine regulatory reviews in process, all of which are insignificant in scope and absolutely immaterial to Jefferies."
To contact the reporter on this story: Laura Marcinek in New York at lmarcinek3@bloomberg.net.
To contact the editor responsible for this story: David Scheer at dscheer@bloomberg.net.