Jeff Mangum Brings Welcome Rasp to Solo After Decade's Absence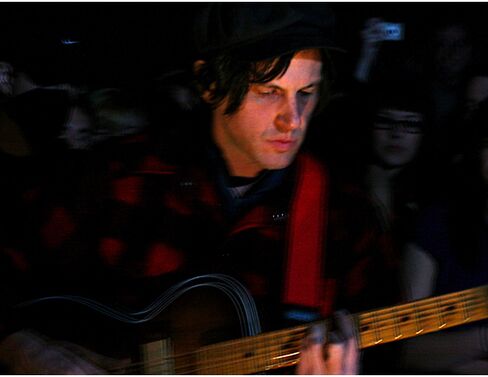 The stage at Town Hall on Oct. 29 was simple, with a chair at the center and four acoustic guitars surrounding it. The performance that unfolded was gripping.
Jeff Mangum came on with a wave and said thanks before sitting to play the opening notes of "Two-Headed Boy Pt. Two" His nasal raspy voice was welcome to those who had been waiting a decade for his return.
In the 1990s Mangum served as singer and songwriter for Neutral Milk Hotel. The band recorded a pair of albums, the second of which, 1998's "In the Aeroplane Over the Sea," has been heralded as one of indie music's best. But shortly after the release the group broke up and Mangum dropped out of sight.
On this night, he wore a cap from which his black hair stuck out, framing a pasty face. He played an hour-long set of Neutral Milk Hotel material.
The show had a strange dynamic for a while. For each number, the crowd listened attentively to Mangum's imaginative lyrics and applauded loudly when the song ended. Mangum seemed to find the silence disquieting, saying at one point, "You can yell at me." After that, song titles and questions were shouted between songs but few were addressed.
A cover of Roky Erickson's "I Love the Living You" was thrown into the mix and perhaps served as a metaphor for Mangum's embracing the moment.
House Lights On
For an artist who has made few public appearances over the years, Mangum seemed comfortable and open. He asked to have the house lights on at times so he could see the audience. He frequently made pleas to have us sing along. Many declined but more complied on "King of Carrot Flowers Pt. One" and "King of Carrot Flowers Pts. Two & Three." The latter had us all singing the line "I love you, Jesus Christ" loud and clear -- a strange, yet collective moment.
He closed the set with "Holland, 1945" and then returned for an encore of "Two-Headed Boy Pt. One" and "Engine."
Mangum will be at the Landmark Lowe's Jersey Theater in Jersey City on Nov. 5 and 6. While the second show is sold out, tickets remain available for night one. Don't dawdle. Who knows if he'll go into hibernation again.
For the month ahead, note that The Cure will be heading to the Beacon Theatre for the "Reflections" show. From Nov. 25 through 27 the band will play "Three Imaginary Boys," "Seventeen Seconds," and "Faith," from start to finish each night. All shows are sold out.
Here's a selection of New York-area shows in November. Please note that opening bands aren't always listed. Shows marked (SO) are sold out, although online services such as Craigslist often have tickets.
Nov. 3
St. Vincent/Cate Le Bon at Webster Hall (SO)
Nov. 4
Meat Puppets at Le Poisson Rouge
Nov. 5
Blind Pilot/Aunt Martha at Bowery Ballroom
Nov. 6
Jay-Z & Kanye West at IZOD Center (SO)
Nov. 7
Cate Le Bon at the Rock Shop
Nov. 8
Thundercat at Le Poisson Rouge
Nov. 9
Quilt/Total Slacker/DIVE/Royal Baths at Glasslands Gallery
Nov. 10
Fitz and the Tantrums at Terminal 5
Nov. 11
Kurt Vile & The Violators at Webster Hall
Nov. 12
Indian Jewlery/Prince Rama/Doldrums at Cameo Gallery
Nov. 13
Foo Fighters/Social Distortion/The Joy Formidable at MSG (SO)
Manchester Orchestra/White Denim/The Dear Hunter at Wellmont
Theater
Nov. 14
Youth Lagoon/Young Magic at Mercury Lounge (SO)
Nov. 15
Noel Gallagher's High Flying Birds at Beacon Theatre
Nov. 16
First Aid Kit/Alessi's Ark at Mercury Lounge
Nov. 17
Architecture in Helsinki/DOM at Irving Plaza
Nov. 18
John Fogerty/Delta Spirit at Beacon Theatre
Nov. 19
The Strange Boys/Xray Eyeballs/Habibi at Glasslands Gallery
Nov. 20
Deer Tick/Virgin Forest at Webster Hall
Nov. 21
Chris Cornell at Carnegie Hall
Nov. 22
M83/Active Child at Webster Hall (SO)
A.A. Bondy at Bowery Ballroom
Nov. 23
M83/Active Child at Music Hall of Williamsburg (SO)
Real Estate/Big Troubles at Bowery Ballroom
Nov. 24
Happy Thanksgiving
Nov. 25
The Cure at Beacon Theatre (SO)
Nov. 26
The Cure at Beacon Theatre (SO)
Holy Ghost!/Jessica 6 at Music Hall of Williamsburg
Nov. 27
The Cure at Beacon Theatre (SO)
Nov. 28
Red Baraat at Brooklyn Bowl
Nov. 29
Jon Spencer Blues Explosion at Maxwell's
Nov. 30
Teeth/Jump Into The Gospel at Mercury Lounge
(Jaime Widder works in sales for Bloomberg News. Any opinions expressed are his own.)