ING Plans to Cut 2,000 Jobs as Earnings Exceed Estimates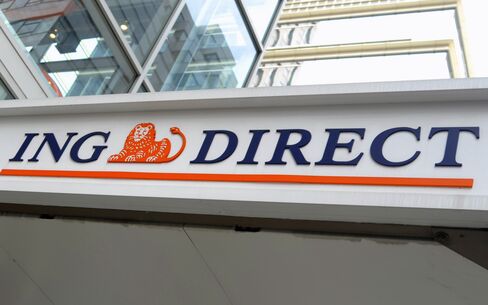 Nov. 3 (Bloomberg) -- ING Groep NV, the biggest financial-services company in the Netherlands, said it plans to cut 11 percent of the jobs at its Dutch bank and posted third-quarter earnings that surpassed analysts' estimates.
ING jumped in Amsterdam trading after saying it will shed 2,000 of its Dutch lender's 19,000 staff and cut 700 more contract positions. Net income rose sevenfold to 1.69 billion euros ($2.32 billion), beating the 1.52 billion-euro estimate of 12 analysts surveyed by Bloomberg.
"In the context of the difficult environment, ING delivered a sound set of figures," Werner Eisenmann, an analyst at DZ Bank AG in Frankfurt, said in a note.
The job cuts will help reduce costs by 300 million euros by 2014, the Amsterdam-based firm said in a statement today. So-called underlying pretax profit at ING's banking operations fell 29 percent to 1.06 billion euros after a writedown on Greek sovereign debt. Deteriorating stock and bond markets, slackening economic growth and a deepening of Europe's debt crisis weighed on revenue.
ING rose 67 cents, or 12 percent, to 6.33 euros at 2 p.m. in Amsterdam trading, reversing a drop of as much as 6.3 percent. The shares extended gains, following a pan-European rally, after the European Central Bank unexpectedly cut interest rates. ING stock is down 13 percent this year, compared with a 16 percent drop by the Stoxx Insurance 600 Index.
'Leaner Environment'
"We have delivered resilient results both within the bank and in the insurance company," Chief Executive Officer Jan Hommen told reporters on a call today. "These are uncertain times with income under pressure. We are renewing our efforts to reduce our expenses to make sure we adapt to the new environment and that we can continue to be competitive long term."
Benoit Petrarque, an Amsterdam-based analyst at Kepler Capital Markets, called the cost reductions "good news."
"They are anticipating becoming a retail franchise going forward where cost levels are extremely important to manage," he said. "They are clearly expecting margin pressure in the Netherlands and the Benelux."
ING wrote down its holdings of Greek sovereign debt to market value as of Sept. 30, representing a reduction of about 60 percent and leading to a 467 million-euro pretax impairment. ING reduced its holdings of government bonds from Greece, Italy, Ireland, Portugal and Spain by 4.8 billion euros in the third quarter and trimmed its holdings by a further 600 million euros in October.
Recapitalization
EU leaders agreed Oct. 27 to bolster the region's rescue fund, recapitalize banks and persuaded bondholders to take 50 percent losses on Greek debt to prevent contagion effects to Italy and Spain.
The agreement forces 70 banks to raise their level of core capital to 9 percent after writing down their sovereign debt holdings. Based on information from the European Banking Authority, ING's bank meets the new capital target, it said. The unit's core Tier 1 ratio, a measure of financial strength, was 9.6 percent, up from 9.4 percent at the end of June.
Greece's government called a referendum on the latest bailout package this week, spurring concern that the country may default. European leaders yesterday cut off aid payments to Greece and said a referendum in five weeks will determine whether the debt-strapped nation becomes the first to exit the 17-country euro area.
Greek Exit Consequences
The consequences of an exit are "underestimated," Hommen said today. "It would be better if we would be able to keep Greece in the euro: better for the country, better for Europe and better for the financial system. But there is a price to everything and that has to be evaluated very carefully."
The bank's net income in the quarter included 516 million euros in gains, mainly on the sale of part of ING's real-estate investment management business and its car-lease unit. Last year's third-quarter result included a 513 million-euro goodwill writedown at ING's U.S. insurance unit.
Hommen set out to reduce the firm's balance sheet by about 45 percent before the end of 2013 after getting a taxpayer-funded bailout during the financial crisis in 2008 and 2009. European Union-imposed sales include its U.S. online bank, and the company plans to shed its entire insurance operations.
Insurance IPOs
While working toward an initial public offering for its U.S. insurance business and another for the European and Asian parts of the unit, ING agreed to sell most of its Latin American insurance operations to Colombia's Grupo de Inversiones Suramericana.
"Despite the volatile market environment, we continue to work towards the separation of our insurance companies so we will be ready to move ahead with the IPOs when markets recover," Hommen said.
The insurance unit posted a 27 percent jump in operating profit to 527 million euros. Underlying earnings before tax were 561 million euros, compared with a loss of 274 million euros a year earlier. Hedging gains more than offset the impairment on Greek sovereign debt, ING said.
ING received 10 billion euros of state aid in 2008 and transferred the risk on 21.6 billion euros of U.S. mortgage assets to the Dutch government. It has to repay the Netherlands a final tranche of 3 billion euros, which it previously said it aims to do in May.
"We want to repay as quickly as we can," Hommen said, adding that the company must consider increased capital requirements from European and Dutch regulators. "We need to know exactly where we stand before we can make any firm commitments here."
To contact the reporter on this story: Maud van Gaal in Amsterdam at mvangaal@bloomberg.net
To contact the editor responsible for this story: Frank Connelly at fconnelly@bloomberg.net