Harrisburg, Pennsylvania, Halts Hiring Under Emergency Plan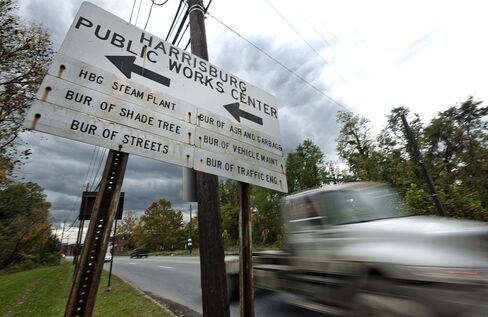 Harrisburg, the bankrupt capital that faces a state takeover, must freeze hiring and nonessential purchases and increase parking and business fees, said C. Alan Walker, Pennsylvania's community and economic development secretary.
Walker today released a short-term action plan as a result of Governor Tom Corbett announcing a fiscal emergency for the city. Under state law, municipal officials are required to follow the measures, which include the elimination of four jobs.
"This emergency-action plan will make sure basic services continue and the safety of the public is protected," said Walker in a news release. "This action plan also puts into place specific cost-containment measures to maintain finances and ensure all essential obligations are met."
Harrisburg will face a $1 million deficit by the end of the year and, to close the gap, must sell tax liens that may fetch $1.4 million, Walker told city officials in a letter.
Corbett declared a fiscal emergency after Mayor Linda Thompson and the City Council failed to agree on how to deal with the community's debt. The council sought bankruptcy protection for the municipality, the first for a U.S. capital in at least 40 years.
Over Their Heads
The city of 49,500 owes five times its general-fund budget because of an overhaul and expansion of a trash-to-energy incinerator that hasn't generated enough revenue to cover the obligations. Harrisburg guaranteed about $242 million of debt related to the incinerator, with $65 million of it overdue, according to its bankruptcy papers.
On Nov. 23, a federal judge will consider the validity of the filing, which the state and mayor have opposed.
Harrisburg must give Pennsylvania a recovery plan by Nov. 14 for approval ahead of a final Nov. 25 deadline. If Pennsylvania rejects the plan, it may put the city in the hands of a receiver empowered to implement measures without the council's approval.
Other initiatives Walker set out include reviewing payments nonprofits make in lieu of property taxes, considering the sale of public property, and limiting overtime and capital projects.
Before it's here, it's on the Bloomberg Terminal.
LEARN MORE