Euro's Leaders Question Greek Membership, Cornering Papandreou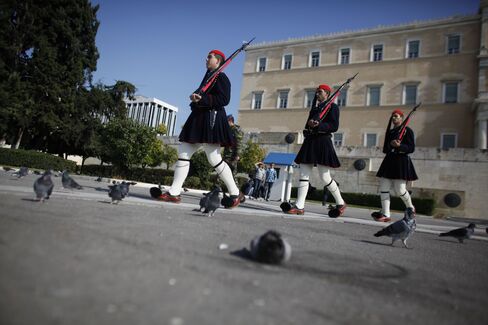 European leaders for the first time raised the prospect of the euro area splintering, forcing debt-stricken Greece to decide whether it's in or out when it holds a referendum on a bailout package next month.
Led by Germany and France, Europe's economic and political anchors, the euro's guardians yesterday cut off financial aid for Greece until an early December vote determines whether it deserves a fresh batch of loans needed to stave off default.
"The referendum will revolve around nothing less than the question: does Greece want to stay in the euro, yes or no?" German Chancellor Angela Merkel told reporters after crisis talks hours before a Group of 20 summit set to begin today in Cannes, France. French President Nicolas Sarkozy said Prime Minister George Papandreou's government won't get a "single cent" of assistance if voters reject the plan.
The hardball tactics opened a split in the Athens government and broke with the doctrine that the euro is designed to last forever. European stocks fell and Italian bond yields rose to a euro-era record, as the 17-nation currency hurtled into uncharted territory.
"Europe's policy makers are going to tell the Greeks 'go now' if they must and 'we will survive' if they leave," said Kit Juckes, head of foreign exchange research at Societe Generale SA in London. "We get one month of uncertainty during which I can't see much that helps the euro."
Euro, Stocks
The euro fell as much as 0.7 percent before erasing the loss and trading up 0.1 percent to $1.3756 at 10:30 a.m. in Cannes. The Euro Stoxx 50 Index fell 0.5 percent.
The currency's fate hung over the G-20 summit, promoted by the host French government with banners declaring "history is being written in Cannes." European governments had planned to use it as a showcase for a revamped crisis-fighting strategy unveiled after all-night talks in Brussels last week.
Instead, Merkel and Sarkozy met again early today with the leaders of Italy and Spain and European Union officials to work out how to prevent the shock of Greece's unilateral referendum call from reverberating across the $13 trillion currency zone.
European officials pledged to step up work to prevent Greece's travails, now exacerbated by a month-long political campaign, from hammering other at-risk economies.
Struggling to restore Italy's credibility, the cabinet of Prime Minister Silvio Berlusconi last night agreed to include emergency measures in a budget bill set for passage by Nov. 15. Steps including a higher retirement age and more state-asset sales failed to convince the markets, which pushed up Italy's 10-year yield to 6.3 percent, more than triple Germany's.
Revamped Rescue
Euro finance ministers will accelerate plans to boost the firepower of the 440 billion-euro rescue fund, Merkel and Sarkozy said. On Oct. 27 euro leaders agreed to use leverage to get the fund's clout up to 1 trillion euros and told banks to raise 106 billion euros by the end of June to fortify their capital.
Papandreou, meanwhile, sought to squelch opponents in his own party to the Oct. 31 decision to put the terms of the next aid package to voters weary of two years of budget cuts and tax increases.
Finance Minister Evangelos Venizelos openly broke with his boss, challenging the idea that the referendum on Dec. 4 or 5 might lead to a euro exit. Papandreou "is history," Dimitris Lintzeris, a ruling party lawmaker, said on NET TV.
Until the ballot, an already delayed aid installment of 8 billion euros will remain on hold, Merkel and Sarkozy said in a late-night appearance in an auditorium better known as the home of the Cannes film festival.
Backing Euro
Polls show most Greeks object to the austerity required for aid, yet more than seven in 10 favor remaining in the euro, a survey last week of 1,009 people published in To Vima newspaper showed.
EU treaties make no provision for a country to exit the currency, feted at its setup in 1999 as the capstone in Europe's half-century progression from war to prosperity. In a December 2009 legal opinion, the European Central Bank said an expulsion "would be so challenging, conceptually, legally and practically, that its likelihood is close to zero."
A decade since Greece fudged fiscal data to win entry to the euro and two years after it triggered the crisis by revising its budget numbers, wave after wave of austerity has deepened a recession now in its fourth year. The economy will contract 5.5 percent this year and 2.5 percent next, according to its 2012 budget. Unemployment reached 16.5 percent in July.
Exit Costs
While leaving the euro would allow Greece to regain control of exchange and interest rates, a September report by economists at UBS AG said its new currency would drop 60 percent, and local borrowing costs would jump at least 7 percentage points, imperiling the balance sheets of banks and companies. The cost would be as much as 11,500 euros a person in the first year outside the euro and 4,000 euros in following years, according to UBS.
"We would like Greece to remain a member but we're not saying Greece has to stay a member at all costs," Luxembourg Prime Minister Jean-Claude Juncker, who chairs meetings of euro finance ministers, said today on ZDF German television.
Before it's here, it's on the Bloomberg Terminal.
LEARN MORE