Gap Sees China Becoming Billion-Dollar Business in 3-4 Years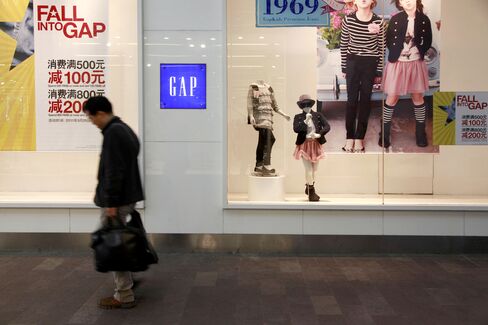 Gap Inc. expects China to become a billion-dollar business in three to four years as the largest U.S. apparel chain operator speeds up expansion there, said David Zoba, its senior vice president for global real estate.
The clothing retailer, which has eight stores in China, aims to lift the number to 15, including its first shop in Hong Kong, by the end of its fiscal year on Jan. 31, Zoba said in an interview in Shanghai yesterday. Gap plans to have as many as 45 namesake stores in the country 12 months after that, he said.
Gap is shifting focus to the global market to reduce dependence on North America, where consumer confidence unexpectedly slumped in October to the lowest level since March 2009. The operator of more than 3,000 shops is competing against Hennes & Mauritz AB and Inditex SA's Zara in China's clothing market, which will more than triple to 1.3 trillion yuan ($205 billion) by 2020, according to Boston Consulting Group Inc.
"China will be one of our most important markets," said Zoba. "We're trying to get China to be a $1 billion business as soon as possible. I think that can be in three to four years."
He declined to provide current revenue figures for China.
Consumers in the world's most populous country will spend more on clothes as households with at least 74,000 yuan in income a year surge to 140 million by 2020 from 50 million in 2010, Massachusetts-based Boston Consulting said in a report in July.
'Great Opportunity'
Gap's eight stores in China are in Beijing and Shanghai, where it opened its first shop in the country a year ago. While continuing to focus on big Chinese cities, the company plans to have about a third of its stores in smaller cities in the country's vast central and western area where incomes are growing more quickly, Zoba said.
"We think second tier is a great opportunity because the middle class is growing faster," he said. "It may be starting from a lower base, but growing more rapidly as urbanization occurs."
Total spending on apparel in China was about 400 billion yuan in 2010, according to Boston Consulting. Per capita spending on clothes among urban consumers aged between 14 and 45 was 1,150 yuan in 2010, compared with 5,770 yuan in the U.S. and 5,020 yuan in the U.K., according to the report.
Calvin Klein
Labels such as Calvin Klein, owned by New York-based PVH Corp., also plan to expand to smaller cities in China and be "well established in all three tiers" over the next five to 10 years, Tom Murry, the brand's president and chief executive officer, said in an interview in Beijing today. About half of its business in China currently comes from sales in the big cities, he said.
Calvin Klein expects growth of 50 percent or more in China this year and of about 50 percent in 2012, Murry said in a separate interview with Bloomberg Television today, without specifying whether he was referring to sales or profit. The label sells through about 200 standalone stores and 350 other points of sale in China, he said.
"We see growth every day" coming from the small cities, said Murry. "We all know what's happening through all over China, GDP growth of 9 percent again this year, still very robust growth."
Expanding Economy
China's economy expanded 10.4 percent last year. Growth will slow to 9.5 percent this year, six times the pace of the U.S. and euro area, according to International Monetary Fund estimates released in September.
Gap, based in San Francisco, is forecast to have little-changed sales this fiscal year, according to 26 analysts surveyed by Bloomberg. The company had revenue of $14.7 billion last year.
The company opened a store last month in Chile, its first in Latin America, and plans more in Panama and Colombia next year. It also wants to open more of its namesake and Banana Republic stores in China, South America and Italy, Stephen Sunnucks, president of international operations, said in October.
Before it's here, it's on the Bloomberg Terminal.
LEARN MORE