G-20 Leaders Discuss IMF Resources as Debt Crisis Deepens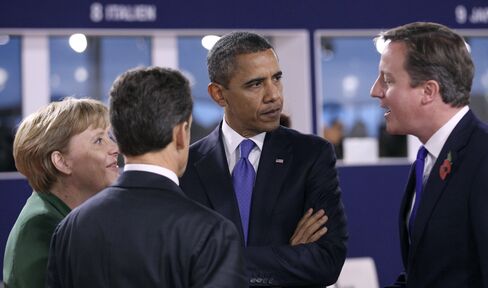 Nov. 3 (Bloomberg) -- Group of 20 leaders discussed a bigger role for the International Monetary Fund in the European debt crisis, with the U.K. joining Brazil and Russia in support for boosting the lender's war chest.
U.K. Prime Minister David Cameron said the resources of the Washington-based IMF might need to be increased, though it shouldn't directly invest in the euro area's 440 billion-euro ($604 billion) bailout fund. Brazil and Russia have said they are ready to help the region provided aid goes via the IMF.
"When the world is in crisis, it's right that you consider boosting the IMF, an organization founded by Britain, in which we're a leading player," Cameron told reporters today as he arrived at the G-20 summit in Cannes, France. "No government ever lost money by lending money to the IMF, which supports countries right around the world."
Euro-region policy makers are seeking financial support from the rest of the world as the region's two-year turmoil deepens and dominates the summit. In 2009, G-20 leaders battling a global recession agreed to triple the resources of the IMF, which has contributed to bailouts in Greece, Ireland and Portugal.
"There's a broad view amongst G-20 leaders that there does need to be additional IMF resourcing," Australian Prime Minister Julia Gillard told reporters in Cannes. "That's because leaders recognize that is an appropriate move at this point in the global economy, an appropriate move to send a message of Confidence."
Not Sufficient
IMF Managing Director Christine Lagarde said in September that resources available for lending, currently at $391 billion, may not suffice if the global economy were to worsen.
While officials from the U.S. and Canada have downplayed the chances of such an agreement, U.S. Treasury Undersecretary for International Affairs Lael Brainard today said the situation was "fluid," with "a number of ideas that are being discussed."
"We are ready to participate in the financial support program for the European Union, primarily via the International Monetary Fund, which means we have the right to specify our own approach," Russian President Dmitry Medvedev said in Cannes.
He later said that the so-called BRICS nations, comprising Brazil, Russia, India, China and South Africa, expect more voting rights at the IMF in exchange for their support. Russia is ready to make as much as $10 billion available, according to the Kremlin's top economic adviser, Arkady Dvorkovich.
Temporary Funding
Brazil is pushing to beef up IMF resources through voluntary temporary bilateral loans and notes purchases, according to a proposal circulated by Finance Minister Guido Mantega at the G-20 meeting of finance ministers in Paris last month and obtained by Bloomberg News.
Under the proposal, such agreements should last two years and then be replaced by an increase in IMF permanent funds agreed by January 2014 through member states' quotas, which determine access to funding and voting rights.
The G-20 is also considering a repeat of a 2009 move to expand global foreign-exchange reserves, according to an official close to the negotiations.
Leaders then agreed to an allocation of $250 billion in Special Drawing Rights, the artificial currency that the IMF uses to settle accounts among its member nations. The move is akin to creating money the way a central bank does, with the IMF's 187 member countries getting a boost of their reserves.
Liquidity Line
In a draft of the G-20 communique, the G-20 also called on the IMF to "expedite" a new liquidity line for countries "with strong policies and fundamentals facing exogenous, including system, shocks."
Other ways discussed to involve the IMF more deeply are to have it act as a channel for money for the enhanced European bailout fund, which leaders said will be scaled up to 1 trillion euros.
While IMF resources would not be used, involvement with market intervention would be new territory for the institution, which in its 65-year history has only made loans or acted as a trustee for funds lending directly to governments. The measure would need approval by a majority of the IMF executive board, which is dominated by G-20 members, with the U.S. holding the most sway.
The IMF has channeled money from selected member countries for specific purposes before. In the 1970s, oil producers contributed to a pool financing loans to economies hurt by the increase in the price of crude. Some members now pay in to a trust fund that helps lend cheaply to the poorest nations.
To contact the reporters on this story: Sandrine Rastello in Cannes at srastello@bloomberg.net; Robert Hutton in Cannes, France at rhutton1@bloomberg.net
To contact the editors responsible for this story: Christopher Wellisz at cwellisz@bloomberg.net; James Hertling at jhertling@bloomberg.net.