European Stocks Advance on ECB Rate Cut and Optimism Over Greece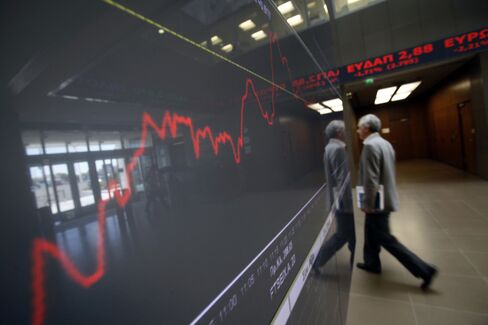 European stocks advanced after the euro-area central bank unexpectedly cut the benchmark interest rate and Greek Prime Minister George Papandreou signaled he won't call a referendum on the latest bailout package.
National Bank of Greece SA led the country's lenders higher. Swiss Re Ltd. and Man Group Plc gained more than 2 percent after reporting better-than-expected earnings. Cable & Wireless Communications Plc jumped 7.8 percent after saying restructuring is ahead of schedule.
The benchmark Stoxx Europe 600 Index climbed 2.1 percent to
242.2 at the close in London, after the European Central Bank's rate decision. The stocks earlier erased their losses amid speculation that Greece will cancel the referendum as Papandreou's ruling Pasok party split over the question.
"From a market perspective, it seems to be good news," said Stephane Ekolo, chief European strategist at Market Securities in London. "It somehow reduces uncertainty and may pave the way for the implementation of the austerity measures."
National benchmark indexes gained in 17 of the 18 western European markets. France's CAC 40 rallied 2.7 percent and Germany's DAX climbed 2.8 percent. The U.K.'s FTSE 100 added 1.1 percent.
The ECB unexpectedly cut interest rates as Italian and Spanish borrowing costs soared after euro-area leaders raised the prospect of Greece leaving the monetary union.
Draghi's First Meeting
ECB officials, meeting under the presidency of Mario Draghi for the first time, cut the benchmark interest rate by 25 basis points to 1.25 percent. Forty nine of 55 economists in a Bloomberg News survey expected no change, four predicted a quarter-point reduction and two forecast a half-point cut.
Papandreou signaled he won't call a referendum calling into question Greece's membership of the euro, saying he will reach out to the opposition about forming a transitional government.
The Greek prime minister said the country belongs in the currency bloc and welcomed support shown by the main opposition New Democracy party for last week's rescue agreement agreed with EU leaders in Brussels.
The Stoxx 600 has lost 2.7 percent so far this week as the Greek referendum call surprised euro-area leaders who cut off aid to the region's most indebted country. They viewed the referendum as a vote on Greece's membership of the euro.
'Yes or no?'
Crisis talks ended late yesterday with German Chancellor Angela Merkel and French President Nicolas Sarkozy withholding 8 billion euros ($11 billion) of assistance and warning Greece it will lose all European aid if it votes against the package agreed upon only last week.
"The referendum will revolve around nothing less than the question: does Greece want to stay in the euro, yes or no?," Merkel told reporters.
Leaders from the Group of 20 economies are meeting at a summit in Cannes, France, today with a discussion on Greece and the euro area.
National Bank of Greece rose 11 percent to 1.80 euros. Alpha Bank SA climbed 15 percent to 1.07 euros. Piraeus Bank SA rallied 10 percent to 23.6 euro cents.
Banks rose throughout Europe, with BNP Paribas SA, France's biggest bank, advancing 7.5 percent to 31.92 euros. Commerzbank AG, Germany's second-largest lender, added 5.5 percent to 1.75 euros.
U.S. Stimulus
In the U.S., Federal Reserve Chairman Ben S. Bernanke signaled additional monetary stimulus may be needed to lower U.S. unemployment as policy makers projected little acceleration in growth after last quarter's pickup.
Potential actions are "on the table," including a third round of securities purchases, extending the period of record-low interest rates or being more specific about when rates would rise, Bernanke said at a press conference yesterday after European markets closed.
Bernanke warned that economic improvement will probably be "frustratingly slow," with policy makers forecasting a 1 percentage-point drop in the jobless rate to about 8 percent over two years.
Swiss Re rose 6.1 percent to 49 Swiss francs. The world's second-biggest reinsurer said third-quarter profit more than doubled to $1.35 billion. That beat the $539 million average estimate of nine analysts surveyed by Bloomberg.
Man Group
Man Group gained 2.4 percent to 144.7 pence. The biggest publicly traded hedge-fund manager reported a smaller-than-forecast decline in pretax profit in the fiscal first half. Pretax profit dropped to $195 million in the six months through September from $227 million in the year-earlier period, the London-based company said. Man forecast pretax profit of $185 million.
Cable & Wireless Communications jumped 7.8 percent to 39.33 pence. The company said first-half net income before exceptional items rose 9 percent to $163 million. The company also said restructuring is ahead of schedule.
Aker Solutions ASA surged 10 percent to 67.15 kroner. Norway's biggest oil platform maker said third-quarter net income more than tripled to 1.12 billion kroner ($200 million) as it booked a gain after separating out Kvaerner ASA.
ING Groep NV rallied 9.4 percent to 6.18 euros. The biggest financial-services company in the Netherlands said it plans to cut 11 percent of the jobs at its Dutch bank and posted third-quarter earnings that surpassed analysts' estimates.
Tenaris SA soared 15 percent to 12.85 euros. The world's largest maker of seamless pipes said third-quarter profit rose 7 percent on higher demand in the U.S. and Europe and increased prices.
Rheinmetall AG tumbled 7.6 percent to 35.12 euros. The maker of KS Kolbenschmidt engine pistons and a partner in Germany's Puma battle tank said it won't stage an initial public offering of its automotive unit, citing stock-market declines. Rheinmetall's third-quarter earnings before interest and taxes rose to 76 million euros, missing analyst estimates.
Before it's here, it's on the Bloomberg Terminal.
LEARN MORE