Stocks, Oil Rise, Treasuries Drop as Greece Moves Toward Bailout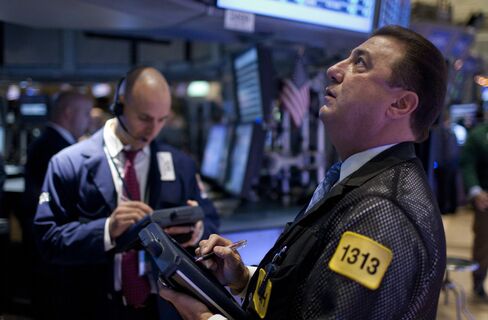 Stocks, commodities and the euro rose, while Treasuries slid, as Greece moved closer to accepting a bailout and the European Central Bank cut interest rates to bolster economies reeling from the debt crisis.
The Standard & Poor's 500 Index added 1.9 percent to close at 1,261.15 at 4 p.m. in New York, resuming gains after turning lower following data on service industries that trailed estimates and the ECB president's prediction that Europe may enter a "mild recession." The Stoxx Europe 600 Index surged 2.1 percent, while the euro was up 0.5 percent at $1.3817. Oil rose 1.7 percent to top $94 a barrel as the S&P GSCI Index of materials increased 1.2 percent. The drop in 10-year Treasury notes sent yields up eight basis points to 2.07 percent.
Stocks extended gains as Greek Finance Minister Evangelos Venizelos said the nation won't hold a referendum to vote on its latest financial rescue. Greek Prime Minister George Papandreou triggered a two-day rout in global stocks earlier this week after saying he wanted voters to decide on the country's bailout. ECB President Mario Draghi cut the benchmark rate by 25 basis points to 1.25 percent as he chaired a meeting of the governing council for the first time.
"Papandreou absolutely blinked in this game of chicken," Michael Holland, chairman and founder of New York-based Holland & Co., said in a telephone interview. His firm oversees more than $4 billion. "The interesting thing is that it took him so long to blink. The world's markets told him he was wrong and he still persisted for an extended period of time. It was insane."
Market Leaders
Gauges of energy, industrial and technology companies climbed at least 2.4 percent to lead gains among the 10 main industry groups in the S&P 500, all of which rose more than 1 percent. Qualcomm Inc. jumped 7.5 percent as the maker of mobile-phone chips forecast higher sales than analysts predicted. Kraft Foods Inc., the food company planning to split in two next year, rose 3.3 percent after boosting its earnings forecast. Estee Lauder Cos. gained 18 percent, the most since 2009, as the cosmetics maker increased its dividend and announced a 2-for-1 split.
Jefferies Group Inc. tumbled as much as 20 percent, triggering a stock-exchange circuit breaker, after Egan-Jones Ratings Co. cut its credit rating to BBB- from BBB. The shares pared losses to 2.1 percent as the investment bank said in a statement that it has no "meaningful net exposure" to European sovereign debt.
Economic data showed service industries in the U.S. expanded at a slower pace and consumer confidence plunged. A gauge of non-manufacturing industries making up about 90 percent of the economy fell to 52.9 in October from 53 in September, the Institute for Supply Management said. A reading above 50 signals growth. The Bloomberg Consumer Comfort Index slid to the lowest level since the depths of the recession in 2009.
Jobs Data
Data from the Labor Department showed that jobless claims fell by 9,000 to 397,000 last week, the fewest in a month and lower than the median forecast of economists for 400,000. A report tomorrow is forecast to show the U.S. added 95,000 jobs in October and the unemployment rate held at 9.1 percent, according to the median forecasts of economists surveyed by Bloomberg.
The S&P 500 rose 11 percent in October, its best monthly gain since 1991, amid better-than-estimated economic data and corporate profits. The S&P GSCI index climbed 9.6 percent last month. The benchmark stock index slumped 5.2 percent in the first two days of this week amid concern Greek voters would reject the bailout, forcing the nation into default. Stocks rebounded yesterday as Federal Reserve Chairman Ben S. Bernanke said he is prepared to use monetary tools, including purchasing more mortgage-backed securities, to spur economic growth if necessary. Today's advanced restored the S&P 500's 2011 gain, leaving it up 0.3 percent year-to-date.
'Looking Better'
"The U.S. is looking better because the economic data flow is improving," John Ryding, the chief economist and co-founder of RDQ Economics in New York, told Bloomberg Television. "Yes, we've got a lot of volatility in the equity market but that volatility has often been a good entry point to adding risk exposure."
Volatility in the Treasury market has picked up. Merrill Lynch & Co.'s MOVE index, which measure price swings in Treasuries based on prices of over-the-counter options maturing in two- to 30 years, was 112 yesterday, almost at this year's high of 117.8 reached on Aug. 8, and above the 93.13 average for this year. It touched the year's low of 71.5 on May 31.
Zinc and live cattle advanced at least 2.2 percent today to lead gains in 20 of 24 commodities tracked by the S&P GSCI index. Soybeans and corn gained on speculation that adverse weather will threaten early crop development in Brazil and Argentina, the world's biggest shippers after the U.S. Gold futures rose to a six-week high, climbing 2.1 percent to $1,765.10 an ounce, as the ECB rate cut increased the appeal of the metal as an alternative investment.
European Stocks
Eleven shares gained for every one that fell in the Stoxx 600. Swiss Re Ltd., the world's second-biggest reinsurer, jumped 6.1 percent after reporting better-than-estimated earnings. Cable & Wireless Communications Plc rallied 7.8 percent after first-half profit rose.
The MSCI Emerging Markets Index slipped 0.3 percent as the Hang Seng China Enterprises Index fell 1.4 percent after a gauge of non-manufacturing output declined in September. Brazil's Bovespa increased 1.5 percent while the South African rand and Chilean and Mexican pesos increased at least 1.5 percent against the dollar, leading gains among developing nation currencies.
In European bond markets, Greek two-year yields traded at 102 percent, paring gains after surging almost 11 percentage points to 107 percent. Yields on 10-year French debt increased three basis points, German rates rose nine points and Italian 10-year debt yields decreased one point.
G-20 Meets
German and French leaders holding emergency talks before today's G-20 summit withheld 8 billion euros ($11 billion) of assistance for Greece. European leaders yesterday warned Greece will surrender all European aid if it votes against a bailout package agreed last week to contain the crisis.
President Barack Obama arrived at a summit of international leaders declaring that the EU must "flesh out more of the details" of a deal reached last week to contain the region's debt crisis.
"The most important aspect of our task over the next two days is to resolve the financial crisis here in Europe," Obama said today during a joint appearance with French President Nicolas Sarkozy before the opening of a Group of 20 summit in Cannes, France.
Before it's here, it's on the Bloomberg Terminal.
LEARN MORE