SEC Investigation Sends Embraer to Biggest Drop on Bovespa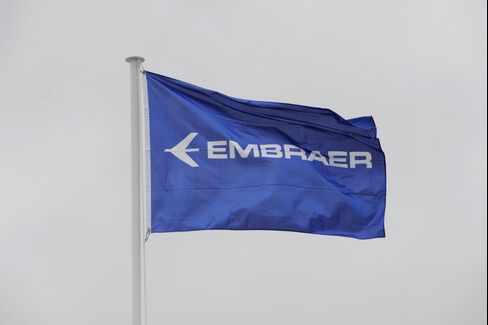 Nov. 3 (Bloomberg) -- Embraer SA, the world's fourth-biggest plane manufacturer, fell the most in six weeks after the company said it is being investigated by the U.S. Securities and Exchange Commission and reported a third-quarter loss.
The stock slid 5 percent, the most since Sept. 22, to 11.09 reais at the close of trading in Sao Paulo. It was the largest decline on Brazil's benchmark Bovespa index, which advanced 1.5 percent.
The SEC is investigating Embraer for possible violation of the U.S. Foreign Corrupt Practices Act, the Sao Jose dos Campos, Brazil-based company said late yesterday in a regulatory filing. The disclosure raises a "yellow flag" amid "good operating results," Banco BTG Pactual SA said in an e-mail to clients today. While higher tax payments erased profits, revenue rose 24 percent to 2.27 billion reais ($1.31 billion), Embraer said.
"The operational result was good, but the market is more or less ignoring that and focusing on this investigation," said Rosangela Ribeiro, an analyst at SLW Corretora brokerage in Sao Paulo. "The conference call tomorrow will be very important for the stock as it may ease investor concern."
The Foreign Corrupt Practices Act prohibits companies listed in the U.S. from bribing foreign government officials or making other illegal payments to obtain or retain business, according to the Justice Department's website. If criminally sanctioned, companies may be barred from doing business with the U.S. government and fined as much as twice the value of the benefit they sought through the improper payments. Convicted executives may be sentenced to five years in prison.
SEC Investigation
Embraer said it hired external lawyers who are conducting an investigation into transactions in three countries that it didn't identify. The company is cooperating with the SEC and the Justice Department and has delivered documents to both agencies, according to its earnings statement.
"The company is unable to foresee the duration, the scope or the results of the investigation," Embraer said in the statement.
Embraer posted a net loss of 200,000 reais, compared with a profit of 219.9 million reais a year earlier, as the company paid higher taxes after the gain in the dollar against the Brazilian currency increased the value of its assets. Discounting the impact of the tax, profit would have beat Itau Unibanco Holding SA's estimate by 26 percent, according to a report today from analyst Renata Faber.
The real lost 17 percent against the U.S. dollar in the third quarter, the worst performance among 16 major currencies tracked by Bloomberg.
Executive-jet deliveries slowed in the quarter, the company said. Embraer forecasts 2011 sales of $5.6 billion to $5.8 billion. In the second quarter, the forecast was $5.8 billion.
To contact the reporters on this story: Fabiola Moura in New York at fdemoura@bloomberg.net; Alexander Cuadros in Sao Paulo at acuadros@bloomberg.net
To contact the editors responsible for this story: Helder Marinho at hmarinho@bloomberg.net; David Papadopoulos in New York at papadopoulos@bloomberg.net