Egypt's Jon Stewart Sees Few Laughs in Military Clampdown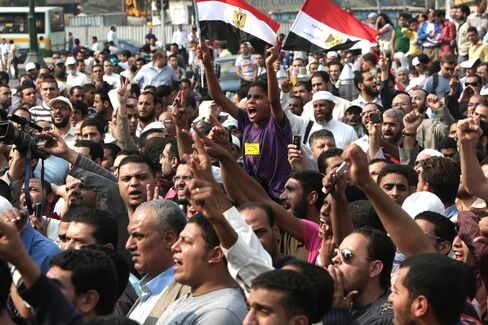 Bassem Youssef shot to fame and landed a satirical television show after poking fun online at state media coverage of the uprising that ousted Hosni Mubarak. Nine months on, the man known as Egypt's Jon Stewart sees little to laugh about.
"I'm frustrated," said the 37-year-old surgeon-turned-celebrity, in an interview a day after military prosecutors ordered a blogger and activist detained. "The regime hasn't changed. Everything is the same," he said. "People are still being arrested for just being politically active."
Campaigning started yesterday for Egypt's first parliamentary election since Mubarak's removal in February, amid rising tensions between activists who say their revolution is unfinished and generals who combine pledges to steer the country toward democracy with calls for stability. Outbreaks of violence and the economy's failure to recover from its post-revolt slump have spurred calls for the army to speed up the handover of power.
These tensions are playing out in the media. Activists say little has changed since the days when state-owned media demonized the protesters calling for Mubarak's removal. They point to the way state television defended the army's role in the Oct. 9 clashes with mostly Coptic Christian demonstrators that left at least 25 people dead, and say Mubarak-style tactics are used to keep private channels in check.
'Life or Death'
"No country can move toward democracy with a state-run media like the one we have in Egypt," said Gamal Eid, a human-rights lawyer. "This revolution must continue. The fight for the media, like that for the judiciary system, is one of life or death."
Egypt had its government bond ratings cut three times this year by Moody's Investors Service, which said that "unsettled political conditions have further undermined economic performance and investor confidence." The ranking was reduced to B1 on Oct. 27, four levels below investment grade. The economy grew 1.8 percent in the fiscal year that ended in June, compared with 5.1 percent in the previous 12 months, according to government figures. The country's international reserves fell for a tenth month in October to $22.1 billion, the central bank said today.
Red Lines
Youssef's show "El Bernameg," or "The Program," is modeled on "The Daily Show," the Emmy Award-winning U.S. program on Comedy Central hosted by Stewart since 1999. The format juxtaposes political commentary and spoof interviews with digs at other broadcasters.
In one episode of "El Bernameg," a siren wails and a red warning light flashes across the screen when the host mentions Mohammed Hussein Tantawi, the head of Egypt's ruling military council that took over after Mubarak's ouster. Youssef, who acknowledges that his program wouldn't have reached the airwaves under Mubarak, says there are still red lines.
"There's more freedom on some issues but no freedom on certain issues," he said. "Nobody can talk about the military council."
Blogger Maikel Nabil is facing a second military trial for criticizing the army on his Web log. Military prosecutors on Oct. 30 ordered the detention of another blogger, Alaa Abdel Fattah, accusing him of inciting violence and damaging military property during the Oct. 9 violence, the deadliest since Mubarak's ouster.
'Height of Hypocrisy'
"It is the height of hypocrisy for the ruling military council, the self-proclaimed guardian of the revolution, to try to intimidate critical voices through military trials and contrived criminal charges," Mohamed Abdel Dayem, Middle East and North Africa program coordinator with the Committee to Protect Journalists, which asked that Abdel Fattah be freed, said in an Oct. 31 statement.
A military court rejected an appeal for the release of Abdel Fattah today, Egypt's state-run news agency said.
The rift between activists and the ruling generals widened this week after political groups objected to a government-sponsored document that includes measures they say aim to shield the military from civilian scrutiny after a power handover and enshrine a political role for it.
Television stars are also feeling the heat. Last month, talk-show host Yosri Fouda took his program off the air after what he said was a "clear deterioration in the freedom of professional media."
Media Control
"It's no secret that much of the pre-revolution mentality is still imposed on us in the same fashion as before, if not worse," he said in a statement on Oct. 21. Like Youssef, Fouda works for OnTV, the satellite channel of Christian billionaire Naguib Sawiris.
In September, the military and the government decided to freeze the issuance of licenses for satellite channels and to take "legal measures" against channels that "incite sedition and violence." That's exactly what activists accused state television of doing on Oct. 9, when it singled out "Christian protesters" as the source of the violence. Footage broadcast on other channels and posted online showed armored vehicles driving into crowds who were protesting an attack on a church in southern Egypt.
"There's a complete control of the media," said Emad Gad, an analyst at the Al Ahram Center for Political and Strategic Studies in Cairo. "They forget that now there's the Internet, social networking websites and mobile phones that can snap pictures."
Press Freedom
The army, which says it is committed to freedom of the press, has denied soldiers used excessive force on Oct. 9 or were responsible for the killings. Information Minister Ossama Heikal has said state television made some "professional mistakes" that day but didn't incite.
The response of Youssef and his team was a show titled "Maspeero, Land of Hypocrisy," referring to the name of the government media building outside which the violence unfolded. One segment aired clips of private television channels being raided, after which Youssef flashes a smile at the camera: "The massacre of Maspeero ... sponsored by Maspeero. The regime hasn't fallen yet."
Youssef and Mohamed Khalifa, the show's director, say it will take time for the concept of "political sarcasm" to reach a wider audience. "There are still a lot of taboos," said Youssef. "Sex and religion are huge taboos here."
Youssef says he is now looking ahead to the country's election, due to start on Nov. 28, and wondering what material it will yield. "There will be a lot of problems, which is quite normal for a newly emerging democracy," he said. "We cannot afford to be pessimistic. God willing, things will get better."