China Plans 'Orderly' Delivery of Ships as Glut Hits Rates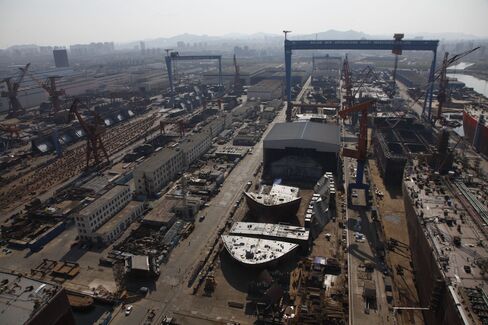 Nov. 3 (Bloomberg) -- China, the world's biggest shipbuilding nation, intends to strengthen control of vessel deliveries to reduce a capacity glut that has hit rates and operators' earnings.
"We will guide the orderly arrival of new container and dry-bulk ships in the market," Transport Minister Li Shenglin said today in a speech at a conference in Hainan province. He didn't elaborate on the steps the government may take.
Rates for carrying both commodities and containers have tumbled over the past year as the launch of new vessels outpaces demand for shipments. China contributed to the glut by offering financial support for orders during the global recession to help secure jobs at its roughly 3,000 domestic shipyards.
The current slump in the shipping market is worse than in 2008, during the global recession, and it may last for a "relatively long" period, Li said.
China Cosco Holdings Co., the nation's largest operator of dry-bulk and container vessels, posted a 2.8 billion yuan ($440 million) loss in the first half of the year. China Shipping Container Lines Co., operator of the country's largest cargo-box fleet behind Tianjin-based Cosco, lost 630 million yuan.
This year is "the most painful ever" for world shipping, Cosco Chairman Wei Jiafu said at the conference. Shipping lines should lease existing vessels rather than ordering new ones to pare fleet growth, he said.
Cosco fell 4.5 percent to HK$3.86 at the close trading in Hong Kong. It's declined 53 percent this year. China Shipping Container dropped 4 percent to HK$1.45. It's tumbled 58 percent this year.
The Baltic Dry Index, a benchmark for commodity shipping costs, has declined 27 percent in the past year.
To contact the reporter on this story: Jasmine Wang in Hong Kong at jwang513@bloomberg.net
To contact the editor responsible for this story: Neil Denslow at ndenslow@bloomberg.net