CBS Profit Rises on Higher Distribution, Licensing Sales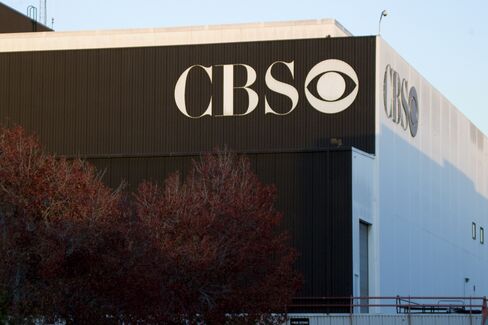 CBS Corp., owner of the most-watched U.S. television network, reported that third-quarter profit rose 6.6 percent as distribution and licensing revenue climbed.
Net earnings increased to $338 million, or 50 cents a share, from $317 million, or 46 cents, a year earlier, New York-based CBS said today in a statement. Analysts had projected 46 cents, the average of 25 estimates compiled by Bloomberg.
CBS, controlled by 88-year-old Chairman Sumner Redstone, gets more of its revenue from advertising than other major U.S. media companies. To decrease its dependence on the U.S. ad market, CBS has pursued international expansion and deals with online distributors such as Netflix Inc., Amazon.com Inc. and Hulu LLC's service in Japan.
"We are clearly tracking ahead of our strategy to diversify and de-risk our business," Chief Executive Officer Leslie Moonves said on an investor call today.
Sales climbed 2.1 percent to $3.37 billion, compared with analysts' estimates of $3.44 billion. Distribution revenue and content licensing increased 4.7 percent, the company said.
Advertising for the quarter was little changed at $1.99 billion. In the same period last year, CBS said it benefited from local advertising for political campaigns.
CBS fell 1.7 percent to $24.52 at the close in New York. The stock has gained 29 percent this year.
CBS struck a deal with Netflix last month that gave the online video service streaming rights to the full lineup of shows from CW, the joint venture between CBS and Time Warner Inc. Mike Morris, an analyst at Davenport & Co., estimates CBS and Time Warner would each receive $30 million in the first year of the deal.
Pujols at Plate
CBS is doing a good job of adding revenue beyond advertising, said David Miller, an analyst with Caris & Co. who rates the shares "above average" and doesn't own any.
The company is likely to cut more digital distribution agreements in the future, Moonves said.
"We're probably in the third inning and we have Albert Pujols coming up to bat," he said, referring to the first basemen who helped the St. Louis Cardinals win the World Series this year.
The company also said today it had authorized an additional $1.5 billion to buy back stock. CBS had previously allocated $1.5 billion for buybacks and had used $850 million of that total for Class B shares through September, the company said.