Boeing Says Orders to Top Output Through 2013 as 737 Gains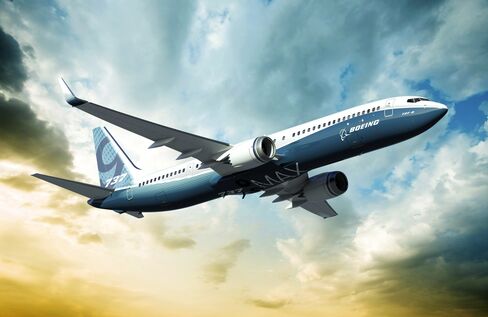 Boeing Co. expects orders to exceed deliveries each year through 2013 after commitments for the new 737 MAX jet climbed past 600 in four months, the planemaker's commercial-jet president said.
The company is boosting output of its current 737 by about a third through 2014, to 42 a month, as it tries to whittle down a seven-year backlog that is deterring customers. Boeing will "take a hard look" in late 2013 at whether to lift production even higher, Jim Albaugh said today at a Goldman Sachs Group Inc. conference in Boston.
Boeing decided in July to offer the 737 MAX, an upgrade with more fuel-efficient engines, to fend off a challenge from Airbus SAS's A320neo and help capture half of a $2 trillion market in the next 20 years. Before today, Boeing's most recent tally for 737 MAX commitments was 496.
John Hamilton, the 737 chief program engineer, said on a separate conference call that there may be "several hundred more commitments soon." He said it would be up to airlines to decide when to sign the orders, as Boeing gets closer to finalizing the configuration and writing performance guarantees. Until then, they won't appear in Boeing's backlog.
Boeing has won 428 firm aircraft orders this year, after 110 cancellations, and has delivered 387 jets, according to its website. The 737 makes up the majority of both.
Fan Size
The company is working with CFM International, a partnership of General Electric Co. and Safran SA, to finish plans for a customized Leap engine after deciding that a 68-inch fan hits the "sweet spot" in terms of fuel burn, Albaugh said. The current 737 has a 61-inch fan.
A jet engine's fan is a key to its fuel use: generally, the larger the fan, the more efficient the engine. A bigger fan saves fuel by increasing the amount of air passing by the core, or hot-section, of the engine and cooling it. Bigger engines also require more tweaks to the body of the plane, though.
Improvements to the 737 will be kept to a minimum, Albaugh and Hamilton said. The fundamental change is the new, heavier engines, which will require new struts for attachment to the aircraft as well as strengthening of parts of the wing and body. The larger power plants will be moved forward, so engineers may lengthen the nose landing gear by about 6 to 8 inches (15 to 20 centimeters), Hamilton said.
Jet Configuration
The company also plans to improve the pneumatic system, reshape the tail cone to make it more aerodynamic, tweak the winglets and add fly-by-wire spoilers that will make the airplane lighter and improve stopping.
Boeing plans to finish configuration plans in 2013, leading to a first flight in 2016 and delivery in 2017, though efforts are under way to accomplish those goals sooner, Hamilton said. Airbus's A320neo is set to enter service in 2015.
Boeing also is looking at changes that may improve the efficiency of the current 737s prior to the MAX's entry into service, Hamilton said.
Boeing "de-risked this decade" by deciding to build the 737 MAX instead of developing an all-new single-aisle jet as it had wanted to do, Albaugh said. The development money can now be spent on improving the twin-aisle 777 to better compete against Airbus's A350-1000 and on stretched versions of the composite plastic 787, he said.
Supply Chain
The supply chain is in "pretty good shape" as the company boosts overall airplane production to records, and suppliers will get a new schedule for rate increases sometime this month, Albaugh said.
Boeing is also considering increasing the output rate of the 777, so that it can offer more delivery slots sooner, Albaugh said.
If the investment needed to do that turns out to be "tens of millions of dollars, then we'd probably do that without thinking very hard about it," he said. Airlines have to make decisions based on what planes are available, not only which ones are best, he said.
The aircraft-financing capability of European banks amid the sovereign-debt crisis is a "watch item" for Boeing, and the company's financing arm "may have to play a more strategic role in what we do" going forward, Albaugh said. Boeing Capital Corp. generally prefers to be a lender of last resort and only steps in if an airline can't get financing elsewhere.