Berlusconi Arrives at G-20 'Empty-Handed' After Revamp Vow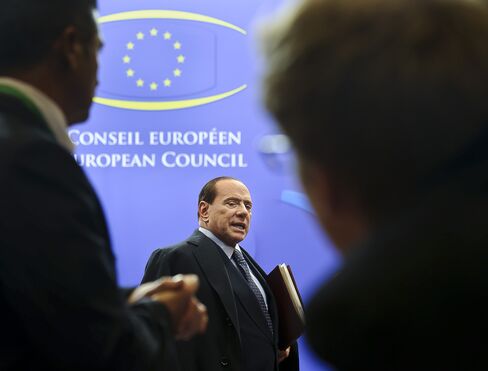 Prime Minister Silvio Berlusconi arrived at today's Group of 20 summit with pressure mounting on him to overhaul Italy's economy after European leaders for the first time raised the prospect of the euro area splintering.
Berlusconi is going "to Cannes empty-handed," Il Sole 24 Ore, Italy's leading financial daily, said in a front-page editorial. The Cabinet last night only agreed on a "mini-plan" to fight the debt crisis, rather than accelerating a promised economic revamp through an emergency decree, the Milan-based newspaper said.
Italy's 10-year bond yield rose to a euro-era record today after Berlusconi's Cabinet only included some promised measures in an amendment to a spending bill that Parliament must pass this month. The amendment will be presented next week and the government will seek a confidence vote on the bill, an Italian government official told reporters in Cannes, France.
Berlusconi had raised investor expectations on Nov. 1 by vowing to speed implementation of measures pledged to the European Union last week in time for today's gathering of world leaders.
"The outcome of the Cabinet meeting suggests the Italian government will be unable to approve unpopular measures needed to restore market confidence," Fabio Fois, an economist at Barclays Capital in London, wrote in a note to investors. "Should the government not instigate bold actions in the very near term, Berlusconi could be forced to resign."
Yields Advance
The yield on Italy's benchmark 10-year bond rose as high as 6.399 percent before dropping to 6.222 percent as of 3:05 p.m. in Rome. That's still close to the 7 percent level that drove Greece, Portugal and Ireland to seek bailouts even though the European Central Bank has been buying Italian and Spanish bonds since Aug. 8 in a bid to stem surging borrowing costs.
"It's in a sense pointless to think that sovereign bond rates could be steadily brought down by outer, external interventions," ECB President Mario Draghi said at a press conference in Frankfurt today. "The first and foremost responsibility with maintaining financial stability and orderly financial conditions lies with national economic policies."
Higher Stakes
European governments led by Germany and France raised the stakes in the debt crisis last night, choosing to treat Greece's December referendum on the terms of its bailout as an in-or-out vote on the nation's future in the currency union. The hardball tactics open the door for a nation to leave the euro, piling pressure on Italy, the region's third-biggest economy and second most-indebted, to cut debt and speed measures to boost growth.
Moves in last night's Italian amendment included a plan to accelerate asset sales of as much as 60 billion euros ($82 billion), liberalize closed professions and local services and boost infrastructure investment, newspapers including Il Sole reported today, citing unidentified government officials. Other pledged initiatives will come later, probably in the form of a decree law, the daily said.
President Giorgio Napolitano had urged the government to immediately implement the economic measures, which were pledged in a letter sent by Berlusconi last week to the EU. Napolitano has been consulting with opposition leaders this week in a bid to seek the broadest possible support for the overhaul.
Napolitano's appeal "was the closest a president can get to removing the prime minister," James Walston, a professor at the American University in Rome, wrote in an e-mailed message. "He's already consulting with opposition leaders as if there were a government crisis."
Meeting Commitments
Napolitano said today that upcoming votes in Parliament will show the extent of the government's support and ability to meet its EU commitments. His talks with Italy's main political leaders showed that they are all aware that the measures must be passed urgently, the president said in an e-mailed statement.
Berlusconi has repeatedly rejected calls on him to resign, vowing to see out the end of his term in 2013 even amid deepening divisions with his Northern League coalition partner.
League leader Umberto Bossi said last night that his party, which underpins the government's support in Parliament, won't back a plan to raise the retirement age to 67 from around 65. The plan was one of the promises made in the letter to the EU.
"If we take away pensions from workers who've always worked and give the money to Rome, we'll spark a revolution," Bossi told reporters yesterday in Rome.
Before it's here, it's on the Bloomberg Terminal.
LEARN MORE