ArcelorMittal Misses Estimates, Sees Steel-Price Pressure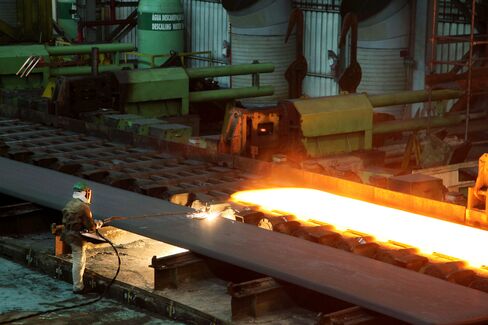 ArcelorMittal, the world's biggest steelmaker, posted third-quarter profit that missed analyst estimates and said it's experiencing "volume and price pressures" in the final three months of 2011.
Earnings before interest, tax, depreciation and amortization totaled $2.41 billion, missing the $2.5 billion average estimate of 17 analysts surveyed by Bloomberg. Steel shipments in the fourth quarter will be lower than in the third, reflecting buyers' "wait and see" approach, the Luxembourg-based company said today in a statement.
"Prices have moved down in the fourth quarter," Aditya Mittal, chief financial officer, said on a call with reporters. Customers "are not keen to build inventories, they want to de-stock because they are not sure what the global economic environment means in the long term," he said. "That has put pressure on volumes that has led to price erosion."
Rising raw-material costs and falling steel consumption have hobbled producers' efforts to emerge from the industry's worst crisis in 60 years after the global recession caused demand to collapse. That has led to output cuts as steelmakers seek to bolster prices. Nippon Steel Corp., Japan's largest steelmaker, reduced its full-year earnings forecast last week.
ArcelorMittal rose 2 percent to close at 14.70 euros in Amsterdam trading.
Idling Plants
"They're confronted with a relatively tricky fourth quarter with volumes and prices down," said Rochus Brauneiser, an analyst at Kepler Capital Markets in Frankfurt. "This will be a very uncertain environment and we also don't know what is going on in the European sovereign debt crisis. It can change day by day. We're in a very dark market environment right now."
Prices for hot-rolled steel coil, a benchmark product used in vehicles and buildings, have fallen 15 percent since reaching a two-year high in March. The contract has declined for six of the past seven months, according to Steel Business Briefing's global price index.
ArcelorMittal is responding to lower steel demand by idling production. The company, which has 16 of its 25 European blast furnaces in operation, has shuttered plants in France, Germany, Luxembourg, Poland and Spain in the past two months and announced the permanent halt of furnaces in Liege, Belgium.
ArcelorMittal used 71 percent of its steelmaking capacity in the third quarter and that rate will be lower in the last three months of the year. The company has no plans to idle or permanently close further plants at this time, CFO Mittal said on the call.
'Economic Uncertainties'
Steel shipments declined to 21.2 million tons in the quarter from 22.2 million tons in the prior three months and will drop further in the fourth quarter. Sales fell 3.6 percent to $24.2 billion from the second quarter as prices slipped 1.7 percent, and shipments fell 4.5 percent.
While second-half earnings will beat the prior year, buoyed by the growing mining business and sales of higher-value steel, the company said the economic outlook is becoming less clear.
"Uncertainties around the economic outlook have increased in recent weeks, impacting the confidence levels of our customers, so as we move in to the fourth quarter we are facing both volume and price pressures," Chief Executive Officer Lakshmi Mittal said in the statement.