Apple Fervor Over Patent Infringement Seen Slowing Samsung: Tech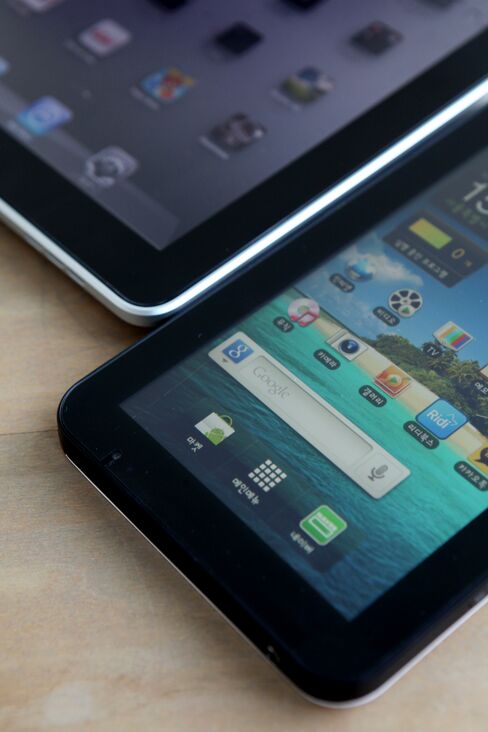 Samsung Electronics Co.'s ascent to the top of the global smartphone market may be short-lived as Apple Inc. moves to fulfill Steve Jobs's pledge to spend every penny proving that his iPhone and iPad are being "ripped off."
Jobs, who mocked Samsung as a copycat in March, had Apple sue for patent infringement a month later in the U.S. and went after the company in five other nations. While Apple has also sued Motorola Mobility Holdings Inc. and HTC Corp., Jobs took particular aim at Samsung devices because of what he saw as blatant similarities to the sleek look of the iPhone and iPad.
"This is a religious crusade by Apple," said Ron Epstein, the lawyer who led Intel Corp.'s patent-licensing department during the personal-computer industry's legal battles in the 1990s that were a precursor to the smartphone wars of today.
The fight is particularly intense because of the complex relationship between Cupertino, California-based Apple and Samsung. Suwon, South Korea-based Samsung is the second-largest component supplier for Apple.
The two companies have worked together for years, and Samsung President Lee Jae Yong met with Apple Chief Executive Officer Tim Cook after a memorial service for Jobs last month to discuss a long-term partnership to supply parts, including semiconductors. Samsung already gets about 7.6 percent of its total revenue from selling memory chips, displays and other components for the iPhone and iPad, according to Bloomberg data.
First Strains
Samsung also makes the Apple-designed A4 chip used in the first iPad and the iPhone 4, according to IHS ISuppli. The A5 chip used in the iPhone 4S introduced last month also appears to be manufactured by Samsung, based on die markings, IHS ISuppli said in October. Samsung doesn't comment on its tie with Apple in chip manufacturing, according to Jason Kim, a spokesman.
Samsung declined to make Lee available for an interview.
The companies' relationship strained in June 2010 when Samsung introduced an Android-based smartphone called the Galaxy S. The lawsuit soon followed.
"The design of our products is crucial to our success," said Harold McElhinny, a lawyer at Morrison & Foerster LLP who represents Apple. Speaking at an Oct. 13 hearing in which a judge considered a request to temporarily halt U.S. sales of some Samsung Galaxy phones and tablets, McElhinny said, "if we no longer control the designs, it does undercut our ability to control our brand identity."
Kubrick Film
While the federal judge in San Jose, California, has yet to rule on the request, Samsung has already been forced to delay the release of some Galaxy phones and tablets in Germany, the Netherlands and Australia. Guided by General Counsel Bruce Sewell, the legal attack is the largest in Apple's history and reflects an emotional attachment by Jobs to his products, said Alex Spektor, an analyst with researcher Strategy Analytics Inc.
Samsung, which said it doesn't infringe Apple's patents, argues there are only so many ways for a tablet to look. Lawyers cited Stanley Kubrick's "2001: A Space Odyssey" to say the iPad looks like computers used by astronauts in the 1968 film.
"The patent law should not be used to create a monopoly on black flat-surfaced media screens with rounded corners in which no one else can enter the space and compete," Kathleen Sullivan, a lawyer at Quinn Emanuel Urquhart in New York who represents Samsung, told the judge in California.
The fight can be traced back to Jobs's decision in March 2010 to file a complaint in the U.S. that claimed HTC phones running Google Inc.'s Android operating system infringed Apple patents. Jobs, who died Oct. 5, made it his mission "to destroy Android," which he said "ripped off the iPhone, wholesale," according to Walter Isaacson's biography of the Apple founder.
Generic Brand
In the lawsuit filed in the U.S. in April, Apple claimed Samsung "slavishly" copied the look, feel and packaging of the iPhone and iPad. Apple's design team, led by Jonathan Ive, created the sleek look, the company said, and some of the patents list Ive and Jobs.
"There are lot of people out there who can't tell the difference between" competing devices, said Strategy Analytics' Spektor, who is based in Newton, Massachusetts. Apple is worried about "people who see a Galaxy tablet and say, 'Oh, I'm getting an iPad.' The brand becomes genericized."
Apple, the third-most profitable company in the Standard & Poor's 500 Index for the trailing 12-month period, relies on the iPhone and iPad for 63 percent of revenue. Increased competition caused Apple's share of global smartphone sales to slip to 14.6 percent in the third quarter, from 20 percent in the second, according to researchers Strategy Analytics and IHS Inc.
Potential Settlement
"It's a huge cash cow for them, and if there's any threat to the business model they'll go after it," Spektor said. "Especially for Steve Jobs -- he was very emotionally attached to everything he did."
The Apple and Samsung battle will have to end the same way the PC battles did -- with a settlement, according to Epstein, who is now chief executive officer of patent brokerage Epicenter IP Group LLC in Redwood City, California.
"The question is when," Epstein said. "And the bigger question is how much damage will each party do to the other along the way."
Samsung gets about 29 percent of revenue from its mobile business. Smartphone revenue has accelerated since May, when it began selling the Galaxy S II, a successor to an Android phone introduced last year to counter the iPhone. Samsung last week reported record third-quarter revenue at its handset unit after shipping more than 27 million smartphones.
"If these injunctions become mass scale, if they start to be enforced on essentially what is driving Samsung's profit -- being the Galaxy S II, for example -- it would absolutely hurt their bottom line," Spektor said.
Samsung Threat
Samsung's share of the $200 billion-plus global smartphone market surpassed 23 percent in the third quarter, up from 17.5 percent in the second, Strategy Analytics and IHS data show.
This type of success for Samsung, built on the popularity of Android, is what Apple is complaining about, according to Ron Laurie, managing director of Inflexion Point Strategy LLC, which counsels companies on purchasing intellectual property.
"They're worried about the pure production scale that Samsung has," said Laurie, who's in Palo Alto, California.
Samsung has retaliated with efforts to ban sales of Apple's latest handset in Japan, France, Italy and Australia, saying the iPhone 4S infringes patents that are "essential to the efficient and reliable function" of wireless devices. Apple last month introduced the updated iPhone, selling 4 million units in the first weekend of sales that began Oct. 14, which topped the company's previous sales record for its handsets.
'Last Dying Breath'
"The courts will find Apple has indeed been free-riding on our technology, and it will be required to enter fair and reasonable negotiations to license these technologies or have its products banned," Samsung said in an e-mailed response to questions for this story.
At least 30 cases are pending in 10 nations between the two companies, according to Samsung.
Samsung's counterclaims that Apple infringed its patents have had little success so far. The Hague District Court rejected Samsung's efforts to halt iPad sales in the Netherlands, saying Samsung was obliged to offer to license the inventions on fair, reasonable and non-discriminatory terms.
Samsung may modify some products to deal with the infringement claims, Won-Pyo Hong, an executive vice president, said Oct. 20 at the All Things D technology conference in Hong Kong. The company said it made changes that let it introduce new versions in the Netherlands.
Apple's argument against Samsung echoes copyright-infringement claims the company made -- and lost -- two decades ago against Microsoft Corp. and Hewlett-Packard Co. over desktop icons. In Isaacson's biography of Jobs, the author said the former Apple CEO found the comparison to the Android cases "unsettling -- and infuriating."
"I will spend my last dying breath if I need to, and I will spend every penny of Apple's $40 billion in the bank, to right this wrong," Jobs is quoted as saying. "I'm going to destroy Android, because it's a stolen product."
Before it's here, it's on the Bloomberg Terminal.
LEARN MORE