AIG Posts Loss on Declines in AIA Stake, Mortgage Assets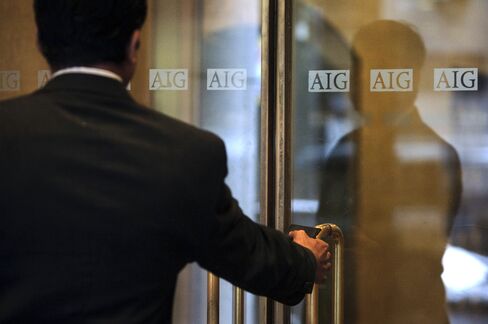 American International Group Inc., the bailed-out insurer, posted its biggest loss since 2009 on declines in the value of mortgage investments, planes at its aircraft-leasing unit and a stake in a former Asian subsidiary.
The third-quarter net loss widened to $4.11 billion, or $2.16 a share, from $2.52 billion, or $18.53, a year earlier when there were fewer shares outstanding, according to a statement today from the New York-based company. The operating loss, which excludes some investment results, was $1.60 a share. The average estimate of 12 analysts surveyed by Bloomberg was a loss of 30 cents a share.
Chief Executive Officer Robert Benmosche, 67, is focusing on global property-casualty coverage and U.S. life insurance after scaling back in Asia and unwinding bets from the derivatives unit that drove AIG to the brink of failure in 2008. He is asking potential investors to look beyond market fluctuations in the insurer's portfolio as he seeks private capital to replace Treasury Department bailout funds.
"As an insurance company, AIG is functioning pretty well," Clark Troy, a senior analyst at Aite Group, in Chapel Hill, North Carolina, said in an interview before results were announced. They're "being bitten by some of the mistakes from the past" on mortgage bonds and on market fluctuations in its stake of Hong Kong-based AIA Group Ltd.
Share Decline
AIG slipped 2.2 percent to $24.10 in extended trading at 5:34 p.m. in New York. The company has plunged about 49 percent this year, compared with a gain of less than 1 percent in the Standard & Poor's 500 Index.
The insurer's board approved the repurchase of as much as $1 billion in stock, AIG said in a separate statement. Timing of purchases will depend on "AIG's financial condition, results of operations, liquidity and other factors," the company said.
The results included a mark-to-market loss on AIA of about $2.3 billion. AIG retained a stake in the insurer after divesting two-thirds of the company last year in an initial public offering. AIA sank 17 percent in the third quarter as the European debt crisis and the possibility of the U.S. economy relapsing into recession weighed on financial-services stocks.
An agreement with underwriters prohibited AIG from selling any of its remaining stake until last month. The end of that lock-up period may have contributed to the Asian insurer's share slide, said Cliff Gallant, an analyst at KBW Inc.
AIA Stake
"People are speculating that AIG is going to be a big seller," he said before results were announced. "AIA's operating results have been actually pretty good."
The loss at the plane business, International Lease Finance Corp., widened to $1.3 billion as it incurred a non-cash charge of about $1.5 billion related to aircraft impairments. That compared with a loss of $218 million a year earlier for the Los Angeles-based unit.
AIG said in September that it plans to sell more than 20 percent of the subsidiary in an initial public offering and divest most of the unit over time.
The impairment reflects management's review on "certain aircraft that would be disposed of prior to the end of their previously estimated life in light of technological developments in the aircraft industry, fleet management announcements by certain airlines, and our newly acquired part-out company," Benmosche said in the statement.
Maiden Lane
Shareholders' equity, a measure of assets minus liabilities, fell 7.2 percent to $86 billion from $92.7 billion on June 30. Results were hurt by a $974 million decline in the value of mortgage-linked assets turned over to Federal Reserve-controlled investment vehicles known as Maiden Lane II and Maiden Lane III. AIG retains stakes in the facilities.
Adjusted pretax operating income for Chartis dropped to $442 million from $1.07 billion a year earlier on higher claims and expenses. Catastrophes, led by Hurricane Irene, cost the firm $574 million in the quarter, compared with $72 million a year earlier. AIG spent $1.06 for every premium dollar on claims and expenses, compared with 99.3 cents a year earlier.
Sales at Chartis, which insures commercial property, corporate boards and airplanes, rose less than 1 percent to about $8.66 billion.
The company's U.S. life insurance and retirement services division posted operating income of $444 million, compared with a $1.03 billion profit a year earlier as investment income declined and benefits and expenses increased. Premiums slipped less than 1 percent to $591 million and policy fees fell 2.2 percent to $658 million.
Buyout, Hedge Funds
Net investment income fell 98 percent to $128 million from $5.23 billion a year earlier as the company's stakes in AIA and the Maiden Lane investment vehicles posted losses. The contribution from the fixed-income portfolio slipped to $3.02 billion from $3.78 billion a year earlier.
So-called alternative assets, including private-equity and hedge-fund holdings, generated $180 million compared with $171 million a year earlier. Buyout funds earned $372 million while hedge funds lost $192 million. AIG had about $20.1 billion in alternative assets as of Sept. 30, little changed from three months earlier.
Net unrealized gains on bonds available for sale rose to $13.4 billion from $10.3 billion three months earlier, led by gains in corporate debt and municipal securities. The figures, reflecting market fluctuations that aren't counted toward earnings, are monitored by investors and rating firms as a gauge of financial strength.
Corporate Debt
AIG's corporate debt holdings had unrealized gains of $10.2 billion, compared with $8.39 billion on June 30. Unrealized gains from municipal bond holdings widened to $2.47 billion from $1.59 billion at the end of June.
The operating loss at AIG's mortgage-insurance unit narrowed to $96 million from $124 million a year earlier. Benmosche has been pushing to increase market share as the government seeks to limit its role backing home loans and rivals such as PMI Group Inc. falter.
AIG repaid the last $21 billion it owed the Federal Reserve Bank of New York, and the Treasury converted its preferred stake into 92 percent of the company's common stock in January. That holding was reduced to 77 percent in May when the government and AIG raised $8.7 billion selling shares at $29 each. The Treasury plans to wind down the rest of its stake through public stock offerings.
The Treasury would need buyers to pay an average of about $29.70 a share for taxpayer to recover a capital injection of $47.5 billion and unpaid dividends and fees of $1.6 billion, the U.S. Government Accountability Office said in a report in July. Excluding the unpaid dividend and fees, the breakeven price is about $28.72 a share.