Adidas Says Europe Debt Crisis Won't Harm Sport-Market Sales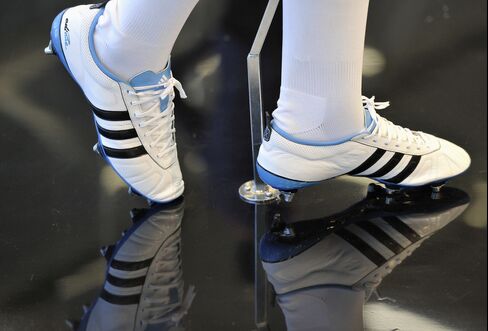 Adidas AG Chief Executive Officer Herbert Hainer said Europe's debt crisis won't halt the growth of the sporting-goods market and forecast higher earnings next year as the company expands in Russia and China.
"In general, I do believe this industry is very resilient to crisis," said Hainer after the Herzogenaurach, Germany-based company raised its 2011 sales and earnings forecasts and reported third-quarter profit that beat analysts' estimates. "People are getting older, they want to be fitter, they want to stay healthier, they want to do more sport."
Adidas, the world's second-largest sporting-goods maker behind Nike Inc., is expanding in China, Russia and North America, where it plans to generate about half of a targeted 50 percent sales increase by 2015. The company said today it expects earnings per share to increase 10 percent to 15 percent in 2012, as business is boosted by the European championship soccer finals in Poland and Ukraine, and the London Olympics.
"Revenue momentum remains solid across regions, brands and distribution channels, suggesting that customer's appetite for the group's products remains strong," Bank of America analysts said in a note. They advise investors to buy Adidas shares.
Adidas rose 0.3 percent to 51.52 euros in Frankfurt trading. The stock initially fell as much as 4.2 percent after company increased its 2011 earnings forecast to a level that was less than analysts had estimated.
Earnings per share this year will rise about 16 percent to 3.15 euros ($4.34), the company said, compared with the 3.20 average estimate of 22 analysts compiled by Bloomberg. Adidas had previously forecast growth of about 15 percent.
Sales Forecast
Analysts "have clearly gone ahead of themselves" with estimates for 2011, Chief Financial Officer Robin Stalker said on a conference call. Before today, Adidas had "not guided to anything above" 3.12 euros a share, he said.
Revenue this year will gain about 12 percent on a currency-neutral basis, the company said. Adidas had previously forecast 2011 revenue growth of about 10 percent.
Third-quarter net income rose 14 percent to 303 million euros, beating the 296 million-euro average of nine analysts' estimates compiled by Bloomberg.
Adidas also said today it will acquire Five Ten, a California-based provider of products for climbers and mountain bikers, for $25 million in cash. The German company has said it aims to reach a goal of 500 million euros in sales of outdoor products by 2015 without acquisitions. Five Ten will have revenue of about 16 million euros in 2011, the company said.
Hainer said last month he expects record soccer sales next year. Adidas has about 34 percent of the global soccer market, which it estimates at 4.5 billion euros to 5 billion euros. The company is the official partner of regional governing body UEFA for the European finals, which start in June.