WikiLeaks Assange Loses U.K. Extradition Appeal in Rape Case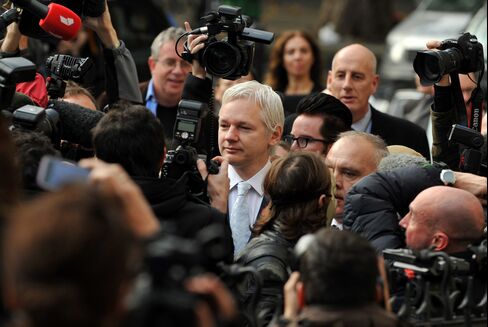 Julian Assange, founder of the anti-secrecy website WikiLeaks, lost a U.K. appeal to stop his extradition to Sweden to face rape claims almost 11 months after he was arrested in London.
The U.K. Court of Appeal today said the 40-year-old Australian must return to Sweden, where he's sought in an investigation of two sexual assault cases. He's accused of failing to use a condom in one incident and of having sex with a woman who was sleeping in another.
"This is self-evidently not a case relating to a trivial offense, but to serious sexual offenses," judges John Smith and Duncan Ouseley said in a ruling today. "It is difficult to see how a person could reasonably have believed in consent if the complaint alleges a state of sleep or half-sleep."
The alleged misconduct was revealed as WikiLeaks was being condemned by U.S. authorities for posting thousands of classified military and diplomatic communications. WikiLeaks temporarily suspended its operations last month to raise money during what it called a U.S. "financial blockade." Visa Europe Ltd., MasterCard Inc., American Express Co. and eBay Inc.'s PayPal halted payments to the site, Assange says.
Assange had argued that the case was politically motivated and that the sex, with two WikiLeaks supporters who let him stay in their apartments, was consensual. Assange has been under police surveillance at a friend's mansion in Suffolk, England, since shortly after being detained on Dec. 7, 2010.
Possible Appeal
After the judgment, Assange said he will consider what "steps" to take and called the ruling "technical" in nature. The court said Assange has 14 days to seek permission to appeal and it will hold a hearing on the motion in three weeks. The bail conditions remain the same.
The Swedish Prosecution Authority said it wouldn't comment until the ruling gained legal force.
The alleged crimes, for which no charges have been filed, took place in August 2010 in Stockholm and Enkoeping, Sweden, while Assange was lecturing to supporters about the publication of U.S. military documents.
One of the women claims Assange used his body weight to hold her down, forcefully spread her legs and engaged in sex without a condom, even though she had previously said protection was a "prerequisite for sexual intercourse," according to the judgment. The other woman also alleges Assange failed to use a condom and that he had sex with her while she was "in a helpless state," due to sleep.
Arrest Warrant
The appeals court rejected Assange's argument that he shouldn't be extradited because he hadn't been formally charged in Sweden. The judges also denied his claim that the European arrest warrant couldn't be used because the alleged behavior with the condom wouldn't have been illegal in England.
"The fact that the term 'accused of the offense' is not used does not matter if it is clear" from the arrest warrant "that he was wanted for prosecution and not merely for questioning," the court said today.
Assange has been staying with his friend Vaughan Smith, who runs a club in London for journalists. Smith said after today's ruling that Assange has become "part of the family" and that his children think of him as an uncle.
The case shows the ease with which European arrest warrants can be used to gain access to an individual before a country has formally proved its case, said Neill Blundell, a lawyer who leads the fraud practice at Eversheds LLP in London.
European Arrest Warrant
"It is simply enough that the allegations have been made and that these allegations are crimes in both Sweden and the U.K.," Blundell said. "Quite clearly allegations of sexual assault pass this test."
The extradition was ordered in February by Judge Howard Riddle in London, prompting lawyers to question the strategy of Assange's legal team, which labeled Swedish prosecutor Marianne Ny as a "radical feminist." Assange replaced his lawyers in July.
Assange's appeal was argued by Gareth Peirce, who in 2005 represented the family of a Brazilian electrician who was shot and killed by London police after being mistaken for a suicide bomber. She also assisted at least three British men who were arrested by U.S. forces in Afghanistan and held in Guantanamo Bay, Cuba. In July, Pierce said any ruling from the Court of Appeal can be brought to the U.K. Supreme Court.
Assange, born in Townsville, Australia, began as a computer hacker in his native country and pleaded guilty in 1996 to 24 counts of violating the Crimes Act by accessing and inserting information into computers, including those of Nortel Networks Corp. He received a fine and three years probation.
Before it's here, it's on the Bloomberg Terminal.
LEARN MORE