Solyndra Borrowed More Cheaply Than Chinese Rivals, Trina Says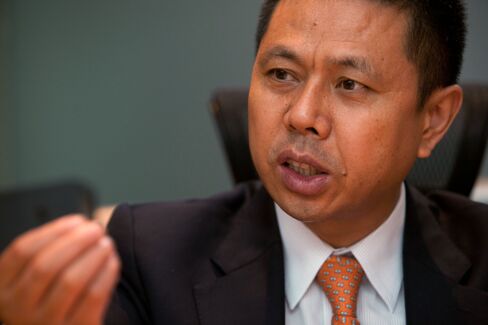 Chinese solar-panel makers borrow from state banks at higher interest rates than what Solyndra LLC was charged by the U.S. government this year, according to Trina Solar Ltd., China's third-biggest maker of the equipment.
Jifan Gao, chief executive officer of Changzhou-based Trina, said China Development Bank Corp. charges interest at the "market's average level" of 6 to 7 percent. That exceeds the average rate of about 5 percent offered to Solyndra on $70 million the U.S. panel maker borrowed in 2011 before filing for bankruptcy protection in September, according to Bloomberg calculations based on filings by a U.S. Treasury bank.
Gao's comments are the clearest defense yet by a Chinese solar executive against accusations they've used more than $30 billion in state subsidized loans to dump panels on overseas markets. U.S. manufacturers led by SolarWorld AG asked the Obama administration to slap duties of as much as 100 percent on more than $1 billion in Chinese imports to counter what they called illegal aid. That added to the debate in the U.S. over publicly funding solar companies that exploded with Solyndra's collapse.
"I need to clarify a long-term misunderstanding about the China Development Bank," Gao said in an interview in Singapore. "We have to make it clear that the strength of China-originated solar companies is not about subsidies or cheap loans from the government. We don't have any advantages in this area."
Solyndra Versus Suntech
Trina, along with China's Suntech Power Holdings Co. and LDK Solar Co., the world's largest and second-biggest panel makers, also have credit lines from the state-backed bank.
Solyndra, of Fremont, California, had a $535 million U.S. loan guarantee and was charged quarterly interest rates of 0.545 percent to 1.731 percent on about $70 million in government loans made in 2011, according to a statements by the Federal Financing Bank, the financing arm of the U.S. Treasury. In total Solyndra borrowed about $527 million in U.S. funds.
Trade tensions flared over the Chinese loans as the global solar industry copes with slowing growth and falling prices for its wafers and panels caused by a surge in manufacturing capacity. Three major U.S. solar companies failed since August, including Solyndra. Chinese companies deny they're dumping panels. Gao's comments are the most detailed on the matter to date.
Unfair Comparison?
"While it is complicated to compare Chinese interest rates to U.S. ones -- inflation in China is very high -- we do not believe the CDB loans to be particularly cheap," said Jenny Chase, lead solar analyst at Bloomberg New Energy Finance. "We expect the Chinese central government to take a more cautious view in the coming months on policies to support Chinese solar manufacturers."
The complaint filed by U.S.-based manufacturers last month went beyond financing issues. It alleged that Chinese solar cell and panel producers "benefit from an all-encompassing range of illegal subsidies from the Chinese government."
Examples cited in the petition included "massive cash grants; significantly discounted raw material inputs such as polysilicon and aluminum; heavily discounted or free land, power and water; multibillion-dollar preferential loans and directed credit; extensive tax exemptions, incentives and rebates; export assistance credits; and export insurance at preferential rates."
China provided $30 billion in credit to its biggest solar manufacturers last year, Jonathan Silver, former executive director of the U.S. Energy Department's loan program, told a congressional panel Sept. 14 before his resignation was announced on Oct. 6.
Loan Mechanism
Gao said that figure is misleading and probably only a fraction of that amount has actually been disbursed. The CDB's credit lines are "like memorandums of understanding, they're not contracts," he said. "It means this is an amount that can be discussed but it's not guaranteed."
Companies that take funds from the CDB must apply for loans on a project-by-project basis, and the bank scrutinizes each. Terms haven't been disclosed either by the CDB or in company filings. "If any company is not in a healthy operational condition, they would not get a guaranteed loan," he said.
Gao estimates that 10 percent to 20 percent of the funds have been drawn down by companies. Five U.S. companies were awarded $1.56 billion in guarantees through a program championed by President Barack Obama, according to a Bloomberg survey in September.
Market Share
In three years, Chinese panel makers went from 30 percent market share to more than half by improving quality and slashing prices, Bloomberg New Energy Finance data shows. Last year, they sold more than half the world's solar panels for the first time, including $1.4 billion of exports to the U.S.
Gao attributed that success to better operational management that creates a "huge cost advantage" to competitors from Japan, Europe or the U.S., he said. "We have a faster reaction to the market because it's being managed properly. This gives us a competitive advantage."
The spot price of solar panels has fallen about 40 percent this year as manufacturers particularly in China ramped up their production capacity, according to New Energy Finance. The 10 largest silicon panel manufacturers doubled their manufacturing capacity last year, the data show.
Many solar-equipment companies are losing money as the average operating margin fell to minus 5.9 percent in the second quarter compared with a positive 12 percent a year earlier, Bloomberg data show. At Trina, second-quarter panel shipments jumped 78 percent from the year-earlier period, while its operating margin shrunk to 5.7 percent from 22.5 percent.
The Bloomberg Industry Global Leaders Large Solar Energy index has lost about 60 percent this year, led by Germany's Conergy AG. Trina has dropped about 65 percent.
Price Versus Performance
Trina says it's innovating more quickly and expanding sales service overseas to take market share. The company has filed 600 patents and announced in September that it may have set a world record in laboratory testing for power output from a multicrystalline module. That product will go into mass production by 2012, Gao said.
Ultimately price alone won't determine the winners, Chinese or otherwise, Gao said. Customers in the most mature markets, like Europe, U.S. and Japan, are increasingly choosing their suppliers based on panel performance which can boost a project's profitability and after-sales service, he said.
"They care about price, that it should be reasonable, but it's not the most important thing," he said.
Before it's here, it's on the Bloomberg Terminal.
LEARN MORE