Solyndra's Refinancing Would Have Given U.S. a 40% Stake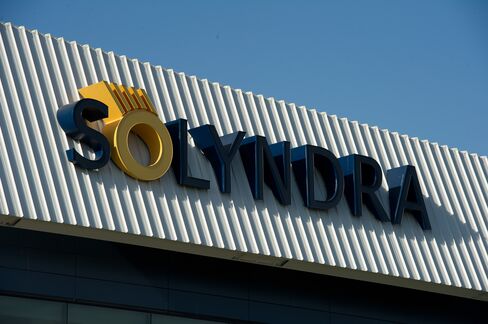 President Barack Obama's administration considered a plan to save Solyndra LLC that would have left the U.S. with as much as 40 percent equity and two seats on the company's board, according to e-mails.
The administration documents were sent yesterday to a Republican-led House Energy and Commerce Committee panel, which is investigating a $535 million federal loan guarantee to the California solar manufacturer that filed for bankruptcy in September. The panel voted along party lines at a meeting today to subpoena internal White House communications on Solyndra.
While the administration has turned over more than 80,000 pages of communications, those documents are limited to messages between agencies involved in Solyndra's financing and White House officials.
The newly released e-mails disclose that Lazard Ltd. proposed the debt-to-equity rescue plan in August that was reviewed by senior officials in the White House and at the Energy Department. The administration rejected the plan, and Solyndra closed its doors a day later.
Solyndra's closure would "likely result in little recovery to the DoE," Lazard said in the documents. The department paid Lazard about $1 million for its advice on Solyndra, according to Damien LaVera, an Energy Department spokesman.
Private backers for the company, which made cylindrical thin-film panels, required new loan terms as a condition of additional investment, according to the restructuring plan proposed by Hamilton, Bermuda-based Lazard.
Immediate Cash
Solyndra "will need an infusion of cash immediately in order to remain viable," according to a Lazard presentation attached to e-mails sent to officials on Aug. 16 as supporting material before a briefing.
Deputy Energy Secretary Daniel Poneman, Heather Zichal, deputy assistant to the president for energy and climate change, and other officials planned a Sunday evening conference call for Aug. 28 to discuss the Lazard proposal, according to an e-mail chain dated Aug. 27 and included in the documents.
The administration provided about 1,200 pages of communications to the energy committee lawmakers yesterday "as part of our ongoing efforts to cooperate with their investigation," LaVera said in an e-mailed statement. "The record shows that the decisions related to this loan were made on the merits after extensive review."
'Disturbingly Close'
Republican Representatives Fred Upton of Michigan, who heads the Energy and Commerce Committee, and Cliff Stearns of Florida, who leads its oversight panel, said in a statement last month that "the paper trail released by the White House portrays a disturbingly close relationship between President Obama's West Wing inner circle, campaign donors and wealthy investors that spawned the Solyndra mess."
They have questioned whether support for Solyndra was shaped by Obama's political ties to George Kaiser, an oil billionaire whose family foundation invested in the company. The foundation and White House spokesmen have denied Kaiser, a fundraiser for Obama's 2008 presidential campaign, lobbied for aid to Solyndra.
A deal between the Energy Department and Solyndra in February put taxpayer debt behind $75 million in private investment in case of liquidation. Republicans have said that agreement violated the 2005 energy law authorizing the loan-guarantee program.
The February refinancing attracted the attention of Vice President Joe Biden's staff, according to the e-mails.
Tobin Marcus, a Biden aide, sought information on Solyndra's investors and how much the company's solar panels cost in a Feb. 23 e-mail to an Energy official.
Matthew Winters, a senior adviser for loan programs at the department, said in an e-mail later that day that the vice president's staff sought the information on prices "as they consider how to talk about Solyndra -- and its future business prospects."
Before it's here, it's on the Bloomberg Terminal.
LEARN MORE