Keystone Pipeline Shouldn't Risk Nebraska Water, Obama Says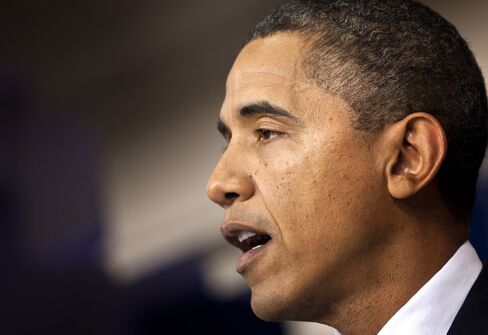 President Barack Obama said jobs created by TransCanada Corp.'s planned Keystone XL oil pipeline wouldn't be worth the health and safety consequences if a spill contaminated water supplies.
Obama commented on the $7 billion project that would carry oil from Alberta to the U.S. Gulf Coast in an interview with an Omaha television station yesterday, as Nebraska's state legislature opened a special session considering ways to force a rerouting of the pipeline away from the state's largest aquifer.
"Folks in Nebraska like all across the country aren't going to say to themselves, 'We'll take a few thousand jobs if it means our kids are potentially drinking water that would damage their health,'" Obama said in an interview from the White House with KETV. "We don't want, for example, aquifers to be adversely affected. Folks in Nebraska obviously would be directly impacted."
The 1,661-mile (2,673-kilometer) Keystone XL would deliver 700,000 barrels a day of crude to refineries on the Gulf of Mexico through Montana, South Dakota, Nebraska, Kansas, Oklahoma and Texas. State leaders haven't opposed the project's route except in Nebraska
The State Department, which has jurisdiction over the pipeline because it crosses an international border, has said it expects to make its decision by the end of the year. Obama indicated yesterday that he will have the final say.
"We need to encourage domestic natural gas and oil production," Obama said in the interview. "We need to make sure that we have energy security and that we aren't just relying on Middle East sources. But there's a way of doing that and making sure that the health and safety of the American people and folks in Nebraska are protected."
Ogallala Aquifer
The pipeline would cross the Sandhills region of the Ogallala aquifer, which serves 1.5 million people. The area has a shallow water table and porous sand that make it susceptible to water contamination, according to John Gates, assistant professor of earth and atmospheric sciences at the University of Nebraska in Lincoln.
The state legislature's session was called by Republican Governor Dave Heineman especially to consider legislation aimed at forcing Calgary-based TransCanada to move Keystone XL. State Senator Annette Dubas introduced a bill that would require state permits for pipelines, giving Nebraskans a voice in the approval process.
"This particular route is the most problematic, and if there are ways to change that it would be good," Dubas said in an interview in Lincoln, the state capital.
Fatal Delays
Delays resulting from such efforts may kill the pipeline, TransCanada Chief Executive Officer Russ Girling said. Canadian oil producers, or "shippers," and U.S. refiners may make other arrangements if TransCanada can't begin delivering crude as scheduled,
"Those shippers will only wait so long, and then they will start looking for alternate markets," Girling said on a conference call yesterday after TransCanada released third-quarter results. "Similarly, the refiners can only wait so long for Canadian crude oil to come into their marketplace."
While celebrity activists such as actor Daryl Hannah have been arrested in Washington protesting Keystone XL as a contributor to global warming, Nebraskans just want to protect their drinking water, state Senator Greg Adams said.
Respect for Water
"We are a very practical people and though we are cognizant of those arguments, I don't think that most Nebraskans are swayed a great deal by them," Adams said in an interview yesterday. "What you will find in Nebraskans is a genuine respect for the Sandhills and a real respect for water."
National environmental groups such as the League of Conservation Voters and the Natural Resources Defense Council agree that the project should be rerouted to protect the Sandhills. They also say any pipeline promoting the development of Alberta's oil will worsen global warming and slow the transition to renewable fuels.
Sit-down protests outside the White House in August led to arrests of environmental figures from James Hansen, the head of NASA's Goddard Institute for Space Studies, to Hannah, who starred in the 1984 mermaid movie "Splash." Protesters say they will return this weekend, encircling the White House in a demonstration on Nov. 6.
In Alberta, oil is separated from sand and clay with intense heat in a process that releases more greenhouse gases than pumping conventional crude. Representative Henry Waxman, a California Democrat, has said the pipeline will carry "the dirtiest source of transportation fuel" available.
'Significant Opposition'
Even if Nebraska won a rerouting of the pipeline, "there will still be a significant opposition to expanded production of tar sands," Anthony Swift, a policy analyst in Washington with the Natural Resources Defense Council, said in an interview.
The State Department is "working towards a decision by the end of the year" on the pipeline, "but our foremost commitment is to make the best decision possible based on the best available data and analysis that we have," spokeswoman Beth Gosselin said in an interview yesterday.
"The State Department is in charge of analyzing this because it's a pipeline coming in from Canada," Obama said yesterday. "They'll be giving me a report over the next several months."
Reflecting Obama's Views
While the State Department is handling the review, the decision "will reflect the president's views" as "this is the Obama administration," White House press secretary Jay Carney said at a briefing today.
The State Department already found in an environmental assessment that the Keystone project poses "no significant impacts to most resources" along its route provided TransCanada complies with U.S. law and follows recommended safeguards.
The U.S. Environmental Protection Agency, which is readying comments on those findings, has said previously that the State Department needed to do more work on the impact of groundwater and air pollution, pipeline safety and effects on wetlands and migratory birds.
Responding to critics who say the pipeline would add to greenhouse-gas emissions, Kerri-Ann Jones, assistant secretary in the State Department's Bureau of Oceans and International Environmental and Scientific Affairs, said in August that the oil sands would be developed "whether or not this pipeline or any other pipeline were put forward."