MF Global Trustee Talks With Brokers Over Customer Accounts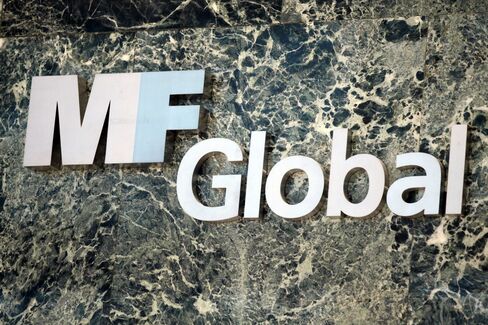 The trustee liquidating broker-dealer MF Global Inc. is in talks with brokerages that may take over customer accounts or buy "pieces of the business," said Stephen Harbeck, president of the Securities Investor Protection Corp., which is overseeing the liquidation.
MF Global customers may wait longer than the 10 days or so most retail brokerage customers of Lehman Brothers Inc. did after it collapsed in 2008, Harbeck said in a phone interview. The trustee's team is in MF Global's offices in New York today to examine the company's books and records, he said.
"It's a priority to transfer accounts, but I can't say if we're close," Harbeck said. "With Lehman, the day SIPC filed the liquidation proceeding, we executed a transfer agreement with Barclays. This time it won't be that fast."
Barclays Plc, based in London, took over accounts from Lehman's brokerage, giving 72,000 brokerage customers access to $40 billion in frozen assets. With MF Global, discrepancies in funds used to back futures trades sent Interactive Brokers Group Inc. fleeing from a potential acquisition, according to a board member at the Greenwich, Connecticut, firm.
Onsite at MF Global is a team from trustee James Giddens's law firm, Hughes Hubbard & Reed LLP; SIPC's vice president of operations and her team; and MF Global employees who are assisting with "record retrieval," Harbeck said. Giddens, who is in his fourth year as liquidator of Lehman's brokerage, is either at MF Global's offices or in constant communication, Harbeck said.
"Eventually, he'll bring in forensic accountants," Harbeck said.
Accounts Frozen
"The accounts are frozen at present," Harbeck said. "You have to find out what you have before you give it away."
A lawyer for MF Global's parent told a judge yesterday that there is no shortfall in customer accounts at the broker-dealer formerly run by ex-Goldman Sachs Group Inc. executive Jon Corzine. The lawyer, Kenneth Ziman, cited press reports that hundreds of millions of dollars may be missing.
Harbeck says it's too early to know one way or the other. Finding out if money is missing is a "very difficult process," involving an accounting reconstruction of the company's books and records, he said.
"You first look for large transfers in and out of accounts. Where is the money? Is it in account X? If not, there may be a logical explanation," Harbeck said. "On day zero you go in, trying not to make any assumptions."
'Crisis Management'
Starting the examination, "it's crisis management for the first 72 hours," Harbeck said. "Think of a large conference room where people are dividing the work, deciding what has to be done. Someone puts in their head to say the computer guy is leaving and you may be stranded without computers."
"All the time, you're trying to keep in touch with interested parties, who may be interested in taking on part of the firm," he said. "Our primary focus is to give people access to their accounts."
The SIPC, which is overseen by the U.S. Securities and Exchange Commission, acts in brokerage insolvency cases to recover investor funds. Liquidations are overseen by SIPC so as to return or replace customer securities. SIPC, created under the Securities Investor Protection Act, insures losses of as much as $500,000 per customer in registered securities.
MF Global Inc.'s case docket was opened in bankrupcty court after being transferred from U.S. district court, where SIPC sued the company, saying it needed to be liquidated to protect investors.
Parent's Filing
The broker-dealer's move to bankruptcy court follows a filing by its parent MF Global Holdings Ltd., which listed assets of $41 billion, making it the eighth-biggest U.S. bankruptcy. Most of the assets are in the brokerage unit, Ziman, the MF Global lawyer, said in court.
Lehman Brothers Holdings Inc. filed for bankruptcy with $639 billion in assets.
The case is In re MF Global Inc., 11-ap-2790, U.S. Bankruptcy Court, Southern District of New York (Manhattan). The parent's bankruptcy case is MF Global Holdings Ltd., 11-bk-15059, U.S. Bankruptcy Court, Southern District of New York (Manhattan).