MF May Have Transferred Customer Money After Audit, CME Says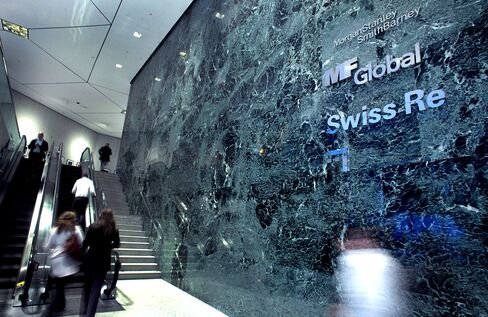 Nov. 2 (Bloomberg) -- MF Global Holdings Ltd. may have transferred customer money last week following an audit by CME Group Inc., which has regulatory authority over the futures broker.
The transfer "may have been designed to avoid detection in so far as MF Global did not disclose or report such transfers" to the Commodity Futures Trading Commission or CME Group, the Chicago-based exchange owner said today an e-mailed statement.
The day it filed the eighth-largest U.S. bankruptcy on Oct. 31, New York-based MF Global disclosed a shortfall in customer accounts that people with knowledge of the matter said may be about $700 million. CME Group, which monitored MF Global's positions as its designated self-regulatory organization, said yesterday it didn't know how much client money was missing.
All MF Global customer positions held at CME Group, and not third-party custodians such as banks, are accounted for, the company said in the statement. "MF Global's customer positions on CME Group exchanges were and continue to be substantially over-collateralized," CME Group said. The "apparent shortfall" was in accounts held by MF Global, CME Group said.
'Segregation Violations'
After CME Group identified "apparent segregation violations" and suspended clearing privileges for MF Global customers this week, 150,000 client accounts "essentially were frozen," James Giddens, the trustee assigned to liquidate MF Global Inc., said in a filing today.
Chief Executive Officer Jon Corzine, 64, steered MF Global into bankruptcy after increasing risk-taking at the firm, including investments in European sovereign debt that roiled markets. Discrepancies over the missing funds that were used to back futures trades sent Interactive Brokers Group Inc. fleeing from a potential acquisition that may have averted the filing, according to a board member at the Greenwich, Connecticut, firm.
"The board certainly considered that purchase and stepped away from it at a point where it became clear there were lots of uncertainties about the accounts and segregated funds," Hans Stoll, an Interactive Brokers director and a professor of finance at Vanderbilt University in Nashville, Tennessee, said yesterday in a telephone interview.
The proprietary positions of MF Global have been liquidated as of today "with no adverse market impact," CME Group said in the statement.
To contact the reporters on this story: Matthew Leising in New York at mleising@bloomberg.net; Donal Griffin in New York at dgriffin10@bloomberg.net
To contact the editor responsible for this story: Alan Goldstein at agoldstein5@bloomberg.net