Longest Debt Beating Stocks Buoys World Trade Sale: Muni Credit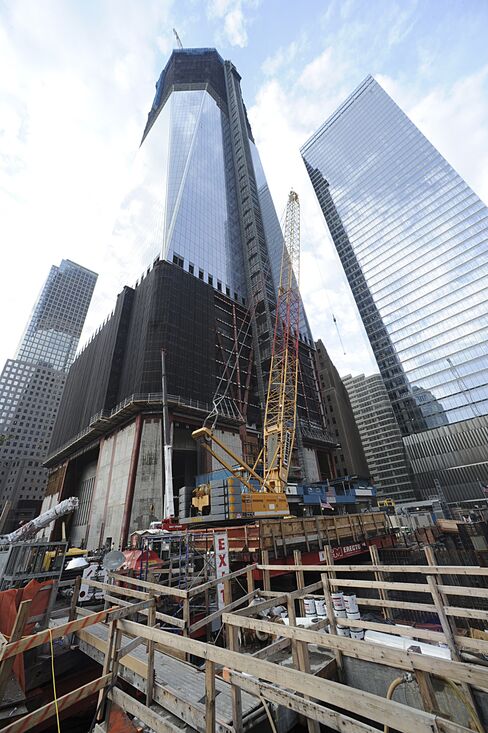 The longest-term tax-free bonds, which are beating stocks and the rest of the $2.9 trillion municipal market, helped lower yields on World Trade Center debt due in as much as 40 years in the busiest week of 2011 for state and local borrowing.
As 30-year U.S. Treasury bonds rallied the most since 2009, debt maturing in 2051 that was issued to help finance rebuilding of New York's World Trade Center was priced yesterday to yield 5.05 percent, 0.05 percentage point lower than preliminary indications.
Tax-free securities due in more than 22 years have returned 12.1 percent in 2011, beating all other maturities, according to Barclays Capital data, and driving long-term tax-exempt yields to the lowest since the 1960s. The Federal Reserve's plan to cut lending rates by buying longer-term Treasuries, low inflation and demand from insurance companies and other investors with extended liabilities helped drive the gains.
"This is a great time to issue long-term debt," said Alan Schankel, director of fixed-income research for Janney Montgomery Scott LLC in Philadelphia. "You get rock bottom interest rates and you lock them in."
Municipal bonds are beating Treasuries in total return for the year by 8.4 percent to 8 percent, Bank of America Merrill Lynch data show. They're outpacing the 7.5 percent return on corporate debt and the 1.56 percent gain of the Standard & Poor's GSCI Spot Index of commodities prices. The S&P 500 stock index has dropped 3.1 percent in the period.
Failed Prediction
State and local bonds' outperformance contrasts with the Dec. 19 prediction of bank analyst Meredith Whitney on the "60 Minutes" television show of "hundreds of billions of dollars" of defaults this year. Instead, defaults fell to $1.1 billion, a quarter of 2010's rate, according to Bank of America.
Thirty-year U.S. Treasury bonds rallied the most on Oct. 31 since March 2009 on renewed concern that Europe's attempt to avert a Greek debt default may falter. The yield fell to as low as 2.94 percent yesterday, the least since Oct. 7.
The tax-exempt 30-year yield fell to 3.59 percent yesterday, near a one-month low. It's been higher than the equivalent Treasury yield in all by two weeks of the past year, according to data compiled by Bloomberg, making long-term municipals attractive to buyers of government debt.
"In the environment of low rates, yield-hungry investors are increasingly looking at the long end," George Friedlander, a municipal-bond strategist at Citigroup Inc., said in report this week.
Demand for the $1.2 billion World Trade Center issue, the largest of the week, outpaced supply by as much as 8-to-1, said Kathy Bramlage, a director in New York at Hightower Advisors' Treasury Partners unit, which manages $7 billion.
Equivalent Yield
An investor in the top 35 percent income-tax bracket would have to earn a 7.77 percent taxable yield to match the 5.05 percent offered on the 2051 tax-free Trade Center bond.
The debt is being issued through the New York Liberty Development Corp., created to sell tax-exempt debt under the Liberty Bond Program, part of a federal economic package to help New York City recover from the Sept. 11 terrorist attacks.
The issue will help pay for 4 World Trade Center, a 64-floor building that will be the headquarters of the Port Authority of New York and New Jersey. It's secured by payments from the Port Authority and New York City, which is leasing 15 floors in the tower.
The sale is the first where the transportation agency and the city have combined to back bonds, said Marvin Markus, an investment banker for Goldman Sachs Group Inc., which marketed the debt.
More Risk
The bonds are rated A+, S&P's fifth-highest grade, providing added yield but more risk than similar general-obligation debt, said John Hallacy, head of municipal research at Bank of America Merrill Lynch.
"There's an appetite for yield and this is a solid investment-grade deal," he said. "It's the higher echelon of yield, not the real junk."
States and local governments have about $9.67 billion of sales planned this week, the most since December, Bloomberg data show. Following are descriptions of coming issues:
IOWA STUDENT LOAN LIQUIDITY CORP., which manages $3.5 billion of loans to 220,000 students, will offer $432 million of revenue bonds as soon as this week to refund previous issues and finance a reserve fund. Morgan Stanley will lead the deal. Standard & Poor's rates the debt A, its sixth-highest grade. (Added Nov. 2)
MINNESOTA plans to sell $788 million of tobacco-settlement bonds as soon as the week of Nov. 14. A portion of the proceeds from the state's first tobacco-bond deal will help balance its two-year budget. The transaction includes $81 million of taxable debt maturing in 2014 and 2015. Another $706.5 million of tax-exempt bonds will mature annually from 2016 through 2026, with $285.2 million due in 2031. Fitch Ratings is expected to rate the sale BBB+, its third-lowest investment grade, according to the preliminary official statement. Standard & Poor's is expected to rate bonds maturing in 2014 through 2022 A, its sixth-highest grade, and debt maturing in 2023 and thereafter one level lower at A-. (Added Nov. 1)
PHILADELPHIA plans to offer $187 million of water and sewer revenue bonds as soon as next week for capital improvements to a system that serves more than 2 million people, according to a preliminary official statement. Refunding will account for $52 million of the sale, led by Ramirez & Co. Moody's rates the bonds A1, its fifth-highest grade. (Added Nov. 1)
ALASKA HOUSING FINANCE CORP., which bought 1,133 home loans in fiscal 2010, plans to offer $229 million of mortgage-revenue bonds as soon as this week, according to a preliminary official statement. A $29 million portion of the sale is federally taxable. Morgan Keegan will lead the sale. Fitch gives the bonds its top AAA rating. (Added Nov. 1)
Before it's here, it's on the Bloomberg Terminal.
LEARN MORE