Lloyds CEO Takes Medical Leave, Tookey Named as Interim Chief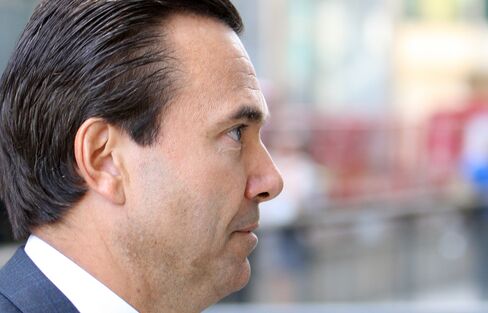 Lloyds Banking Group Plc Chief Executive Officer Antonio Horta-Osorio is taking leave of absence from his duties following medical advice and will be replaced in the interim by Finance Director Tim Tookey.
"Tookey has been appointed interim group chief executive during Antonio Horta-Osorio's temporary leave of absence in addition to his role as chief financial officer," the bank said in a statement today. "Horta-Osorio is expected to return to his position before the end of the year." Tookey will step down in February, it was previously announced.
Horta-Osorio, who replaced Eric Daniels eight months ago, is suffering from fatigue, a person familiar with the matter said earlier today. He failed to attend a scheduled Parliamentary committee hearing yesterday afternoon.
The 47-year-old Portuguese banker joined Lloyds from Banco Santander SA's British unit, from where he has hired four of the Spanish lender's top executives. Horta-Osorio has also led the fight against proposals by the U.K.'s Independent Commission on Banking for the London-based lender to increase the asset disposal program demanded by the European Union ruling following Lloyds's 20.3 billion-pound ($32.5 billion) government bailout.
The ICB's final report in September made no specific recommendation and said the issue should be decided by the government. Lloyds has so far received only one formal bid for the 632 branches it needs to sell by the end of 2013.
Tookey, one of the last remaining top Lloyds executives who served under Daniels, is still planning to step down in February 2012 to join Friends Life as announced in September, the insurer owned by Clive Cowdery's Resolution Ltd.
'Far From Ideal'
"It's a big surprise which could potentially leave Lloyds without a CEO or a finance director at a time when the economic backdrop is terrible," said Gary Greenwood , a banking analyst at Shore Capital in Liverpool. "That is obviously far from ideal."
Lloyds shares have halved in value since Horta-Osorio replaced Daniels on March 1. The stock fell 4.7 percent to 29.13 pence by 10:03 a.m. in London trading, the third-worst performer in the 46-member Bloomberg Banks and Financial Services Index.
Lloyds and fellow government-backed lender Royal Bank of Scotland Group Plc had their credit ratings cut on Oct. 13 by Fitch Ratings, which said the U.K. is less likely to provide support in future.
Before it's here, it's on the Bloomberg Terminal.
LEARN MORE