Japan Faces $510 Billion Losses From Yen Sales, JPMorgan Says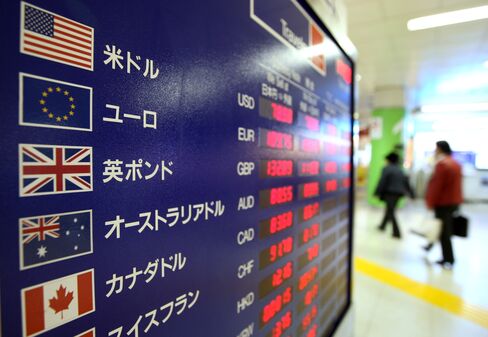 Japan's government faces almost 40 trillion yen ($512 billion) in losses from intervening in the foreign-exchange markets to stem the yen's advance, according to estimates by JPMorgan Chase & Co.
Valuation losses on Japan's foreign-exchange reserves minus yen liabilities totaled 35.3 trillion yen at the end of 2010, according to Finance Ministry data. The losses may swell further as the yen is projected to climb to 72 versus the dollar by September 2012, said Tohru Sasaki, head of Japan rates and foreign-exchange research at JPMorgan Chase in Tokyo.
"It's difficult to change the trend of the currency market" with intervention, said Sasaki, who used to work in the foreign-exchange division of the Bank of Japan, at a forum in Tokyo yesterday. "Even if the action can stem the currency's gains temporarily, the yen will eventually appreciate."
Japan on Oct. 31 intervened in foreign-exchange markets to weaken the yen for the third time this year after the currency gained to a postwar record. Finance Minister Jun Azumi said he will continue to intervene until he's "satisfied."
Japan may have spent a record amount to stem the yen's gains, according to the BOJ's projection of deposits held by financial institutions at the central bank. It estimated that deposits climbed 7.7 trillion yen to a total 37.2 trillion yen, according to a statement released yesterday. The figure suggests that the government sold approximately 8 trillion yen, said Yuichi Takahashi, a market economist at Totan Research Co. in Tokyo.
Weaker Dollar
If investors' risk aversion subsides, it wouldn't be surprising if the dollar were to weaken another 10 percent on a trade-weighted basis, Sasaki said. The U.S., which holds the world's largest current-account deficit, is in an "unprecedented" situation, where it keeps interest rates near zero even though it needs to attract funds from overseas by offering higher yields, he said.
JPMorgan predicts the yen will end the year at 75 per dollar, and rise to 74 by March and 72 by September 2012. The Japanese currency will be at 77 by year-end, 77 by March and 80 by September, according to the median estimates of analysts in a Bloomberg survey.
Before it's here, it's on the Bloomberg Terminal.
LEARN MORE