Greece to Determine Euro Membership in Vote as EU Cuts Aid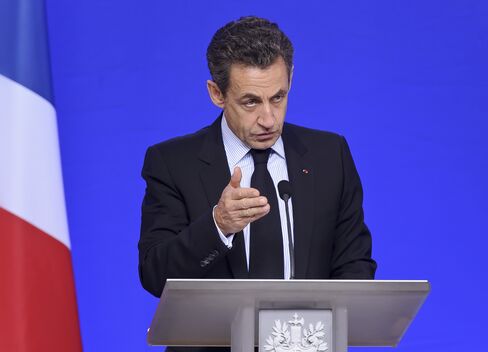 European leaders cut off aid payments to Greece and said a referendum in five weeks will determine whether the debt-strapped nation becomes the first to exit the 17-country euro area.
Crisis talks ended in the French resort of Cannes late yesterday with German Chancellor Angela Merkel and French President Nicolas Sarkozy withholding 8 billion euros ($11 billion) of assistance and warning Greece it will surrender all European aid if it votes against a bailout package agreed upon only last week.
"The referendum will revolve around nothing less than the question: does Greece want to stay in the euro, yes or no?," Merkel told reporters. Sarkozy said Prime Minister George Papandreou's government won't get a "single cent" of aid if voters reject the plan.
The hardball tactics opened the door for the first time for a country to leave the 12-year-old currency bloc that its founders declared was "irrevocable." The move leaves Greece to choose between austerity and default two days after Papandreou shocked investors and Europe's leaders by announcing he would allow his electorate to vote on the revamped crisis-fighting strategy.
The euro weakened after the briefing, sliding 0.4 percent to $1.3691 at 1 a.m. in Cannes. Futures on Standard & Poor's 500 Index declined 0.4 percent.
Papandreou, his hold on power weakening and facing a confidence vote tomorrow, defended his decision to call a referendum, telling reporters at a separate press briefing that Greece "needs a wider consensus" for the bailout terms and expressing confidence it will back staying in the euro.
'Not the Moment'
The Greek premier declined to say how the referendum will be worded, saying it "is not the moment" to give the exact language, only that "the question is not just about a program but do we want to be in the eurozone." More than seven in 10 voters said they favored Greece remaining in the euro, a poll last week of 1,009 people published in To Vima newspaper showed.
"Markets will remain very nervous, but with the hope that this hard stance will get to more clarity on Greece's situation soon," Marco Annunziata, chief economist at GE Capital in San Francisco, said by phone. "The EU is casting this as a stark choice on Greece's part rather than reopening discussions on the bailout package."
G-20 Talks
The latest chapter of the two-year euro crisis will today overshadow a summit of leaders from the Group of 20 economies. European governments had planned to use those talks as a showcase for their revamped strategy and to seek foreign donations to implement it.
In a sign such hopes will be dashed as the turmoil mounts, Chinese Vice Finance Minister Zhu Guangyao said yesterday it's now "too soon" for his country, holder of the world's largest currency reserves, to contribute.
The G-20 meeting will open officially with a lunch-time discussion on Greece and the euro-area after the leaders of France, Germany, Italy and Spain hold another round of talks in the morning.
As the heads of government meet, European Central Bank President Mario Draghi will be chairing a meeting of the bank's Governing Council for the first time. He does so under pressure from investors to boost the bank's bond-buying and cut interest rates to protect Italy from succumbing to the largest debt burden after Greece and support a slowing euro-area economy.
Italian Measures
Struggling to prove his nation is credit-worthy, Italian Prime Minister Silvio Berlusconi last night convened his Cabinet which agreed to include emergency measures in a budget bill the country's parliament must pass by Nov. 15. Steps include raising the retirement age, easing rules on firing workers and accelerating state asset sales.
The aim is to make the euro-area's third largest economy more flexible so as to placate investors who have propelled its 10-year borrowing costs to euro-era highs above 6 percent -- triple Germany's.
Before it's here, it's on the Bloomberg Terminal.
LEARN MORE