Fires and Theft Show India's Energy Plight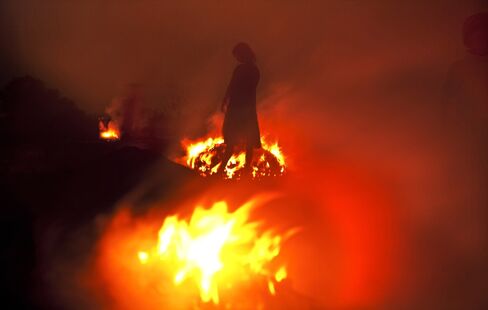 By Rakteem Katakey
An Indian state official, Yashwant Sonawane, was burned alive earlier this year when he tried to prevent people from stealing kerosene from a tanker near Mumbai.
The people of Jharia, in eastern India, live in crushing poverty. They also live atop a $1 trillion coal deposit that has been burning for a century and poses risks to health and homes. Many prefer to stay and eke out a living selling coal. Starting a new life elsewhere would mean an uncertain wait for the government to find them jobs.
These two haunting images illustrate how crime and mass poverty prevent India from fully tapping its domestic energy resources.
India spent about $109 billion in the year ended March 31 to import about 164 million metric tons of crude oil, 68 million tons of thermal coal and 41 million tons of metallurgical coal to meet the needs of its 1.2 billion people. It's not enough, and hundreds of millions still go without, even when they're living atop a natural coal furnace.
Some 400,000 people live in Jharia. The burning coal field it sits on is estimated to hold coal reserves equivalent to 35 years of India's imports. Residents live in shanties built on the burning deposit and survive by selling what fuel they can dig, often with bare hands. They don't want to move.
Coal India Ltd., the world's biggest producer of the fuel, is spending $1.8 billion to build houses a safe distance from the coal. They have few takers. But Jharia needs to move to another location, and quick. The large underground fires are hollowing the land, which caves in, swallowing humans and animals. Those still on solid ground risk respiratory problems from the constant smoke.
Opportunists take drastic measures 1,100 miles away in the western state of Gujarat. Oil thieves throw together makeshift refineries along pipelines belonging to the state-run Oil & Natural Gas Corp. They siphon off crude oil, which is processed into fuels and sold locally. The plants are dismantled quickly and moved to new locations before the theft is even detected by the company.
Fuel worth tens or hundreds of thousands of dollars was reportedly stolen from a pipeline at Gurgaon, near the capital New Delhi, a month after Yashwant Sonawane's death, which wasn't the first. In 2005, an Indian Oil Corp. official was killed after he uncovered an illegal gasoline operation.
The plight of Jharia and the death of Sonawane demonstrate something difficult to relate to in the developed world: the high cost, in human suffering, of energy poverty.
-0- Nov/02/2011 15:33 GMT
Before it's here, it's on the Bloomberg Terminal.
LEARN MORE