European Stocks Rise on U.S. Economy; Randgold, Rio Tinto Gain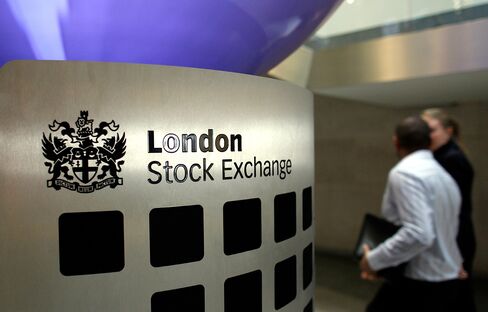 European stocks rose, snapping the biggest three-day drop in almost two months, as U.S. companies hired more workers than forecast and Federal Reserve policy makers raised their assessment of the economy in a statement at the close of trading.
Randgold Resources Ltd. surged to a record after forecasting a 22 percent increase in gold output next year. Rio Tinto Group surged 3.8 percent, leading a rally in commodity companies. Lloyds Banking Group Plc slid 4.4 percent as Chief Executive Officer Antonio Horta-Osorio took a leave of absence following medical advice.
The Stoxx Europe 600 Index advanced 0.9 percent to 237.22 at the close of trading, after swinging between gains and losses at least 15 times. The gauge had retreated 5.8 percent over the previous three days as Greek Prime Minister George Papandreou called a referendum on the nation's latest bailout package, spurring concern that a rejection of the measures may push the country into default.
"The situation remains better than three weeks ago, despite the uncertainty caused by Papandreou moving on his own to issue the referendum," said Witold Bahrke, a Copenhagen-based senior strategist at PFA Pension A/S, which manages $45 billion. "The ring-fencing of Greece is ongoing."
National benchmark indexes climbed in 11 of the 18 western European markets today. The U.K.'s FTSE 100 rose 1.2 percent and France's CAC 40 advanced 1.4 percent. Germany's DAX Index gained 2.3 percent.
VStoxx Drops
The VStoxx Index, which measures the cost of protecting against a decline in shares in the Euro Stoxx 50, slipped 1.9 percent to 42.14 to snap a 42 percent, three-day climb.
U.S. companies added workers 110,000 to payrolls in October, according to Roseland, New Jersey-based ADP Employer Services. The median forecast of economists surveyed by Bloomberg News called for an advance of 100,000.
In a statement at the close of European markets, Fed policy makers raised their assessment of the economy while saying "significant downside risks" remain and refraining from taking any additional steps to ease monetary policy.
Euro-area leaders, racing to prevent their week-old debt crisis strategy from unraveling, are holding emergency talks today to tell Greece there is no alternative to the budget cuts imposed in the bailout plan.
Summoned to Cannes
Papandreou was summoned to Cannes on the eve of a Group of 20 summit where he will hear from French President Nicolas Sarkozy that the "only way to resolve Greek debt problems" is through a deal hammered out last week in a six-day crisis-management marathon.
"The prospects of Greece leaving the euro have grown and investors are positioning for more bad news from politicians," said Henrik Drusebjerg, who helps oversee $230 billion as senior strategist at Nordea Bank AB in Copenhagen. "The other euro countries can't sit around and wait until the Greeks are done with the referendum. Papandreou may be told today that the other 16 countries will go ahead with plans to bolster the euro area with or without Greece."
The Stoxx 600 earlier fell as much as 0.7 percent as two people with knowledge of the deal said the euro region's rescue fund, the European Financial Stability Facility, will delay a planned 3 billion-euro ($4.1 billion) bond sale because of market conditions.
Manufacturing Contracts
Europe's manufacturing industry contracted for a third month in October, adding to signs the euro-area economy is edging toward a recession. A gauge based on a survey of purchasing managers in the 17-nation euro region fell to 47.1 from 48.5 in September, London-based Markit Economics said today. That's below an initial estimate of 47.3 published on Oct. 24. A reading less than 50 indicates contraction.
Randgold climbed 7.4 percent to 7,235 pence, the highest price since it first started trading in 1997. The miner said it expects its gold production to increase as much as 22 percent next year as output in Mali and Ivory Coast rises. Output may jump to 850,000 ounces to 900,000 ounces in 2012 from a target of 740,000 ounces to 760,000 ounces this year, Chief Executive Officer Mark Bristow said today in an interview in London.
Rio Tinto, the world's second-biggest mining company, advanced 3.8 percent to 3,375 pence as copper rose more than 1.5 percent on the London Metal Exchange. Antofagasta Plc advanced 5.4 percent to 1,174 pence as the copper producer controlled by Chile's Luksic family reported a 17 percent increase in quarterly output.
Next, Lundin
Next Plc, the U.K.'s second-largest clothing retailer, advanced 6.5 percent to 2,723 pence after reporting growth in third-quarter brand sales that exceeded analyst estimates.
Lundin Petroleum AB, the oil explorer with a stake in the giant Avaldsnes-Aldous Major North Sea find, rose 6.5 percent to 163 kronor after forecasting higher production in 2012. The company reported third-quarter earnings before interest, taxes, depreciation and amortization of $262 million, beating the average analyst estimate of $223 million.
Volkswagen AG led a gauge of automakers to the biggest gain of all industry groups in the Stoxx 600, rallying 6 percent to 127.20 euros. China's passenger-car market may grow 8 percent to 10 percent a year over the coming five years, Karl-Thomas Neumann, head of VW's Chinese operations said today at a conference in Berlin.
Lloyds, Britain's biggest mortgage, dropped 4.4 percent to 29.21 pence. Horta-Osorio is taking leave of absence from his duties as CEO following medical advice and will be replaced in the interim by Finance Director Tim Tookey.
Logica Plc sank 7.3 percent to 83 pence as the Anglo-Dutch computer services provider posted third-quarter sales that trailed analyst estimates and cut its annual earnings forecast.
Meda AB, Sweden's largest publicly traded drugmaker, fell 7.6 percent to 59.30 kronor after saying its profit margin in northern Europe dropped in the third quarter.