China Corn Output Jumps 6.7% to Record in 2011, Survey Shows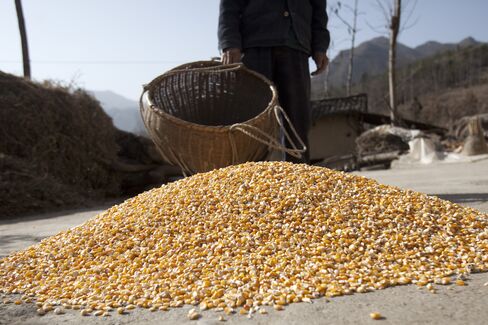 Corn production in China, the world's largest grower and consumer after the U.S., probably rose 6.7 percent to a record this year as farmers planted more and favorable weather boosted yields, a survey showed.
Output jumped to 189.18 million metric tons (7.5 billion bushels) from 177.24 million last year, based on a survey of the seven largest corn-growing provinces during the harvest in September and October by Geneva-based SGS SA for Bloomberg. The estimate tops the 182 million tons forecast by the U.S. Department of Agriculture on Oct. 12. Chinese growers may boost acreage 4.6 percent in 2012, SGS said.
Domestic production will reach a record for the seventh time in eight years after farmers planted 6.1 percent more land than in 2010, according to the survey of farmers in the northeast provinces of Jilin, Heilongjiang, Shandong, Henan, Hebei, Liaoning and Inner Mongolia from Sept. 26 to Oct. 20. China is expanding domestic supply as rising meat and dairy consumption boost demand for grain used as livestock feed.
"The extra acreage was the biggest factor for higher production, and it looks like farmers want to plant more next year," Mark Oulton, the market research director for SGS, said yesterday in a telephone interview from Wilkes-Barre, Pennsylvania. "Corn is more profitable than other crops."
After wet, cold weather delayed planting in much of northeastern China, farmers benefited from regular rains and no sustained periods of heat, according to World Weather Inc. in Overland Park, Kansas. Dry weather aided harvesting in September and October. Yields in the seven provinces increased 0.6 percent, according to SGS estimates.
Costs Increase
Corn prices jumped 12 percent on the Chicago Board of Trade during the past year, on signs of rising demand from makers of animal feed and ethanol. Corn futures for December delivery advanced 1.3 percent to close at $6.535 a bushel as of 1:15 p.m. in Chicago.
The cost of seed, fertilizer and crop-protection chemicals rose an average of 25 percent in 2011, Oulton said.
The survey, which included 305 interviews with farmers in the region, was compiled using five teams of agronomists who traveled about 7,000 kilometers (4,350 miles) in seven central and northeast provinces that produced about 70 percent of the nation's corn harvest last year. About 6.7 percent of the region's crops are soybeans and rice accounted for 5.7 percent.
More Acreage
Heilongjiang, the top-growing region last year, saw a 14 percent increase in planted area that offset an 8.6 percent drop in yields from wind and insect damage, survey data show. Acreage rose 3.7 percent in Jilin, the second-largest grower, while dry weather and winds cut yields 4 percent. Disease caused less harm this year, with 11 percent suffering normal to severe damage, down from 15 percent a year earlier.
The biggest jump in productivity occurred in Liaoning Province, where rains and reduced damage from insects led to a 36 percent jump in yields, compared with last year's drought-damaged crop, the survey showed.
Unlike the U.S., where most corn is sown and harvested using heavy machinery and the average farm is about 248 acres, most of the crop in China is planted and harvested by hand, Oulton said.
About 61 percent of farmers in the region had less than 1 hectare (2.47 acres) of land, up from 58 percent a year earlier, according to the survey. Farms larger than 8 hectares increased to 4 percent from 2 percent.
SGS's final crop estimate was derived from its survey and official government forecasts for the rest of China, where farms are widely dispersed. The survey's margin of error was 5.7 percent, with a sample size determined to obtain a 95 percent confidence level, according to SGS.
Fewer Farmers
Less than 50 percent of China's population, the world's largest, is involved in agriculture, down from more than 70 percent a decade ago, Fang Yan, the deputy director at the National Development and Reform Commission, said this week.
"Some people are just moving into the cities and renting out the land to their neighbors," Oulton said.
The number of rented farms increased to 27 percent of the total surveyed, from 21 percent a year earlier, SGS said. Farmers rented 39 percent of the land for corn cultivation in Heilongjiang, the most in the survey. Farmers paid rent on 30 percent of the corn land in Jilin, and 6 percent in Hebei, the least in the survey.